Johnny Knoxville Voiced More King Of The Hill Characters Than You Likely Thought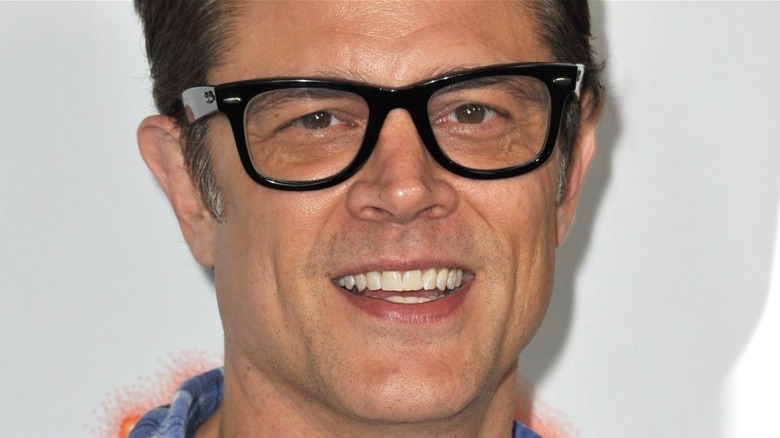 Featureflash Photo Agency/Shutterstock
"King of the Hill" is one of those shows that practically every actor has voiced a character on at some point in their careers. Who can forget Brad Pitt voicing Boomahuer's younger brother, Patch, which seemed meant to be, considering his role a few years prior as the equally incoherent Mickey O'Neil in "Snatch." Or Yogi Victor, the Season 8 "King of the Hill" character that was voiced by Johnny Depp? As proof of this, u/Panic_Mechanic wrote on a "King of the Hill" thread on Reddit that Depp's cameo role was among the funniest in the show's history.
Johnny Knoxville, who's best known for doing crazy and stupid stunts as co-creator of the "Jackass" franchise, has also done several voice acting roles. After voicing Dean in "The Goode Family" series, he was the voice of Johnny Krill in one episode of "SpongeBob SquarePants" in 2012. "They loaded me up with a bunch of schwag! Every toy they ever made — skateboards, wristbands, all kinds of great stuff. They just don't quit with the perks," he told MTV News in an interview. He also voiced Leonardo in 2014's rebooted "Teenage Mutant Ninja Turtles" film, starring Megan Fox and Will Arnett.
While "SpongeBob" and the "Teenage Mutant Ninja Turtles" are both fun shows to be associated with, many fans forget that Knoxville's first foray into voice acting was actually on "King of the Hill."
Knoxville played two very different King of the Hill characters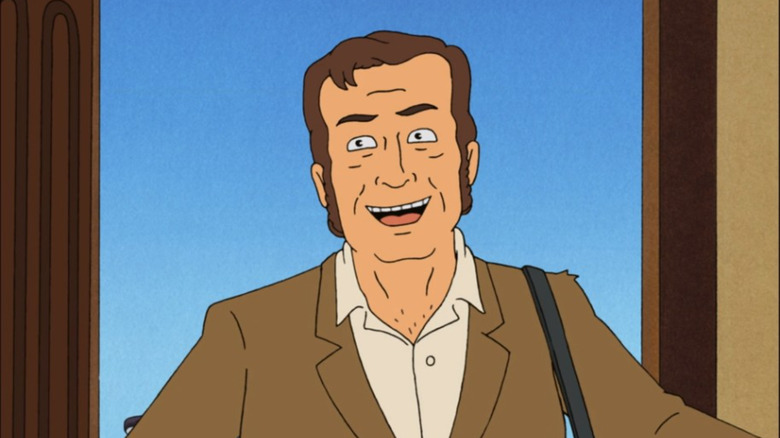 Fox
Johnny Knoxville voiced two different characters in "King of the Hill," first appearing as Peter Sterling in Season 10, Episode 8 ("Business Is Picking Up"), and then again as Hoyt Platter in Season 12, Episode 22 ("Life: A Loser's Manual). As Sterling, he plays an entrepreneur with a business called Earth Cleaners with the motto, "We pick up where your dog leaves off." Bobby (Pamela Adlon) is enticed by the superhero-like costume and cool bike they get to drive around in, while Hank (Mike Judge) is horrified that Bobby thinks it's awesome. While Sterling makes his job sound perfect, after Hank's coaxing he convinces Bobby it's not so great after all, going as far as hiring guys to push him down a hill in a porta-potty.
Hoyt Platter is Peggy's brother and the father of Luanne (Brittany Murphy), who Peggy (Kathy Najimy) had said was away on an oil rig when he was actually in prison. After getting out, he comes to stay with Hank and Peggy. Luanne is ecstatic, since she and Lucky (Tom Petty) are having a baby, and now she'll have a "normal family." Unfortunately, her father is a loser, and after he promises her a "special breakfast" — and borrows $50 to go buy eggs — he disappears to a strip club instead. While he ends up returning to prison, Hank, Peggy, and Lucky spare Luanne the truth, telling her he's back on the oil rig. 
With Mike Judge saying the show "has a very good chance of coming back" at the 2022 San Diego Comic-Con's "Beavis & Butt-head" panel (via The Hollywood Reporter), here's hoping we can see a revival of Knoxville's characters as well.