Sandy Olsson's Best Grease Scenes Ranked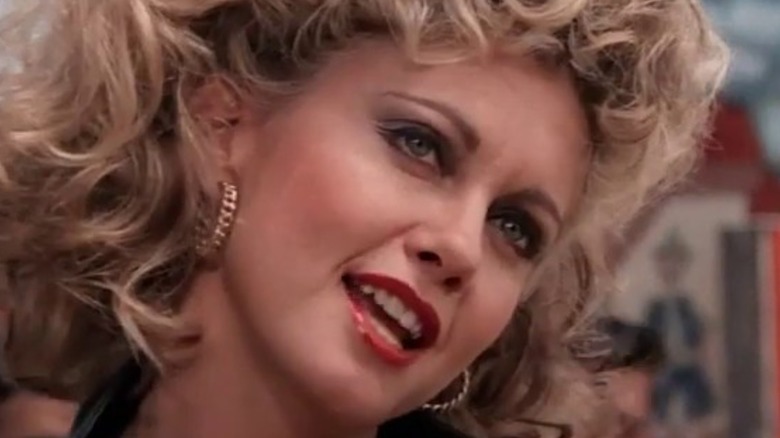 Paramount Pictures
Chances are, if you're familiar with the work of the late Olivia Newton-John, you've seen the 1978 musical "Grease." Part satire, part nostalgia trip, "Grease" is set during the 1950s and is a "Romeo and Juliet" pastiche about greaser Danny Zuko and good girl Sandy Olsson's rocky romance. After having the time of their lives over summer vacation, the pair go back to their normal lives, assuming they'll never see each other again.
Coincidentally, however, the Australia native Sandy relocates to the United States and enrolls at Rydell High — the same school attended by her summertime flame Danny. The problem is that Danny is a tough guy who wants to be seen as a smooth ladies' man and not some mushy, romantic loser. Sandy is just too straight-laced for his image, and the two wrestle with their feelings for each other while trying not to upset social norms.
While Olivia Newton-John and John Travolta together really are an electric duo, there are plenty of great scenes where Sandy is particularly allowed to shine. Not only do they stand out because of Newton-John's performance, but they provide new shades to the otherwise cookie-cutter character that prove there's more dimension to her than people think. To honor the character and the wonderful performer who brought her to life on the big screen, we're ranking all of Sandy's best scenes.
Stranding Danny at the drive-in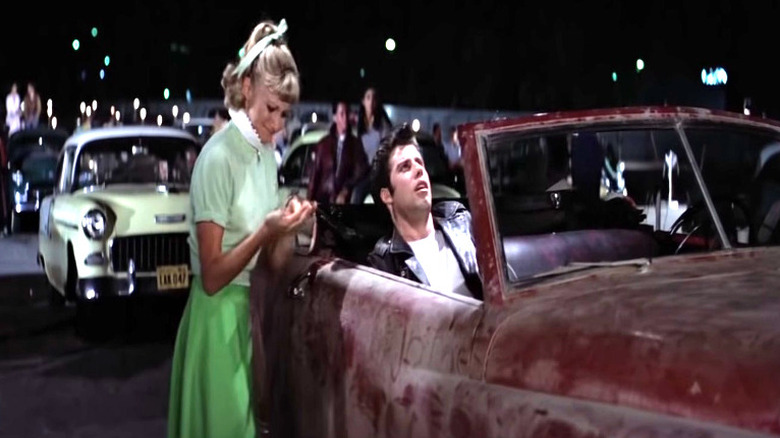 Paramount Pictures
If Sandy has one flaw, it's her insecurity — the part of herself that keeps her from standing up and proclaiming exactly what she wants. Take the drive-in sequence, for example. She starts things off by giving Danny the cold shoulder because she thinks something happened between him and wild child Cha Cha. When she confronts him about this, he brushes the idea off, but she's not buying it ... until, that is, he gives her his ring.
Her entire demeanor changes at that moment. Sandy goes from distant and bitter to warm and enthusiastic in the blink of an eye, saying that this gesture proves he respects her. That statement really says more about her than it does him. For one thing, it suggests that Sandy's standard for respect is quite low and all she needed was a shallow effort of commitment to make herself feel secure.
While all of that is important to understand the kind of turmoil her character is experiencing, it's not what makes the scene great. Once Danny realizes he's back on Sandy's good side, he tries to force himself on her. Sandy has none of it. She pushes him away, slams the door on him (literally), and gives back his ring. What this shows is that although she wants Danny's approval, she's not some pushover. Sandy has limits to what she's willing to do to make someone else happy and isn't willing to compromise that, which shows strength.
Checking on Rizzo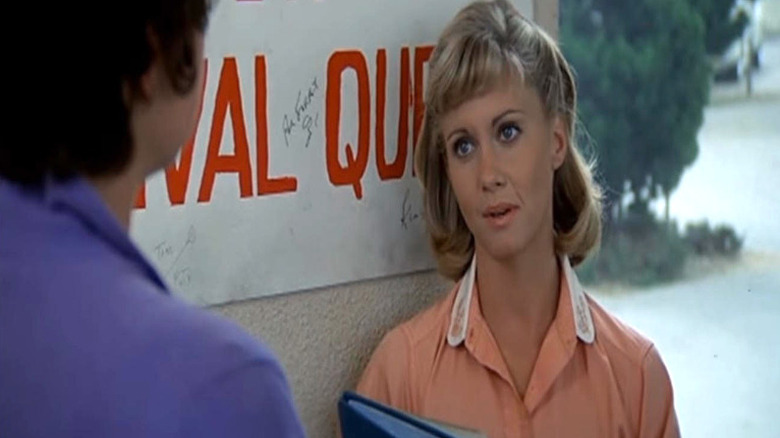 Paramount Pictures
The scenes at the drive-in don't really belong to Sandy — they're more about Danny's inability to connect with a girl who doesn't immediately want to sleep with him. This is why he has his solo number below the flickering lights of the silver screen. Another important moment in the scene is the news that Rizzo (Stockard Channing) thinks she might be pregnant. Within seconds, everyone important in her life knows about it, and this makes her the topic of gossip in the halls at school.
That all leads to yet another scene that doesn't belong solely to Sandy, but is equally important in showing us another side to her character. Just as Danny and the T-Birds are getting ready for the drag race at Thunder Road, Rizzo's standing by herself, anxious about being seen by her love interest Kenickie (Jeff Conway). Sandy passes and stops to talk to her. She's on her way to talk to Danny to clear the air about what happened at the drive-in, but she still checks to make sure Rizzo's okay.
From the start, Rizzo hasn't liked Sandy and has had no qualms about letting her know. So for Sandy to stop and see if she needs someone to talk to now that the school is treating her like a disease shows a strength of character that's refreshing. Sandy has every right to shun Rizzo due to her previous attitude, but she doesn't because she's kind, caring, and empathetic.
Seeing Danny again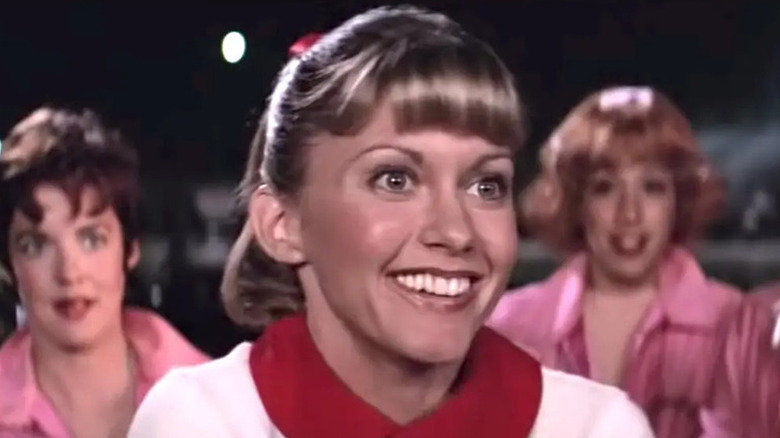 Paramount Pictures
Sandy's new life as a Rydell student seems to be going well by the end of act one. She's (mostly) friends with the Pink Ladies, she's a cheerleader, and a football player named Tom Chisum seems smitten with her. Things turn upside down at a pep rally when Rizzo (who has bad blood with Danny) decides to finally reveal that these two summer lovin' kids are actually attending the same school.
Honestly, the most interesting character in this scene is Rizzo. The vindictive look on her face when she sees Danny's change in behavior is priceless and suggests, what their past might have been like without a single word. What makes it a great scene for Sandy, though, is Olivia Newton-John's performance. She has to play three very distinct emotions during the course of the scene, and she nails each one.
When Danny turns around, she exudes elation over being reunited with her dream guy. Her grin is so wide it looks like it might stretch beyond the confines of her face. Then, when Danny buckles to social pressure, the devastation, and confusion in her eyes are palpable. She's probably been dreaming of this moment for ages and it's turning into a nightmare. When she slams down her red and white pom poms and storms away, she does so with such wrath that a few streamers fly into the air. Frenchy (Didi Conn) dries her tears and Sandy lifts her head with courage.
No privacy at the Frosty Palace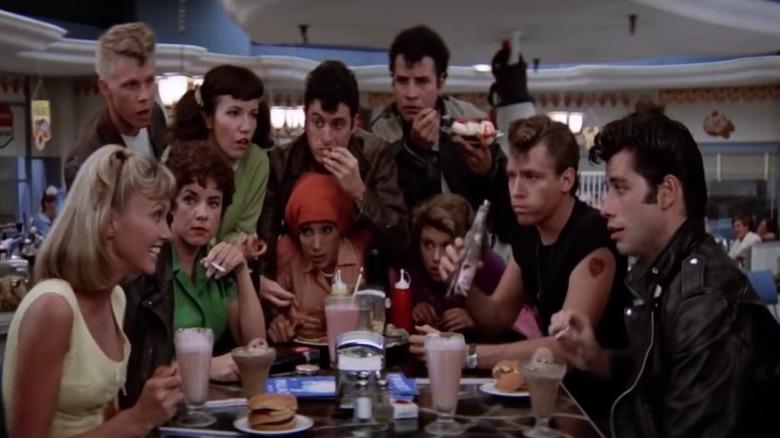 Paramount Pictures
When Danny and Sandy go on their first date since summer vacation, they go to everyone's favorite eatery, The Frosty Palace. Sandy couldn't be more excited, but Danny is hesitant. She asks him why, and he says it's because there's no privacy. That's not the whole truth, though — the full story is that Danny doesn't want his gang to see him act like the love-struck teenager that he is. 
The moment they sit down, Danny tries to hide their faces behind a pair of menus. Sandy, in her delight, is oblivious to the real motivation behind his actions. Once both the T-Birds and Pink Ladies show up, Danny looks like he wants to slide out of his skin just to get out of there. Sandy, on the other hand, is doing her best to have a good time. She has her friends and her guy all around her — what's better than this?
One could view this moment as Sandy being clueless as to the way people view her. Instead, though, it's more likely that she just doesn't care. So what if everyone at this table thinks she's a weirdo? She is going to invite her boyfriend over to the house for tea and there is nothing anyone can say to make her feel bad about it. She's insecure through much of the movie, but here she has what she wants and she's going to enjoy it, regardless of anyone's opinion.
Pretending not to care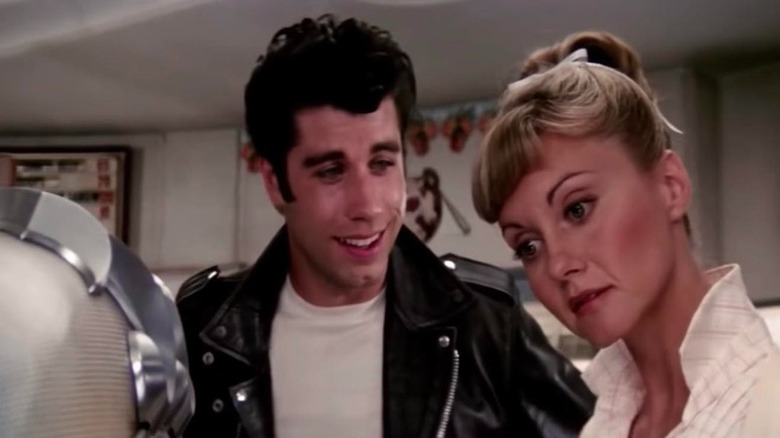 Paramount Pictures
Another excellent scene for Sandy at The Frosty Palace occurs after Danny has embarrassed her upon their reunion. She's there with her temporary Beau Tom, while Danny's rolling with his boys. While she splits some ice cream with the football star, she asks if he'd like to listen to different music. Now, it's obvious that this is just an excuse for Sandy to walk across the room and be seen by Danny on her way to the jukebox. Still, she asks Tom to pay for the song selection.
After working up the courage to approach Sandy, Danny greets her with all the hope in the world. The façade has been dropped, and he just wants her to take him back and fall into his arms. Picking up on this desperation, Sandy keeps her focus on the jukebox. He tries to open up by admitting that he has an image to maintain, but she redirects the conversation to Tom, making Danny jealous — even if he won't admit it.
This is the first glimpse we get into the conniving side of Sandy. At this moment, she isn't the innocent goodie-goodie everyone assumes her to be. She intentionally makes Danny feel jealous in order to get back at him for the way he treated her at the pep rally (and uses her date's money to do it). This scene shows that Sandy can shed her public image, as she does in the film's final moments.
Sandy gets Danny talking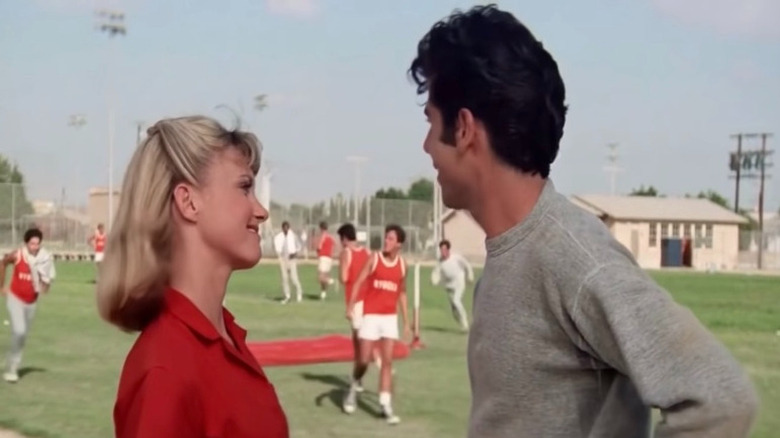 Paramount Pictures
Try as she might, Sandy cannot hide her feelings for Danny. Once he thinks she wants a jock instead of a greaser, he takes up sports. Basketball doesn't work out, and neither does wrestling or baseball. Track seems to be a good fit, since he's not being asked to engage in direct conflict with another person. While jogging around the track, Danny sees Sandy on the bleachers with Tom. In order to impress her, he picks up the pace, jumps over a few hurdles, then trips.
Sandy's so concerned that she rushes to his side to make sure he's all right. Danny ignores her until she brings up the way he acted at the pep rally. He reiterates that he apologized, but she laughs and points out that she got him to talk to her. At this moment, the veneer disappears — she never had any interest in Tom. Maybe if Danny hadn't come to his senses, she might have given the guy a chance, but she was just using him.
What this moment shows us is that Sandy truly is hopelessly devoted to Danny. She's tried to keep this fact a secret, tried to bury it in order to guard herself against heartbreak, but the second he smiles at her, the summertime feelings come rushing back. Not only does this scene confirm our suspicions that Sandy is capable of more than we expect, but it solidifies that their romance is the heart of the movie.
Sandy tells us less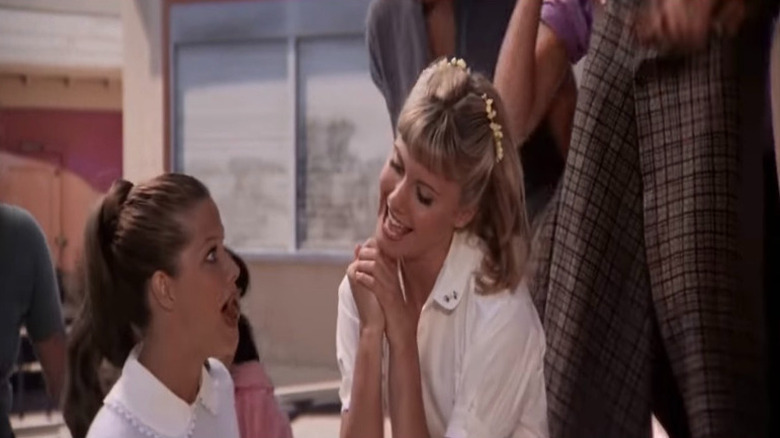 Paramount Pictures
The first big musical number of the film, "Summer Nights" sees Danny and Sandy recounting their romance to their friends. The first time we see them is at the opening of the movie. Everything's shot like a classic Hollywood romance, and Danny and Sandy seem made for each other. This song demonstrates just how different the pair are, setting up their dynamic for the rest of the film.
But Danny's just trying to impress his friends, and the wide-eyed Romeo we saw that the start disappears for a sleazy misogynist lying about all the sex he had with this mystery girl. At the same time, Sandy is glowing with innocent details about holding hands and drinking lemonade. Danny couldn't be cruder, and Sandy is perfectly bubbly. It's clear that this dichotomy will be the driving conflict of the film.
This is a great scene because it distills the image the rest of Rydell High will have for Sandy and it fits her like a glove. It's another case of Olivia Newton-John's performance selling the moment — the way she bops and skips along with her hair bouncing behind her, the dreamy glazy glistening in her pining eyes. Of course, Newton-John is an accomplished singer, so it helps that she knows how to carry a tune, but her delivery and expression are what really sell her idealism even more than the lyrics and choreography. Her whimsical adoration for Danny is so clear you almost feel bad for her.
Sandy is hopelessly devoted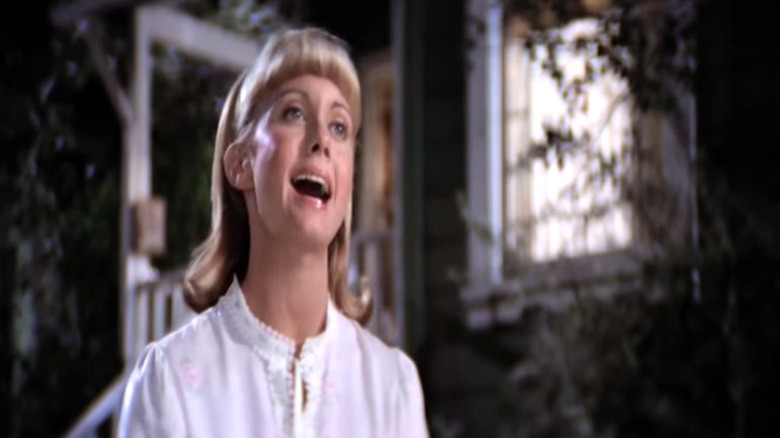 Paramount Pictures
Having the female lead of your story take some time away early in the narrative to unburden her soul to the audience is a musical trope that lives on because it's so effective. Whether we're talking about Ariel longing to be part of the human world in "The Little Mermaid," or Sandy Olsson lamenting her feelings for Danny Zuko, these are moments where the heroine's heart is laid bare, leaving the audience stunned.
In "Grease," it couldn't have come at a more perfect time. Sandy's at a sleepover trying to get over Danny's obnoxious and cruel behavior earlier that night, only to have Rizzo make fun of her by comparing her to wholesome teenage icon of the 1950's Sandra Dee. She heads outside to be alone and confess her turmoil to the night (and the audience). She knows it's probably a mistake to hold out hope for Danny to come around, but she just can't help it — she's hopelessly devoted to him.
Why the scene is great should be obvious. Olivia Newton-John brings the house down like a true star. The simplicity of the camera work is intimate, bringing us into Sandy's private little world, and the lyrics of the song are universal to anyone who's ever been in love (which is hopefully most people). The only reason this doesn't take the top spot is because it's actually the first of a triptych of scenes that complete Sandy's arc. 
Goodbye to Sandra Dee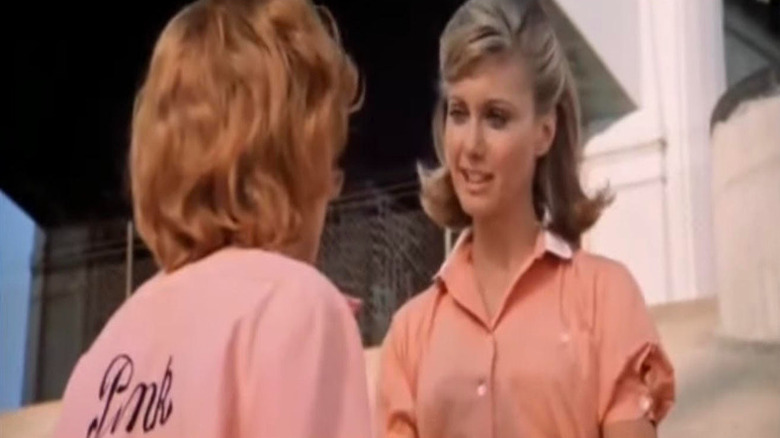 Paramount Pictures
Once the big drag race is over and the T-Birds prove they're the baddest guys around, Sandy has an epiphany. Sitting alone on the border of Thunder Road, watching the events unfold, Sandy makes a decision. Until now, she's known that she can't deny her feelings for Danny, but he's been such a jerk that she's riddled with doubt. Add that to the insecurity already weighing her down, and Sandy can't make heads or tails of her situation. Should she give Danny another chance, or tell him off for good?
After seeing him in his element with the T-Birds, we're given another peek at what's going on inside her mind with a song performed entirely in voice-over. She's realizing that she needs to change. She doesn't need to necessarily change everything about herself, but she needs to stop worrying about how Danny views her. She needs to step up, look him right in the face and tell him he's the one that she wants.
To do that, she's going to say goodbye to Sandra Dee and prove to Danny, the T-Birds, and the Pink Ladies what we already know: there's more to her than they can see. She is capable of going after what she wants, and she's done pretending. When Frenchie asks if she's okay, she tells her friend she needs her help, setting up the epic conclusion that follows.
Sandy multiplies Danny's chills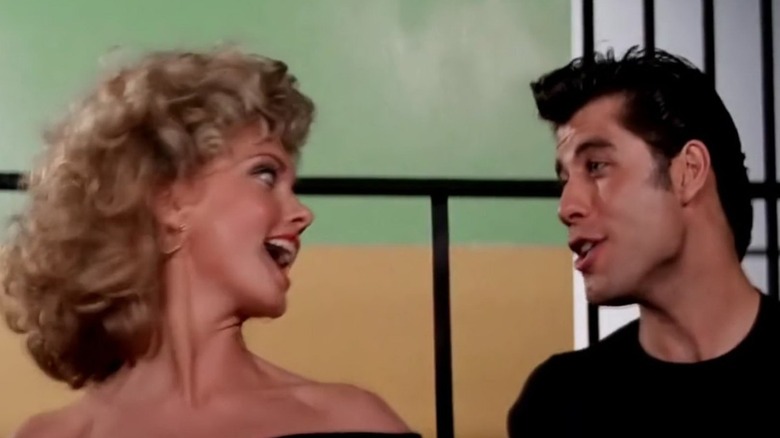 Paramount Pictures
There may be some controversy with this decision, but the moment Sandy shows up at the school fair, decked out in leather and smoking a cigarette, is her best scene in the entire movie. Yes, "Hopelessly Devoted to You" is powerful and Olivia Newton-John is superb, but that scene is really set up for "Look at Me I'm Sandra Dee," which is really set up for "You're the One That I Want."
We've seen glimpses of a dark, manipulative aspect of Sandy's character sprinkled throughout the movie, just as we've seen the gushy, aw-shucks nice guy side to Danny as well. We, the audience, know how badly these two want to be together, but they're too wrapped up in their own nonsense to just drop everything, look at each other and just say, "You're the one that I want."
Showing up dressed like a lady T-Bird isn't Sandy changing into someone she isn't — it's Sandy proclaiming to Danny and the entire school that she wants him. The same goes for Danny. Wearing a Rydell sweater doesn't mean he changed for Sandy, it means that he's ready to stop being embarrassed. Had Sandy or Danny done this earlier in the movie, they would have been ridiculed. Now that the school year has ended, and they've gone through a mutually transformational journey, they're done pretending for everyone else's benefit and are finally committing to each other.