The Exact Moment Law & Order: SVU Fans Fell In Love With Barba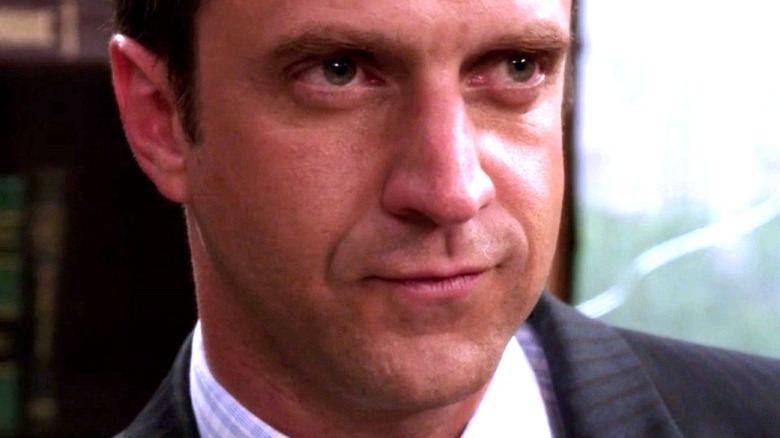 NBC
The accomplished actor who plays Assistant District Attorney Rafael Barba on "Law & Order: SVU" may look familiar to many. Raúl Esparza first made a name for himself in the theater world in Jonathan Larson's unproduced musical "tick, tick ... BOOM!" before bursting into television (via Playbill). With his admirable acting skills and finely tuned wit, he was a perfect addition to "SVU" Season 14. A direct foil to Olivia Benson's (Mariska Hargitay) vulnerable empathy, Barba was the character to shake things up.
Though a defense attorney, he proves to be as cutthroat and cunning as any prosecutor. His approach to putting criminals behind bars is an asset as he never backs down from a case. Throughout the years, he becomes accepted into the "SVU" family though he and Benson did not see eye to eye in the beginning. Initially, it seems his style could not be more different from the "SVU" team. So much so that it may be a surprise exactly when audiences fell in love with the hard-hitting counselor.
Rafael Barba's first case was a standout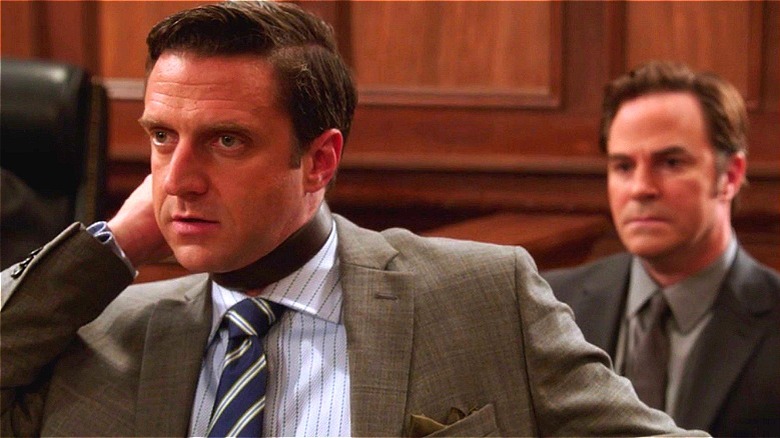 NBC
As soon as Rafael Barba steps on screen, he is set up to be an impressive character. After erotic novelist Jocelyn Paley (Anna Chlumsky) is sexually assaulted by television personality Adam Cain (Roger Bart), Barba is thrown into what appears to be an unwinnable case. Cain maintains that the interaction was consensual, but the assault seems to mirror domination scenes from Jocelyn's book. 
Jocelyn's credibility has been destroyed due to allegations of plagiarism, and Barba knows the only way to get the jury on his side is to go to the extreme. Barba is so committed to winning the case that he has Cain choke him to prove to the jury how fun the accused finds it. Barba's drastic measures in the courtroom endeared Reddit fans to him.
"That was the exact moment that solidified my love for Barba!" exclaimed u/macacacaroni. Barba may appear unfeeling at times, but he cares about the carriage of justice and putting away criminals.
If you or anyone you know has been a victim of sexual assault, help is available. Visit the Rape, Abuse & Incest National Network website or contact RAINN's National Helpline at 1-800-656-HOPE (4673).
Raúl Esparza's tenure on SVU was beloved
Raúl Esparza impressed viewers for six seasons with his nuanced and complicated portrayal of Rafael Barba. Ambitious and unrelenting as he is, he developed incredibly throughout the series, and it was a shame to see him go. Upon his departure from "Law & Order: SVU," Esparza explained to Entertainment Weekly that he had decided to leave but thoroughly enjoyed his experience.
"[Barba's] intelligence was ferocious, his turn-of-phrase and the ways that Benson changed him were apparent to me season by season, and the ways that he changed her were also really alive for me," Esparza said. His sentiments about the character he portrayed were echoed by showrunner Michael Chernuchin in light of his departure.
"It has truly been an honor writing for Raúl," Chernuchin commented to Entertainment Weekly. "The power, sensitivity, and morality he brought to the character of Rafael Barba never failed to elevate our scripts. Raúl is family, and we look forward to seeing his talent shine in new projects. As for Barba, 'SVU' fans may see him again soon." Esparza bounced around the television world from "Hannibal" to "The Path, but it wasn't long before the actor would reprise his role as Counselor Barba. He returns only to leave "SVU" fans torn over Barba in the crossover episode with "Organized Crime." His conflict with Benson continues in the Season 23 finale, leaving the door open for him to return in the future (via TV Insider).