Why Rafael Barba From Law & Order: SVU Looks So Familiar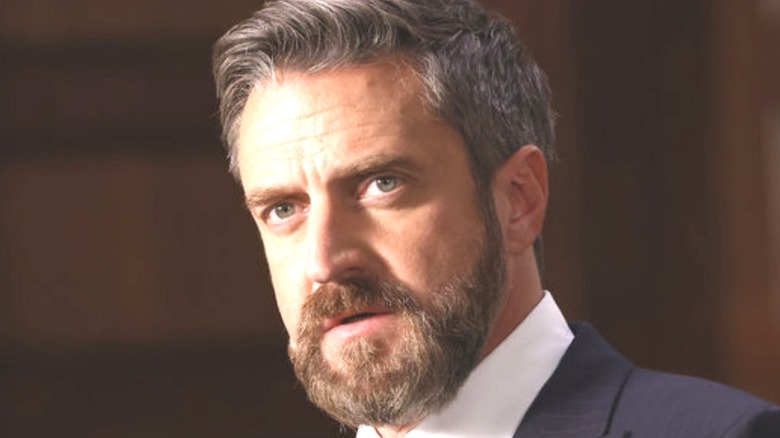 Will Hart/NBC
The "Law & Order" franchise has proven that the crime procedural works. Creator Dick Wolf first started the craze with the original "Law & Order" in 1990. The show reached incredible popularity, which led to the spin-off "Law & Order: Special Victims Unit." After well over 20 years on the air, detectives Olivia Benson (Mariska Hargitay) and Elliot Stabler (Christopher Meloni) have become iconic. While Stabler has since moved to "Organized Crime," the series has seen a wide cast of compelling characters, and one fan-favorite "Law & Order: SVU" character has stood the test of time.
Rafael Barba (Raúl Esparza) was the ADA on "SVU" who first arrived in Season 14. The character stirred the waters in particular when he went on to defend Kathy Stabler's murderer in the highly anticipated "SVU" crossover event. Barba proves to be a fantastic lawyer but in this case, does not have the moral high ground. With his long years on Broadway as well as film and television credits, Esparza has had quite a few iconic roles (via Broadway.com).
This wasn't the first Law & Order property he was involved in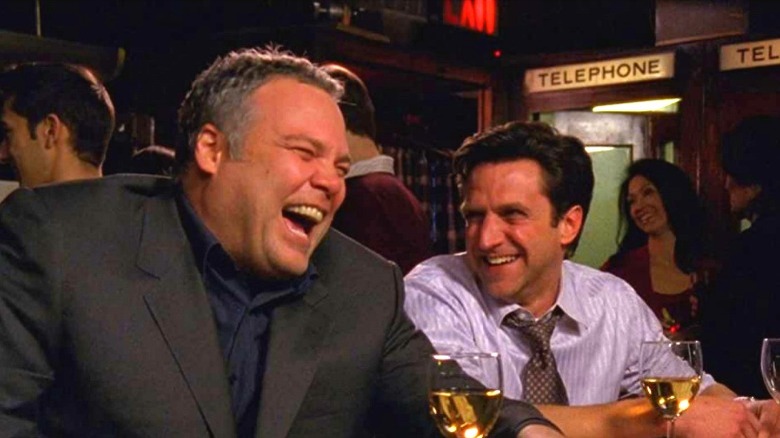 NBC/USA
Raúl Esparza's television career started to kick off in the late '00s. Like many actors of the time, he landed guest roles on the lucrative and successful series that he would later star in. "Law & Order" is known to bring back recurring actors for different roles, and Esparza was no different.
He first appeared in the franchise on "Law & Order: Criminal Intent" in Season 8, Episode 11, "Lady's Man," as an ADA by the name of Kevin Mulrooney. Just a year later, the actor appeared on the original "Law & Order" in Season 20, Episode 12, "Blackmail," as Dennis Di Palma.
With only one episode each, both of these roles were significantly less prolific than his role as Barba on "Special Victims Unit." And after these appearances, Esparza would go on to juicier and more deadly roles.
Raúl Esparza became a familiar face on Bryan Fuller's shows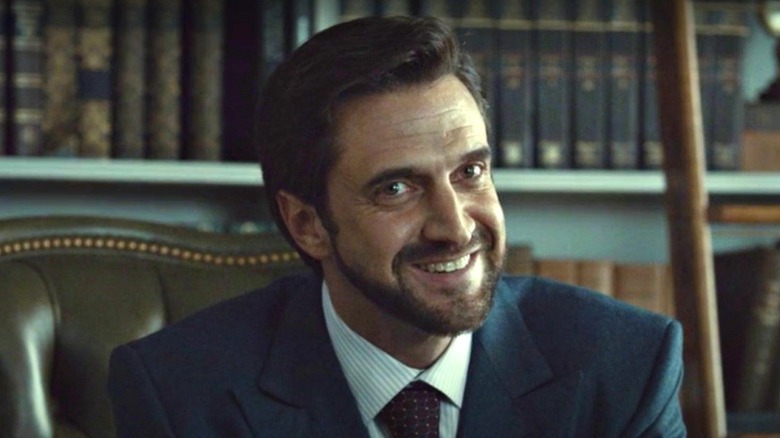 NBC
Bryan Fuller seemed to take a liking to Raúl Esparza since he cast him in more than one of his television shows. Fuller became notable for creating some of the most unique and at times short-lived programming, first putting Esparza in a small role on ABC's "Pushing Daisies." The actor appeared in two episodes as Olive's (Kristin Chenoweth) potential love interest, Alfredo Aldarisio. The character did leave as much of an impact as Esparza's second Bryan Fuller endeavor in NBC's "Hannibal."
The beautiful and wildly disturbing show took its stories from the Thomas Harris Hannibal Lecter book "Red Dragon." Esparza portrays Dr. Frederick Chilton, who infamously goes on to house Hannibal at the Baltimore State Hospital for the Criminally Insane. In "Hannibal," however, he is an ambitious doctor, greedy to get his hands on a study that will make him famous. He foolishly tangles with Hannibal (Mads Mikkelsen), who time and time again gets the upper hand. Chilton lasted 12 episodes of the three-season series before its cancellation, though there is some hope for an eventual Season 4.
Raúl Esparza teamed up with Hugh Dancy a few more times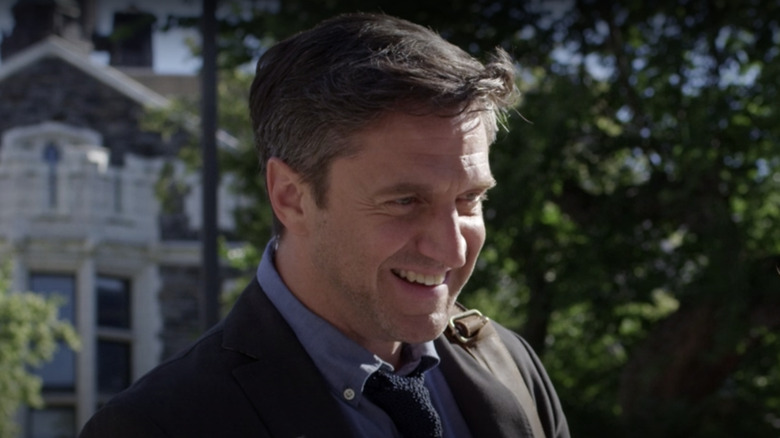 Hulu
The cancellation of "Hannibal" did not keep Raúl Esparza down for long. He and Hugh Dancy, who had starred alongside Esparza as Will Graham in "Hannibal," were able to appear in the same property more than once. After "Hannibal," the two actors appeared in Hulu's show "The Path." Dancy appeared as de facto cult leader Cal Roberts for three seasons. Esparza did not show up until Season 3 but portrayed Jackson Neill, initially a skeptic of Meyerism who studies religion for a living. "The Path" follows Eddie Lane (Aaron Paul), a convert to the fictional religion called Meyerism. With his wife, Sarah (Michelle Monaghan), and their children, he explores spirituality as well as his crisis of faith. After its three-season tenure, Hulu unfortunately did not elect to pick up "The Path" for a Season 4 (via Deadline).
After this run-in, Esparza and Dancy also appeared in "The Good Fight," the spin-off of "The Good Wife." Dancy expressed to Entertainment Weekly that he would love to share scenes with his old co-star Esparza though was not aware of any scenes where the characters interacted.
Raúl Esparza appeared in Hulu original Dopesick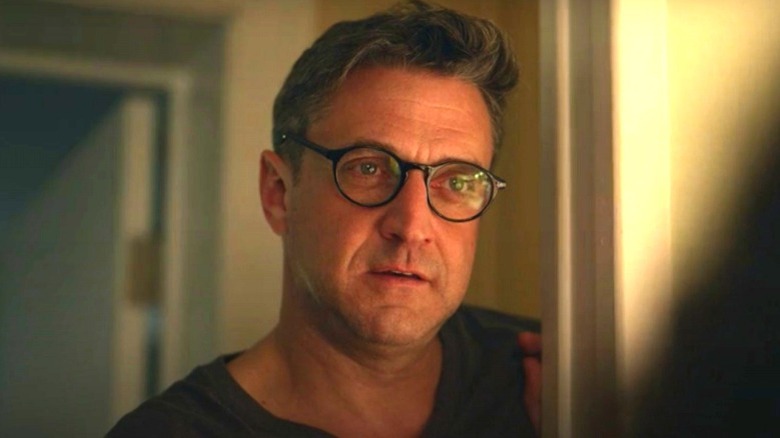 Hulu
Raúl Esparza continued his relationship with Hulu original content in the recent drama "Dopesick," an eight-episode series inspired by true, though slightly fictionalized, events. Based on the nonfiction book "Dopesick: Dealers, Doctors and the Drug Company that Addicted America" by Beth Macy, "Dopesick" covers the real-life ramification of the opioid crisis, and many of the characters in the series are inspired by real-life figures.
Esparza appears in six episodes as Paul Mendelson, the husband of Bridget Meyer (Rosario Dawson), a fictional DEA agent involved in the investigation of Purdue Pharma. The stress of the crisis along with their personal issues does not make for a good marriage, and the audience sees the happiness of how the couple first gets together followed by how Bridget's obsessive desire to work on the investigation ultimately triggers the demise of their relationship and eventual divorce.