The King Of The Hill Character You Likely Forgot Jennifer Aniston Played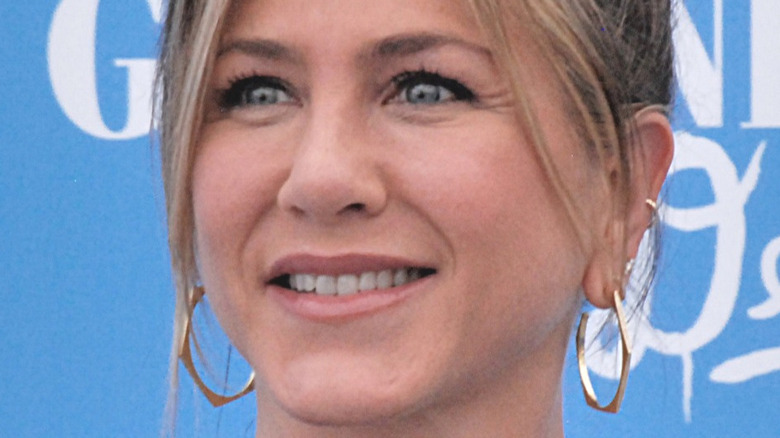 GIO_LE/Shutterstock
The Emmy-winning animated series from Mike Judge, "King of the Hill," has been revered by Time as having been "quietly the best family comedy on TV" after it concluded its impressive 13-season run. Over the years, the show entertained home audiences and introduced fans to various hilarious characters. From the main players to the many memorable guest appearances, there is no shortage of star power that helped make this show one of the greatest TV cartoons of all time (according to TV Guide).
Undoubtedly, the Hill family is the ultimate highlight of the series, with each member having their fair share of gut-busting experiences and heartfelt interactions. Stars like Brittany Murphy, Pamela Adlon, Kathy Najimy, and Mike Judge himself were chosen to bring the animated family to life. Luckily, they didn't have to keep viewers humorously engaged alone. Plenty of celebrities popped up in episodes along the way to help keep the laughter going, like Johnny Depp as a yoga instructor in Season 8 and Mathew McConaughey voicing Rad in "The Wedding of Bobby Hill." Other big names that made the roster include Tom Petty, Snoop Dogg, Meryl Streep, and Renee Zellweger.
After over 200 episodes (via IMDb), it's safe to assume that even the most diehard fan will be unable to remember every guest appearance, and some may have forgotten that "Friends" star Jennifer Aniston had a role in "King of the Hill."
Jennifer Anniston voiced Pepperoni Sue in Queasy Rider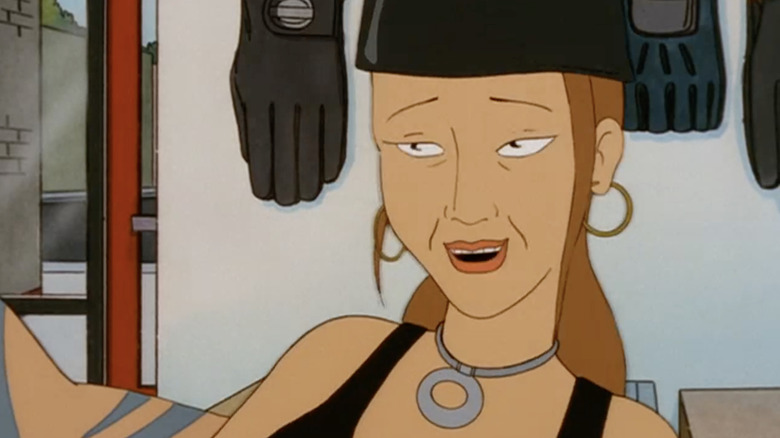 Fox
Jennifer Aniston has been a powerhouse during her career, earning accolades like a Primetime Emmy, and among her many accomplishments is an excellent portrayal of Pepperoni Sue in "King of the Hill."
In Season 7, Episode 13 ("Queasy Rider"), Hank (Mike Judge) and Peggy Hill (Kathy Najimy) start riding a motorcycle as part of their couples counseling, and soon afterward, they run into a biker couple that has been married for 10 years on their way to renew their wedding vows. Despite being a bit wild, Pepperoni Sue (Jennifer Aniston) and Lumpy (David Herman) are very affectionate toward one another and have a bond that Hank and Peggy seem to envy. In the end, the hog-riding pair teach Hank about boundaries, helping Peggy and him reconcile their differences.
This appearance wasn't the only time that Aniston worked with Judge, as she previously starred in his classic comedy feature "Office Space." In an interview with People, Judge and some of the cast expressed their gratitude for Aniston's involvement in the project, claiming it was beneficial both on and off-screen. He said, "I thought she was great in it but also that it helped us put the studio at ease a bit — at least they had one famous person." Aniston proved to be a true asset to Judge in "Office Space," and it's unsurprising he recruited her back into the fold for "King of the Hill."