Olivia Newton-John Once Revealed What Things Were Really Like On The Set Of Grease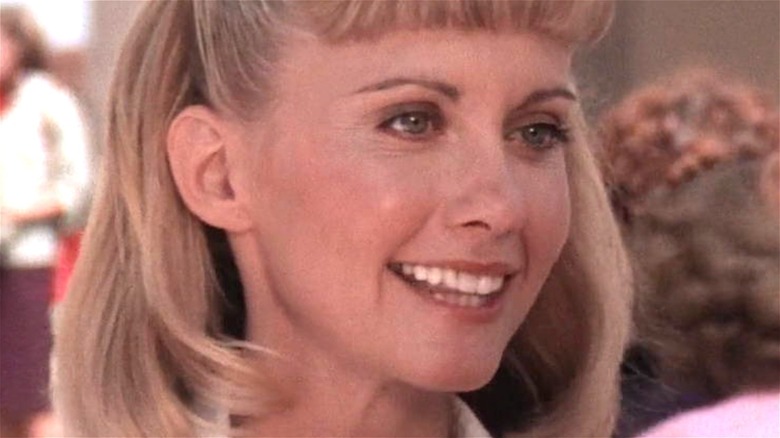 Paramount Pictures
The entertainment world is mourning the loss of music and movie icon Olivia Newton-John, whose death was announced on Monday, August 8. While the cause of death wasn't immediately revealed by her husband, John Easterling, Newton-John was battling breast cancer for a third time after the disease resurfaced in 2017.
Apart from a stellar music career that included the hits "I Honestly Love You," "If Not For You," "Have You Never Been Mellow," "Please Mr. Please," "Magic," and "Physical," Newton-John became a movie icon in 1978 when she starred opposite John Travolta in the big screen adaptation of the Broadway musical "Grease." Playing Sandy Olsson, an innocent Australian student who relocates with her family to California, the new girl in town struggles to find her place as a high school senior in 1959 after she experiences a summer romance with bad boy greaser Danny Zuko (Travolta).
"Grease" became a massive hit with audiences after its release, and today it still ranks as one of the 30 highest-grossing films of all-time, with its initial box office tally adjusted for inflation. "Grease" also bolstered Newton-John's music profile, providing her with a major platform to perform hits like "You're the One That I Want" with Travolta, "Summer Nights" with the core cast, and the solo tune "Hopelessly Devoted to You."
"Grease" has had tremendous staying power since its initial release nearly 45 years ago, and to celebrate the film's enduring popularity, several cast members including Newton-John, Travolta, Didi Conn, and director Randal Kleiser have often reunited for the film's landmark anniversaries and special "sing-along" events. Clearly the cast and crew members have enjoyed being in each other's company over the years, and Newton-John shared in 2019 her recollections of being on the film's set.
Newton-John says the 'great energy' from the Grease set comes through in the movie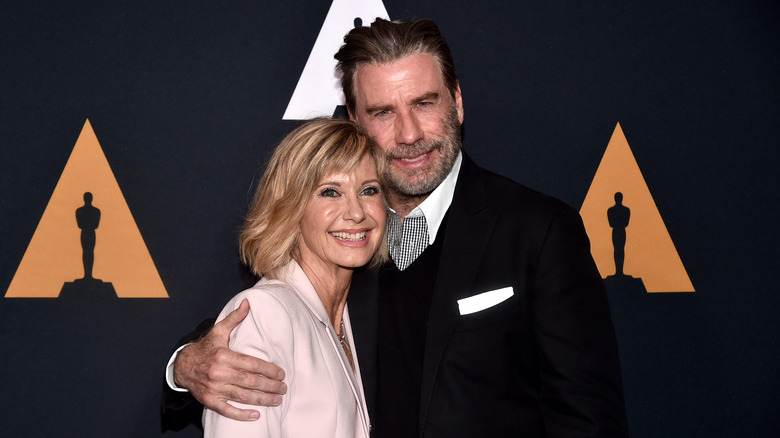 Alberto E. Rodriguez/Getty Images
In an interview with Broadway World ahead of a special "Meet & Grease Sing-Along" event, Olivia Newton-John was asked what stood out the most to her about making the legendary movie musical. "The fun of all of us being together. All of it was notable because I hadn't made many films at that time and doing a musical was so much fun," Newton-John told Broadway World. "It was just a great energy and I think that's what comes through when you watch the movie. That's what it was like on set."
Newton-John said she enjoyed the atmosphere on set even in less-than-ideal conditions. Ahead of another "Grease" sing-along event in 2020, Newton-John, John Travolta, and Didi Conn recalled the intense heat the cast endured in a high school gym without air condition during the filming of the classic high school dance contest scene. "It was really hot in that gym," Travolta recalled for Entertainment Tonight, while Newton-John added, "But we really had a lot of fun the whole movie. For me, it was like going to high school. I never went to high school like that."
Newton-John's other film credits included the 1980 movie musical "Xanadu," and the 1983 mystical romantic comedy "Two of a Kind," where she re-teamed with Travolta. In an Instagram post by Travolta after Newton-John's death was announced, her longtime friend and co-star wrote, "My dearest Olivia, you made all of our lives so much better. Your impact was incredible. I love you so much. We will see you down the road and we will all be together again. Yours from the first moment I saw you and forever! Your Danny, your John!"
Sounds like the bond they forged on that "Grease" set endured.