How Indigenous Critics Really Feel About Prey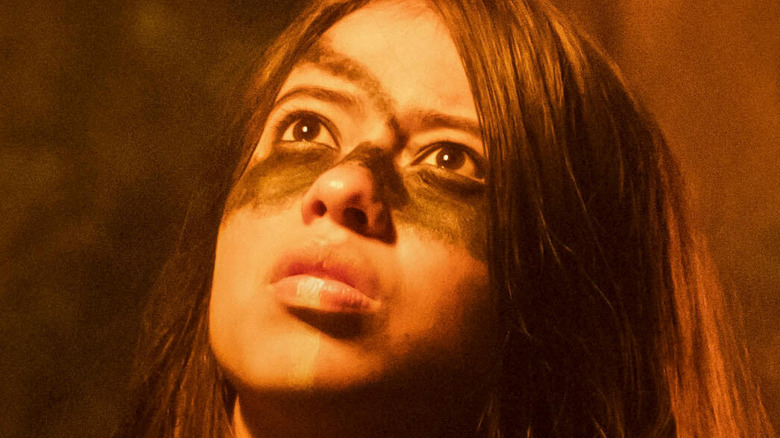 David Bukach/Hulu
Since its premiere on August 5, Hulu's "Prey" has become a Hollywood flagbearer for Native American representation and authenticity. In addition to responding favorably to the film's story, movie critics have heaped praise on the film's focus on Indigenous culture, calling it one of the most realistic and honest period pieces in cinematic history (via Rotten Tomatoes). 
"Prey" producer Jhane Myers reportedly poured her heart and soul into the "Predator" prequel — using her knowledge and experience as a member of the Comanche Nation to help construct scenes and props (via The Hollywood Reporter). Evidently, the cast was every bit as dedicated. In fact, "Prey" made Hollywood history before it even hit Hulu, because it is the first franchise movie to have a majority indigenous cast. 
Additionally, many cast members, including lead star Amber Midthunder, have spent a lot of time talking about the sci-fi thriller's dedication to historical accuracy. According to Midthunder, delivering an accurate representation of Indigenous peoples was of the utmost importance to her.
So, how does the Indigenous community really feel about it?
Many Indigenous critics are praising Prey
In her review of "Prey", film critic and A Tribe Called Geek founder Johnnie Jae referred to "Prey" as "a groundbreaking achievement" for "the entire Comanche Nation." 
"It is so much more than just another Predator movie," said Jae, who is from the Otoe-Missouria and Choctaw Tribes of Oklahoma, according to her online bio. "It is a rare tribute to the indigenuity, strength, and sheer stubbornness that has allowed Native people to survive the forces that threaten our survival," Jae explained. Her website, A Tribe Called Geek, is described as an award-winning media platform for Indigenous Geek Culture and STEM. 
Jae pointed out in her review that the film was originally intended to be shot fully in Comanche, rather than English. But director Dan Trachtenberg decided to go with two different versions — the main version in English and a fully-dubbed Comanche cut. According to Jae, it's the first film to be released in both Comanche and English. "I highly recommend ONLY watching the Comanche version of Prey," she wrote in her review. "It is an incredible opportunity to watch a movie entirely in Comanche, but there's also a lot of humor and essential nuances that get lost in the English version. Expand your horizons and watch the Comanche version." 
The movie's star, Amber Midthunder, is also apparently a massive fan of the Comanche dubbing. "Working with real Comanche language speakers and people who devote their lives to the preservation of their own language was the opportunity of a lifetime," she told The Digital Fix. "It's special in so many ways." 
Critics say that Prey pulls off Indigenous representation 'masterfully' and never feels boring
Vincent Schilling, founder and editor of Native Viewpoint — who is Akwesasne Mohawk — similarly described "Prey" as a film that manages to represent Indigenous people "masterfully" while also holding up as an incredible action film. Indeed, many critics have said that the film deserves to be ranked among the best of the "Predator" movies.
"I was admittedly nervous in one sense because, as a Native American journalist, I have seen my share of predatory behavior against Native communities in history," Schilling said. "But due to the diligence of [Dan] Trachtenberg and [Jhane] Myers as well as others, the film doesn't come across as though the Native warriors are just cannon fodder."
Schilling also noted that it was clear that the producers of the film paid "supreme diligence" to the cultural accuracy of the film. "For once, as a Native man," Schilling wrote, "I could actually relax and enjoy a film without waiting for the culturally inappropriate bomb to drop." When it came to the interactions with settlers and non-Native peoples, Schilling's only complaint — for pretty much the entire movie — was that they seemed like "overly clumsy fools." But as he wrote, "perhaps that was the point."
In the end, it appears that most Indigenous critics are huge fans of "Prey," with many saying the same things about its representations of Native American culture. "The biggest feeling I have overall is that the film was simply fantastic," Schilling said. "Shoutout to all the cast and crew for doing an exceptional job. You made this Mohawk film reviewer proud."