The Small Grease Scene Olivia Newton-John Was Actually Pretty Nervous To Film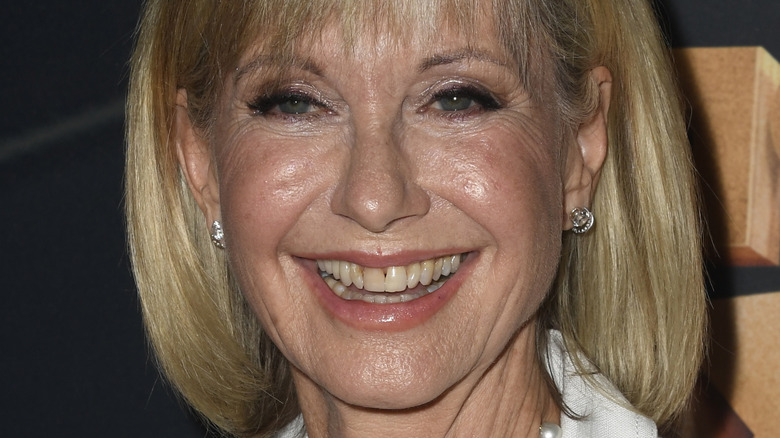 Frazer Harrison/Getty Images
Upon hearing the sad news about the recent death of Olivia Newton-John, many fans around the world are undoubtedly reflecting on the actress's starring role as Sandy in the 1978 musical film "Grease." 
Directed by Randal Kleiser, "Grease" follows the romance between "greaser" Danny Zuko (John Travolta) and good-natured transfer student Sandy Olsson (Newton-John). After a passionate summer fling, the two struggle to continue their romance because they run in such markedly different social circles. Specifically, Danny's desire to keep up a certain type of bad-boy persona in front of his friends prevents him from continuing his genuine connection with Sandy. Among the up-and-down relationship at the center of the plot, the movie contains well-known musical numbers such as "Summer Nights" and "You're the One that I Want."
At the time of the film's release, Newton-John was known mostly for her singing career, with her acting credits prior to "Grease" basically nonexistent (via IMDb). Thus, "Grease" was the world's introduction to Newton-John as an actress. Naturally, Newton-John had some nervous moments on her first big film set, including one scene, in particular, that made her a bit anxious to act out.
Newton-John was nervous to film a kiss scene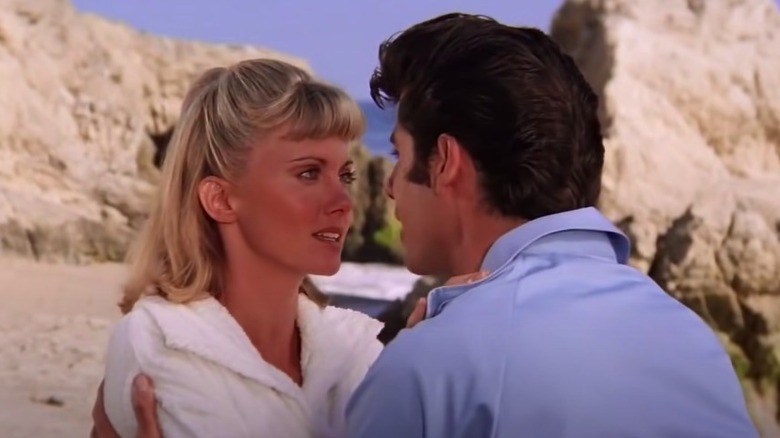 Paramount Pictures
In January of 2021, Olivia Newton-John reflected on her time filming "Grease" during an interview with Us Weekly — and revealed which scene made her nervous to film. The scene in question was the kiss between Sandy and Danny on the beach in the opening sequence of the film. It also happened to be the first day of filming for the actors.
Describing what it was like to film the kiss, Newton-John said, "I was nervous of course. I remember just before that we were sitting on a rock and it's actually in the movie that these waves broke over us ... But it was a very special day and it was really a nice way to get to know John a little bit because we hadn't spent all that much time together. We had some rehearsal time and dance time and stuff, but this was our first acting day. It was lovely. It was special."
Despite her nervousness, Newton-John revealed that Travolta helped put her at ease and guided her along the way since she was new to acting. Describing his generosity, Newton-John continued, "He was very thoughtful and encouraged me if he thought I wasn't doing a good enough job."
Travolta also advocated for Newton-John to get the part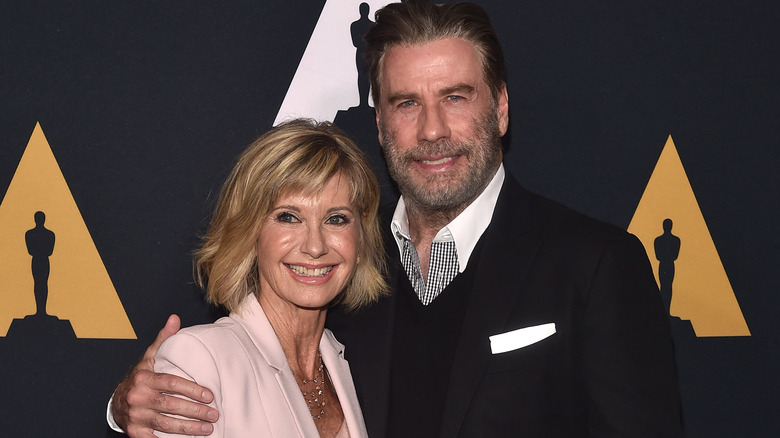 Alberto E. Rodriguez/Getty Images
In 2020, Entertainment Tonight talked with the cast of "Grease," including Olivia Newton-John and John Travolta, about the lasting legacy of the popular musical film. During the conversation, Travolta revealed how he knew Newton-John was right for the part. He also detailed exactly how he advocated for her to get the role.
Travolta said, "They had brought up Linda Ronstadt [and] Marie Osmond [for the part of Sandy]. And I said, 'They're wonderful but every guy in the world wants Olivia Newton-John as their girlfriend!' And I knew that because I wanted that, I felt the same way. And every girl wants to be like her. And I said, 'If you don't see this, you guys are nuts.' Because there was only one person in the world that was Sandy and that was Olivia Newton-John."
Further, at an Oscars panel to celebrate the film's 40th anniversary, Newton-John explained that she was initially hesitant to take on the role because another musical film she had acted in had flopped. However, Travolta managed to convince her to reconsider. Newton-John said, "And then they sent John to meet me. And who could say no, right? This gorgeous guy walks up my driveway [with] these bright blue eyes and he was so sweet and melted me." 
She then revealed that after a discussion about whether or not she could pass as a teenager (she was 28 at the time), Travolta got her to agree to a screen test, which, of course, led to her signing on for the part. Newton-John concluded the story by turning to Travolta and saying, "Thank goodness you did that. Thank you."