John Travolta's Age In Grease Might Surprise You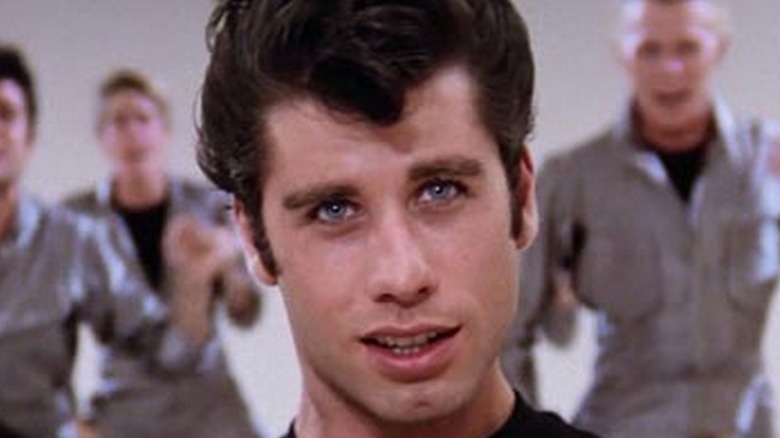 Paramount Pictures
You know a movie is popular when 44 years later we're still interested in its trivia. 1978's high school musical romp "Grease" is just one of those movies. Set in the late '50s, the smash hit film raked in $396 million worldwide per Box Office Mojo, a crazy number considering the budget was a mere $6 million. "Grease" was very much the word — and the word was money. Even the soundtrack took on a life of its own, with a collection of some of the catchiest songs ever to grace the silver screen, including the titular track written by legendary '70s music icon Barry Gibb. This movie was such a phenomenon it still runs on cable channels frequently.
Starring John Travolta as teen rebel (yeah, yeah, we're getting there) Danny Zuko, and Olivia Newton-John as sugar-sweet Sandy Olsson, the story saw the star-crossed couple fresh off a summer fling struggling to maintain their relationship — and reputations — back in the real world of high school. It's the classic American love story (with a pretty terrible message in the end). The film is rated PG, despite all kinds of references to sex, a pregnancy scare, a full-on triple mooning, tons of smoking, colorful language, and lots of other things that would give Disney's PG "High School Musical" a heart attack. Ah, the '70s!
Everyone in the cast looks about 30, and some of them are right around that age. But somehow, it works. Just go with it. Travolta may not have been the oldest student at Rydell High, but he was no teenager either.
Travolta was almost the youngest in the cast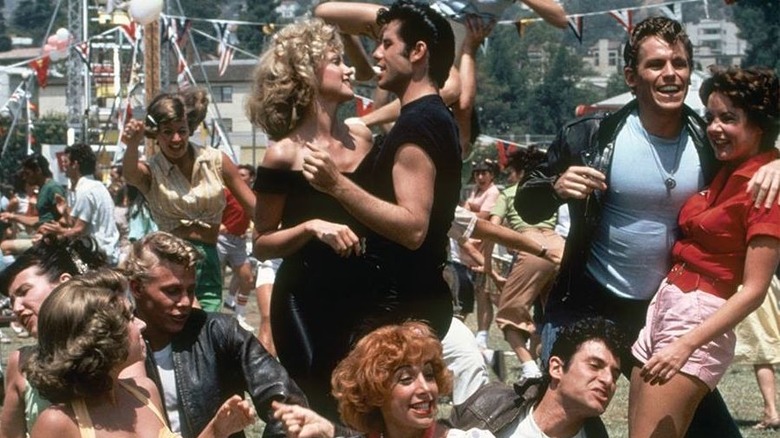 Paramount Pictures
For proper context, John Travolta was already a blossoming young star when "Grease" came out, having already played a high schooler in 1976's chiller "Carrie," as well as the TV hit "Welcome Back, Kotter," with the latter role continuing even after "Grease" came out. So audiences were already used to the idea that he looked like he must have flunked about five grades. Also tucked in there was the 1977 film called "Saturday Night Fever," though Travolta didn't have to pretend to be a high schooler in that one.
By the time filming on "Grease" started, Travolta was 23 (per Insider), even though Sandy proclaims in song that Danny "just turned 18." However, Travolta was actually one of the youngest enrolled in the class. The only principal even more youthful was Kelly Ward (Putzie), who was 20. Olivia Newton-John (Sandy) was playing a 17-year-old student at 28. Jeff Conaway (Kenickie) was 26, Barry Pearl (Doody) was 27, and Didi Conn (Frenchy) was 25. The we-might-be-stretching-it-now crowd was headlined by 33-year-old Stockard Channing (Rizzo), Jamie Donnelly (Jan) at 30, and Michael Tucci (Sonny), who was 31. 
To be fair, Hollywood has a long history of playing loose with ages ("Beverly Hills, 90210" anyone?). None of this detracts from "Grease" being one of the most successful and beloved movies of all time, however. As for Travolta, he eventually did graduate to grown-up roles. But he'll always be Greased Lightnin'.