Who Did Dan Aykroyd's Daughter Play In Ghostbusters: Afterlife?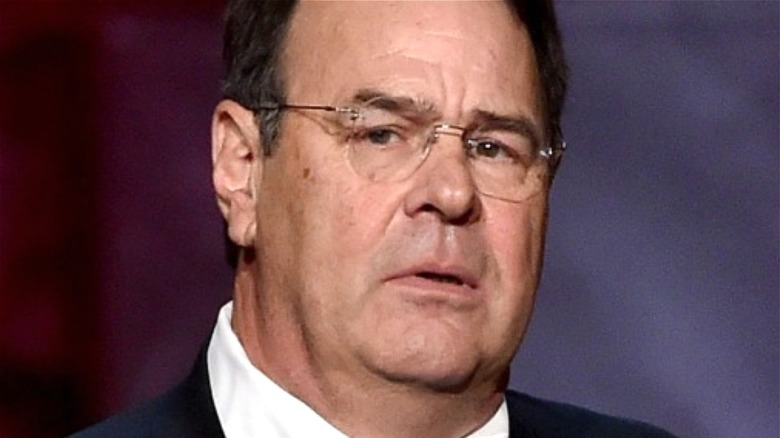 Kevin Winter/Getty Images
What started as a rip-roaring science-fiction adventure with the comedy classic "Ghostbusters" in 1984 morphed into a family affair 37 years later in "Ghostbusters: Afterlife," the long-awaited threequel, essentially, in the "Ghostbusters" franchise. The original, of course, starred Bill Murray, Dan Aykroyd, Harold Ramis, and Ernie Hudson, and after the first sequel, "Ghostbusters II," in 1989, the stars and director certainly heard the calls for more adventures. But the franchise went dormant.
Finally, in 2021, the gang got back together for pivotal supporting roles in "Ghostbusters: Afterlife," which introduced the third generation of Ghostbusters, formed by accident by Egon Spengler's (Ramis) grandchildren Phoebe (Mckenna Grace) and Trevor (Finn Wolfhard). Appropriately, the film's family theme was reflected in the creative forces behind "Ghostbusters: Afterlife," as Jason Reitman — the Oscar-nominated filmmaker behind such hit films as "Juno" and "Up in the Air" — took over the director's duties from his father. Ivan Reitman, who sadly passed away just shy of three months after the film's release, was one of the film's producers.
However, the film's theme and the father-son creative team weren't the only family connections that tied "Ghostbusters: Afterlife" together. Aykroyd's daughter got in on the action, too.
Aykroyd's daughter plays a sheriff's deputy in Ghostbusters: Afterlife
In addition to the three surviving Ghostbusters, other familiar faces from the franchise popped up throughout the film, including Annie Potts and Sigourney Weaver. Perhaps the film's greatest feat, though, was how it worked Harold Ramis into the film since he passed away in 2014 (via Variety). Ramis, appropriately, appeared as a radiant spirit near the emotional conclusion of "Ghostbusters: Afterlife."
Among the other actors who appeared in "Ghostbusters: Afterlife" was Dan Aykroyd's daughter, Stella Aykroyd, who played Deputy Medjuck. In the film, the younger Ghostbusters continue to find themselves in trouble with local law enforcement after Egon's old Ghostbusting equipment is discovered. Bokeem Woodbine plays Sheriff Domingo, the top cop of Summerville, Oklahoma — where the film is set — and the father of one of the new Ghostbusters, played by Celeste O'Connor. One of the deputies aiding Domingo is Medjuck.
According to Ghostbusters News, Aykroyd appears approximately halfway through the film, where Phoebe and Trevor's mother, Callie (Carrie Coon), as well as her friend and Phoebe's teacher, Mr. Grooberson (Paul Rudd), make an unexpected trip to the Summerville jail. Upon their arrival, Callie speaks to Medjuck and asks why her children and their friend, Podcast (Logan Kim), are being held at the facility.
IMDb indicates that "Ghostbusters: Afterlife" is Aykroyd's first major feature film credit. She is one of Dan Aykroyd's three daughters with his estranged wife, Donna Dixon (via The Hollywood Life).