Are Jennette McCurdy And Miranda Cosgrove From iCarly Best Friends In Real Life?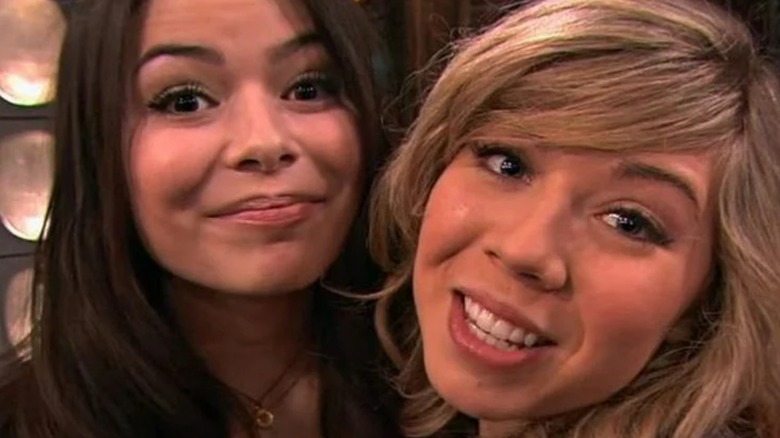 Nickelodeon
From September 2007 to November 2012, "iCarly" stood at the forefront of Nickelodeon's live-action offerings. Centered on a group of kids who hit it big with their online web series, all kinds of hilarious hijinks and disastrous misadventures ensue. At the same time, the series didn't shy away from taking things in a more somber, dramatic direction now and again. Without such a capable cast behind it, though, one has to wonder if this tonal range would've led to an early downfall for "iCarly." After all, the characters are among the most well-remembered elements of it.
Alongside cameraman and tech genius Freddie Benson (Nathan Kress) and eccentric artist Spencer Shay (Jerry Trainor), in-universe "iCarly" web show hosts Carly Shay (Miranda Cosgrove) and Sam Puckett (Jennette McCurdy) were the prime focus of the Nickelodeon favorite. Sure, they had their bumps in the road and occasionally let their personal feelings get in the way of their show, but the two were inseparable at the end of the day. Their friendship endured throughout all six seasons, and even though McCurdy doesn't appear in the "iCarly" revival, Carly and Sam's bond has yet to dissolve.
It's no secret how close Sam and Carly are, but what about Miranda Cosgrove and Jennette McCurdy? Here's the truth about their real-life friendship.
Cosgrove and McCurdy have grown incredibly close over the years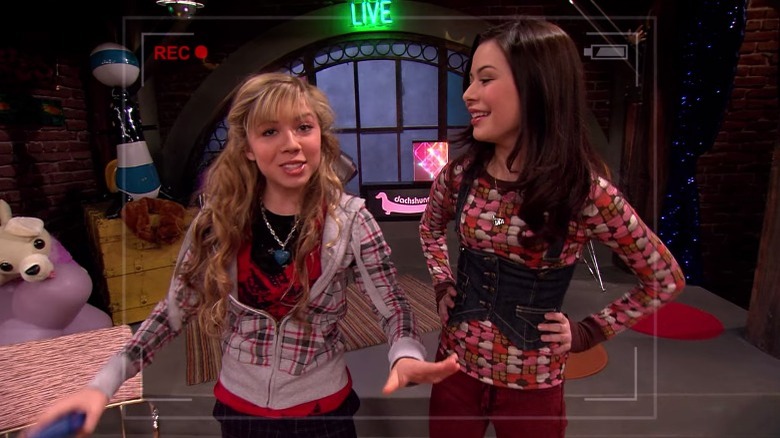 Nickelodeon
Throughout their time working on "iCarly" together, Jennette McCurdy and Miranda Cosgrove grew incredibly close in real-life — a friendship they've maintained in the years since the show's first run concluded. As McCurdy explained on an episode of her "Empty Inside" podcast, her connection with Cosgrove and her other co-stars went a long way in making a miserable filming experience worthwhile. "It was better in that aspect — having some friends my age was helpful and healthy. Even though you're all kids trying to be adults, you can still, in that regard, try to connect with one another," she said.
Of course, we don't just have to take McCurdy's word for it since Cosgrove has also shared a bit about their connection. In a 2017 interview with BUILD Series on YouTube, she noted that they live very close to one another, so they still see each other all the time, and she couldn't be happier about it. Cosgrove also mentions that she's grateful she got to work with McCurdy for as long as she did while establishing a friendship that has lasted for so long. As it turns out, they were born in the same hospital, so perhaps it was their destiny to become best friends and post about each other on Instagram from the very beginning.
Sam Puckett and Carly Shay will go down as one of the most memorable TV duos for an entire generation of Nickelodeon watchers. Despite the fact that Jennette McCurdy's experience making the show was incredibly traumatic and left her with tons of regrets, at the very least, she struck up a friendship that one can only hope will never fade.