Whatever Happened To RinseKit After Shark Tank?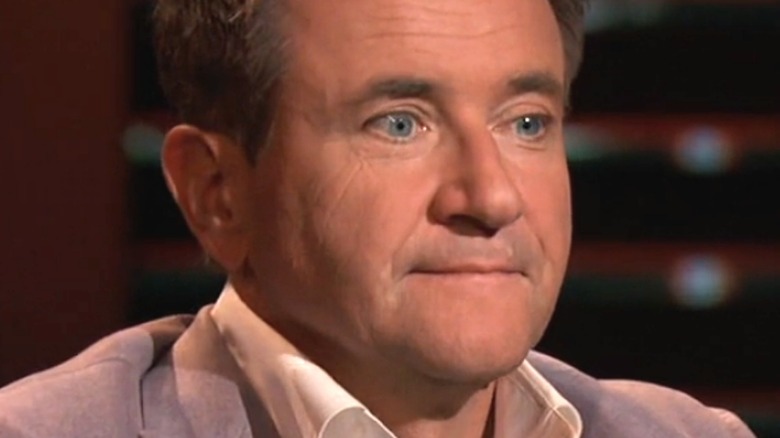 ABC
Whether you're a hardcore survivalist, a casual camper, an Instagram glamper, or a music fest fanatic looking to pad your feed with All The Sunsets, odds are that at some point in the course of your outdoor adventure, you're going to need to rinse something off. It's a common need that proved surprisingly difficult until recently since the great outdoors contains few (controllable, handheld) sources of water pressure. Enter: RinseKit — a portable, pressurized shower system that holds multiple gallons of water and boasts a formidable PSI of 65. Created by former pool business owner Chris Crawford and brought to market with the help of his business partner Eric Fagan, the device was featured in Season 8 of ABC's "Shark Tank."
When surfers Crawford and Fagan first braved the entrepreneur-infested waters of the series back in 2017, they'd already sold nearly $800,000 worth of their invention at a then retail price of $89.99 for a 2-gallon model. Though their margins were in the high 40s, the duo had racked up an unappealing, if understandable, debt of $550,000. Still, the pair were confident that sales would soon climb to over $2 million and waded into the episode asking for a $250,000 investment for 5% of the company. Their pitch and plea hooked four out of the five sharks and made for a rollercoaster ride of a segment. But whatever became of RinseKit, and how has it fared in the five years since its introduction to the stars of "Shark Tank?"
RinseKit won over Daymond John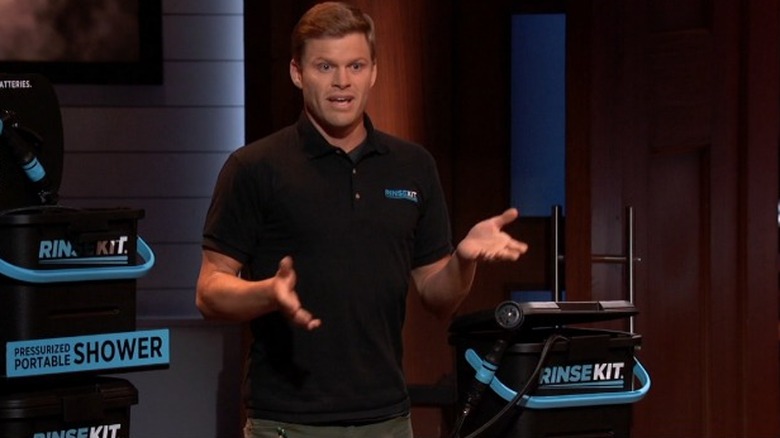 ABC
Following Chris Crawford and Eric Fagan's pitch, media and tech billionaire Mark Cuban opts out early, noting that despite being impressed by the product, its customer base doesn't quite gel with his business interests. Sharks Kevin O'Leary and Robert Herjavec are the first to bite, but O'Leary's offer means taking on another $250,000 in debt, while Herjavec's ultimate offer means giving up a full 20% of their company. QVC's Lori Greiner swims in for the kill next, offering, like O'Leary, a $250,000 loan in exchange for 5%, but asking for a sales commission as well. Clearly, the sharks are looking to feed, but the RinseKit kids aren't looking to be eaten. So when Daymond John swoops in with an offer that blends Herjavec's approach with Greiner's, Crawford and Fagan enthusiastically agreed: John would invest $250,000 for just a 7.5% stake in the company, but like Greiner, he wants a commission on their sales. 
By all appearances, the deal paid off. At present, the RinseKit site offers four different models of the product, beginning at $119.95 for 1.5 gallon POD, and ending at $449.95 for an even more convenient, battery-powered 4.5 gallon PRO PAK that removes the earlier model's need for a hose spigot or bib. In a 2020 Starter Story post, Crawford revealed that the company was pulling in roughly $1.5 million per year (via Shark Tank Blog). Notably, that success hasn't just lined the surfing businessmen's wetsuit pockets — it's also encouraged them to pay it forward. 
RinseKit's done a lot of good for the country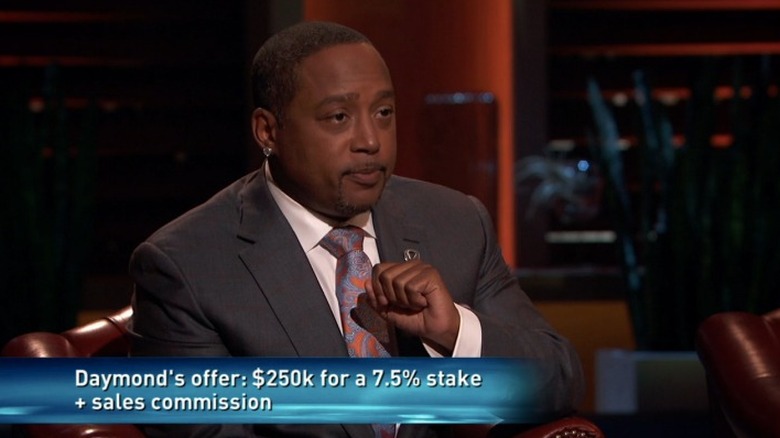 ABC
In recent years, RinseKit has teamed up with DigDeep, a human rights nonprofit whose goal, as the latter's site explains, is to "bring clean, hot and cold running water into American homes [while investing] in research, advocacy, and workforce development to close the Water Gap once and for all." A report by the U.S. Water Alliance revealed that more than 2 million Americans — a disturbing percentage of one of the richest countries in the world's total population — lacked running water, basic indoor plumbing, and adequate sanitation. Despite this discrepancy, federal funding for water and wastewater infrastructure has decreased dramatically in recent decades, plummeting from nearly $17 billion in 1976 to a mere $4.4 billion in 2014, according to a 2015 Congressional Budget Office chart (via EFC).
Having benefitted immensely from their deal with Daymond John, Chris Crawford, and Eric Fagan are now looking to pay their good fortune forward. Their focus on the domestic water crisis makes perfect sense given their product's use and market. The RinseKit site currently allows customers to add anywhere from a $1 to $10 donation (or multiple donations) to their cart. With their charitable contributions, a current year revenue stream of roughly $1.8 million, an ever-expanding product line, and placement with major retailers such as Target, Home Depot, REI, Amazon, Walmart, and Bass Pro Shops (among others), it's safe to say RinseKit is a bonafide "Shark Tank" success story.