Simu Liu Brutally Trolls Warner Bros. With Shang-Chi Holiday Special Tweet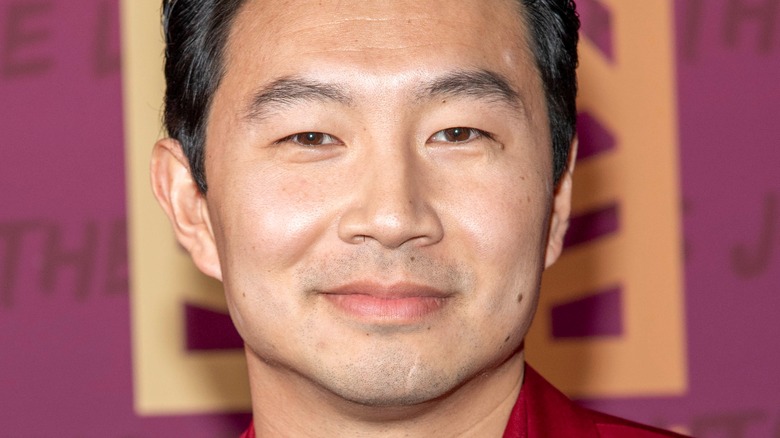 Eugene Powers/Shutterstock
For those who haven't been keeping track, Warner Bros. Discovery has been very much in the news this week after studio bosses announced they would not be releasing the hotly anticipated "Batgirl" movie in any format (via The Hollywood Reporter). The news was particularly shocking because the film not only boasted a reported $90 million price tag but also was already deep into post-production and presumed to be a big part of the big-screen DC Universe moving forward.
The announcement rightfully sent shockwaves through the film industry. As reported by TVLine, WBD big boss David Zaslav has since claimed the studio would rather not release a film it doesn't fully believe in, but many outlets (including Variety) reported early on that the studio was likely opting to take a massive tax write-off on "Batgirl" (and the canceled animated feature "Scoob!: Holiday Haunt") in lieu of actually releasing it. In any case, the cast and crew behind "Batgirl" remain stunned that their work will never see the light of day, as are DC fans who've been anxiously awaiting the film's release.
As one might expect, many of those fans have taken to various social media outlets to vent their frustration. So too has "Shang-Chi and the Legend of the Ten Rings" star Simu Liu, who savagely trolled the Warner Bros. Discovery decision with a tweet about a supposed "Shang-Chi" holiday special.
Fans have some serious feelings about Simu Liu's tweet
Simu Liu's tweet reads in part, "I'm sorry to inform you guys that Disney has decided to scrap the Shang-Chi Holiday Special due to quality control concerns. I had already filmed the entire thing. I even designed an all-gingerbread Ta Lo." However, no "Shang-Chi" holiday special has yet been announced by Marvel Studios or its parent company, Disney, so there's a clear bit of winking going on since the "canceled" project likely never existed.
Nevertheless, many Twitter users have taken umbrage at the star's tweet, noting that the "Batgirl" creative team is likely still smarting from the cancellation and that Warner Bros. Discovery may be setting a dangerous new standard for the film and television industry. User @yo_elmanolo was among them, demanding that Liu not only delete his tweet but also follow it with an apology video. Meanwhile, @CJ_Fera was one of several fans who felt the tweet was in poor taste, stating simply, "Disrespectful," with @brookstweetz soon adding, "I love you but this isn't something to make light of. People got their dreams crushed for corporate greed. Every actor should be concerned."
Liu did have a few defenders, however, with @WilsonCleveland noting that the tweet was clearly not directed at the "Batgirl" creative team: "People. Simu is dragging the ridiculousness of WB's decision to cancel a $90 million movie. He's not dragging the cast, crew or fans. I get there's valid outrage but you're directing it at someone who likely agrees with you." Joke or not, Simu Liu's tweet, and Warner Bros. Discovery's still perplexing decision to shelve "Batgirl," continues to inspire some very strong feelings among fans of superhero cinema.