What Only Comics Fans Know About The Sandman's Johanna Constantine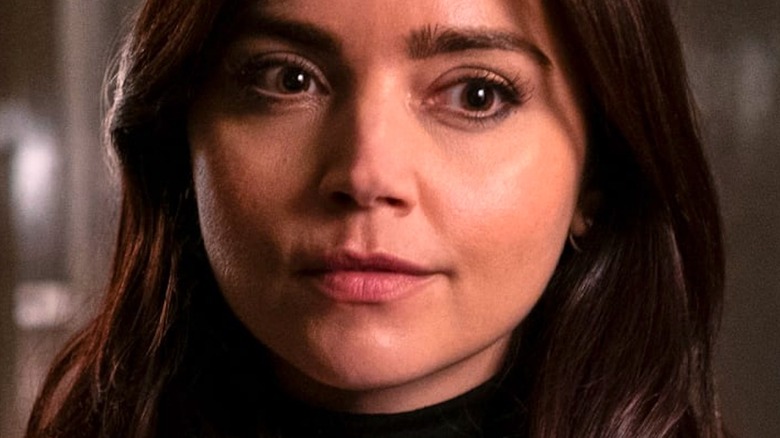 Liam Daniel/Netflix
Contains spoilers for "Sandman" Season 1
Neil Gaiman's "Sandman" has finally made it off the page and into live-action thanks to a faithful adaptation from Netflix, which stars Tom Sturridge as the lord of the Dreaming, Morpheus. The sprawling tale introduces the idea that all dreams and nightmares exist in a world called the Dreaming, a metaphysical realm that Morpheus can control (to some extent). When he's imprisoned by Roderick Burgess (Charles Dance) for 100 years, the Dreaming starts to decay — and after Morpheus escapes his glass cell, he has to repair the damage that has unfolded in his absence.
Sturridge is joined by an all-star cast assembled to portray the numerous larger-than-life characters in the "Sandman" universe, including David Thewlis as twisted villain John Dee, Gwendoline Christie's Lucifer, and Boyd Holbrook as the Corinthian. The series also includes "Doctor Who" alum Jenna Coleman as Johanna Constantine — a mysterious occult investigator who crosses paths with Morpheus when he goes hunting for one of his most powerful possessions, his Sand Pouch. He uses this sand to put people to sleep, as well as in battle. When Roderick captured Morpheus, the pouch found its way into Johanna Constantine's possession — which is why the moodiest member of the Endless returns to London.
He crosses paths with Constantine in Chapter 3: "Dream a Little Dream of Me," where Constantine's exorcising a demon out of a princess' fiancé. Thankfully, Johanna figures out that the pouch is at her ex-girlfriend's house, although the poor girl's become addicted to the endless dreams the sand offers her. For comics readers this probably sounds very, very familiar, though there's something very important even longtime fans might not know about Johanna Constantine as a character.
Johanna is based on John Constantine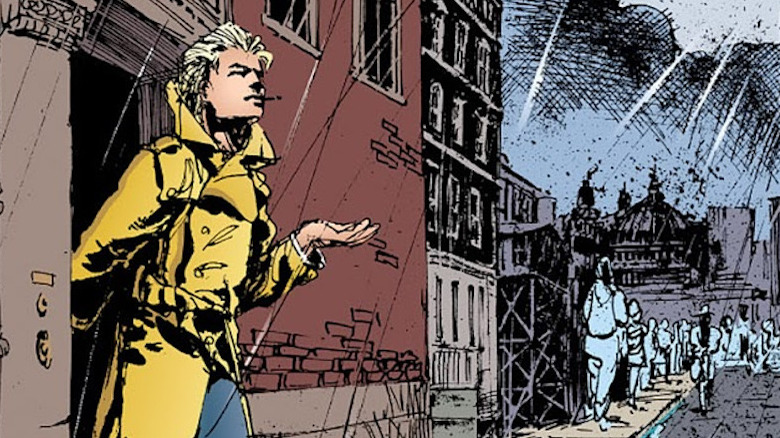 Sam Keith/Mike Dringenberg/Vertigo
"Sandman" fans know that Johanna Constantine is the ancestor of iconic magician John Constantine in the DC universe, but the Netflix series takes a new approach to both characters. While Lady Johanna (Jenna Coleman) appears in Chapter 6: "The Sound of Her Wings," her descendent in the present day is also played by Coleman. The modern version of Johanna is entirely based on John Constantine — and that's very clear in Episode 3, which explores her backstory.
Similar to John's origin in "Hellblazer" #11, Johanna heads into the Casanova club to help Astra when a portal is summoned inside the building. Although in the series, it's Astra's father who dabbles in satanic rituals rather than his daughter. Anyway, the key thing is that Astra ends up getting sucked into the portal which presumably leads to hell — exactly like the comics. And the rest of the episode follows the story of "Sandman" #3, where Constantine and Morpheus retrieve the Sand Pouch from John's ex-girlfriend, Rachel.
Johanna's a little more put-together than John — her client list includes the Royal family — although her love-life is equally chaotic. Johanna Constantine leaves her ex-girlfriend Rachel without actually breaking up with her, and she mentions another woman she had a fling with, Kit Ryan, another alumna of the "Hellblazer" comics.
Neil Gaiman revealed why this version of Constantine was changed to fit the Netflix series, tweeting, "The rights situation with John is certainly circumscribed right now. But the plan to have Lady Johanna and Joanna be in the story and played by the same person was there from the start. It seemed tidier. So it worked out."