Who Plays Dream On Netflix's The Sandman?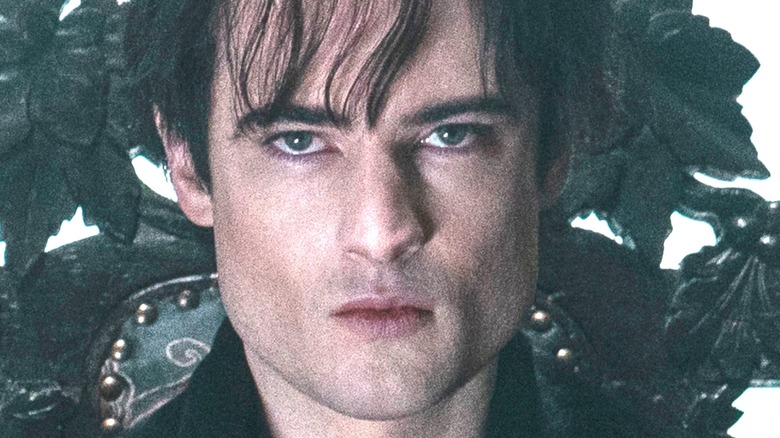 Liam Daniel/Netflix
Neil Gaiman's beloved comic book series "The Sandman" is a sprawling epic that takes the reader on a fantastical quest all across the universe — and in doing so, introduces us to a slew of mysterious and powerful beings from a variety of realms. Most important amongst these beings (at least in terms of the story) is the "Sandman" himself: Dream of the Endless.
Dream is an immensely powerful being who serves as a physical manifestation of dreams themselves and rules over a distinct metaphysical realm known as the Dreaming. Dream is essentially the overlord of dreams, and as such, wields an unbelievable amount of power over the waking world as well. In addition to being an extremely important character within the comic series itself, the legacy and influence of "The Sandman" has also made Dream one of the most revered comic book heroes of all time, ranking #15 on IGN's list of Top 100 Comic Book Heroes.
As such, there's no doubt that many will be wondering if the upcoming Netflix adaptation of the series will be able to capture the spirit of Neil Gaiman's seminal work and most iconic character. Here's who's playing Dream in Netflix's "Sandman."
Tom Sturridge is set to play Dream in The Sandman
Dream will be played by British actor Tom Sturridge in Netflix's "Sandman," joining the series' already star-studded ensemble cast, which includes the likes of Mark Hamill, Patton Oswalt, and "Game of Thrones" alumni Charles Dance and Gwendoline Christie.
Some of Sturridge's most well-known projects include the British comedy "The Boat That Rocked" (in which he acted alongside the late Philip Seymour-Hoffman) and his performance as Eammon in HBO's "Irma Vep." In addition, he was nominated twice for the Tony Award for Best Performance By a Leading Actor in a Play, once for his performance in Broadway's "Orphans," and the second time in 2020 for the Jake Gyllenhall-led "Sea Wall/A Life."
Taking on a comic book character as beloved and iconic as Dream himself is certainly a tall order, but if author Neil Gaiman's comments are any indication, it seems like the role is in good hands. During an interview with Entertainment Weekly, Gaiman admitted that Sturridge was one of the first ten people who auditioned for the role and became an immediate favorite — so much so that he remained the front frontrunner for Gaiman even after 1500 more auditions. While it's true that Sturridge's acting resume may not be as robust as some of his co-stars, Sturridge's two Tony nominations and the vote of confidence he received from Gaiman ought to get fans excited for his performance as Dream.