The Real Reason Kate McKinnon Left SNL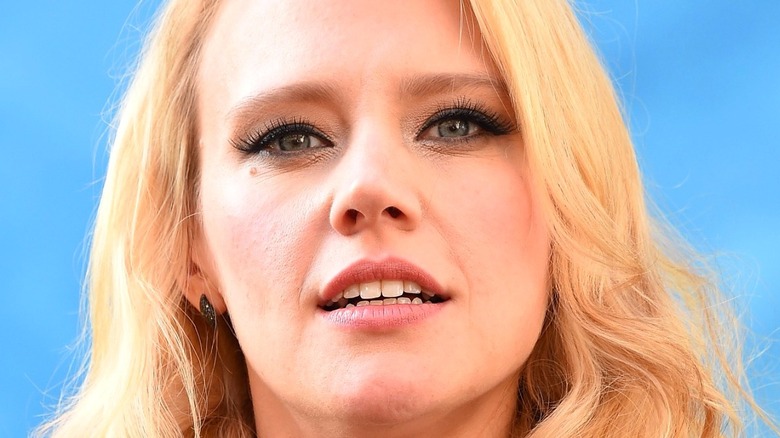 DFree/Shutterstock
"Saturday Night Live" has been on the air for so long that production always continues regardless of whether a "Not Ready for Primetime Player" leaves the NBC variety show. Cast members may perform on "SNL" for years at a time, like Kenan Thompson, or they might just stay on for a season before exiting. There have also been infamous moments where the producers have simply fired performers when it wasn't working. Almost all of the Season 11 cast, even a young Robert Downey Jr. and Joan Cusack, were cut from the show after the finale aired (via The AV Club).
Rehearsing and then taping "Saturday Night Live" every week can be a nerve-wracking job for some cast members. Others, such as Kate McKinnon, were seemingly born for that kind of experience. McKinnon ended up being part of the cast for a decade, from 2012 to 2022, even while she also made movie comedies like "Masterminds" and "The Spy Who Dumped Me." McKinnon finally exited the show after Season 47. Here's why.
McKinnon felt tired after a decade on SNL
Kate McKinnon shed tears when she said goodbye to "Saturday Night Live" after ten years of delivering unconventional, strangely funny characters through sketch comedy. Her Jeff Sessions impression and alien abductee creation Colleen Rafferty had certainly proven highly memorable, but in spite of the emotion involved in leaving, she was definitely finished with the show.
It wasn't an easy decision, as McKinnon told "Live With Kelly and Ryan" (via Entertainment Weekly): "I thought about it for a very long time, and it was very, very hard." To be on "SNL" really was McKinnon's biggest goal in life. However, the actress felt that she was ready, commenting, "I was just like, my body was tired, and I felt like it was time." It's hard to blame her when considering how much work goes into developing, rehearsing, and then performing sketches live on television in front of millions every week.
McKinnon wasn't alone in departing the series after Season 47 either. Longtime cast members Pete Davidson, Kyle Mooney, and Aidy Bryant left at the end of the season as well, meaning "Saturday Night Live" will once again add new players at the beginning of Season 48. Audiences will just have to see if these performers only have a quick run on the show, or will last like McKinnon and Bryant.