Demon Slayer Fans Point Out Yet Another Reason The Fight Scenes Are Stunning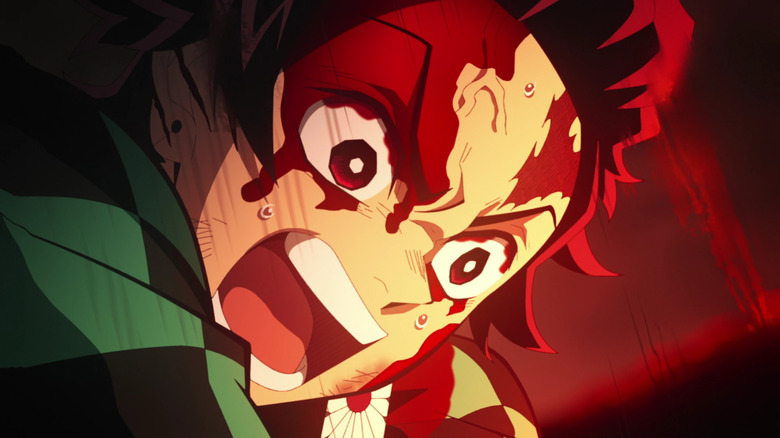 Aniplex/Crunchyroll
Though it's only had a couple of seasons to shine, "Demon Slayer" is already among the most popular anime series of all time (via Sportskeeda). In fact, the show has been so successful that even its first movie — "Demon Slayer: Mugen Train" — was able to snag an impressive record, namely becoming the highest-grossing movie in Japanese box office history, knocking out longtime champ "Spirited Away" in the middle of a pandemic.
Following the exploits of the Demon Slayer Corps. as they attempt to eradicate evil beings all over Japan, the adaptation of Koyoharu Gotouge's manga series is regularly praised for its exceptional animation, high production values, and pulse-pounding battle sequences.
On that last note, fans are still routinely picking apart the incredible fights from "Demon Slayer" and parsing them out to decide what makes them work so well. Unsurprisingly, they've managed to discover yet another tiny detail that helps to lock in this impressive factor for the series.
Fans love the attention to detail in the fights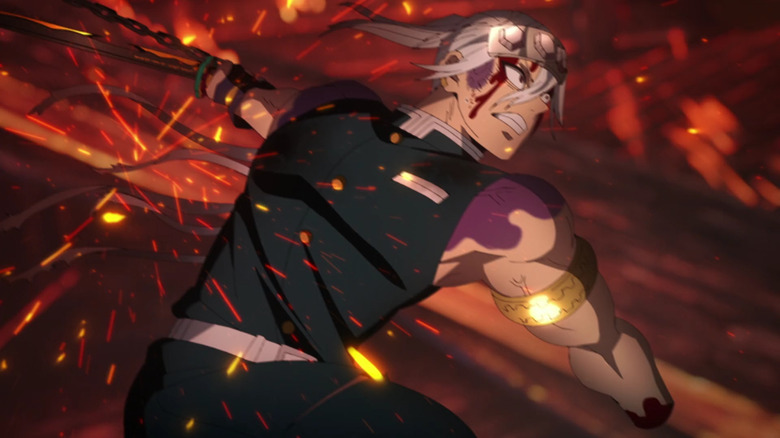 Aniplex/Crunchyroll
On the r/DemonSlayerAnime subreddit, u/KnYchan2 slowed down a few frames from the climactic battle scene that closed out Season 2 of "Demon Slayer." "Did you notice how he's spitting blood during the fight?" they asked. With the fight brought down to a tighter clip, you can actually see that Tengen (Kasuyuki Konishi/Ray Chase) is coughing up blood between breaths, even as he and Tanjiro (Natsuki Hanae/Zach Aguilar) continue to attack Gyutaro (Ryota Osaka/Brandon McInnis).
As we mentioned above, the striking quality of the animation is one of the biggest drawing points for "Demon Slayer." However, even hardcore fans might not be aware of the cost that goes into making such top-tier illustrations like these pop out in the manner that they do. "Was it 80k per episode?" asked u/That_guy43218. "Now I am super excited for next season. Hope they bump up the budget to 160k per episode. That bath scene episode gonna be lit AF."
We checked the user's homework just to be sure, and we can confirm that their assessment of roughly $80,000 per episode is correct (via Anime Galaxy). While the second season of "Demon Slayer" has definitely garnered some massive viewership, doubling the cost of each episode from their current rate might be pushing things a smidge. Furthermore, it could also lead to a further delay in getting future seasons out for fans in a reasonable time frame.
u/dataxep was quick to point out that more money doesn't necessarily mean better quality anyway. "People from Ufotable mentioned that their budget isn't anything special," they said. "Bigger budget doesn't mean better visuals." Ufotable is the talented studio behind the impressive production of "Demon Slayer."
Ray Chase is frank about voice acting Tengen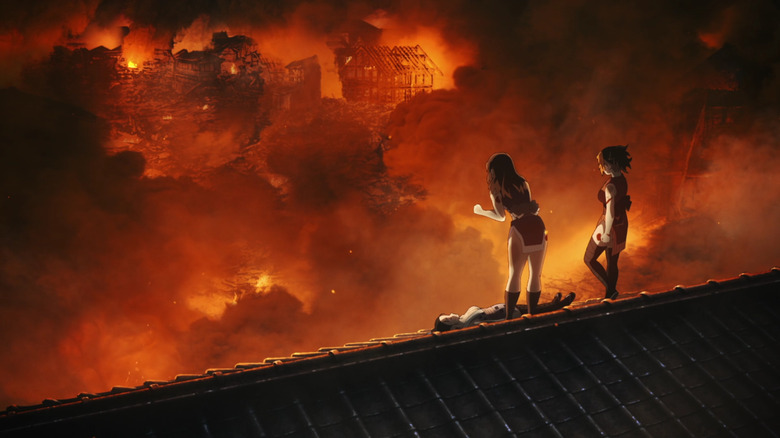 Aniplex/Crunchyroll
Ray Chase, who provides the voice of Tengen in the dubbed version of the series, was quick to admit during an interview that he was unfamiliar with "Demon Slayer" when he first auditioned for it (via Anime Herald). "That one I was surprised was a hit because I just didn't know anything about it personally," he confessed. Chase also admitted that he thought the part was a dud at first. "I auditioned for all the Hashira, got Tengen, had like 14 lines in season one, I was like: 'Oh, this is just some lame character who's just appearing for a second,'" he recalled. Luckily, his friend Aleks Le, who voices Zenitsu in "Demon Slayer," reassured him that there was far more to come. "'You don't understand, he's like the main guy, just wait,'" Chase remembered Le telling him.
While Tengen only appears briefly in Season 1, his character is the lynchpin of the second season of "Demon Slayer," bringing the heroes to the Entertainment District for an awe-inspiring battle and joining in with them for the fight. By now, we're sure Chase has grown to appreciate how great the role turned out to be, and that's thanks in no small part to the insanely detailed work from the animation department of the hit anime to bring those stunning battles to life.