Blue Bloods Fans Breathe A Sigh Of Relief Over Baez's Season 13 Fate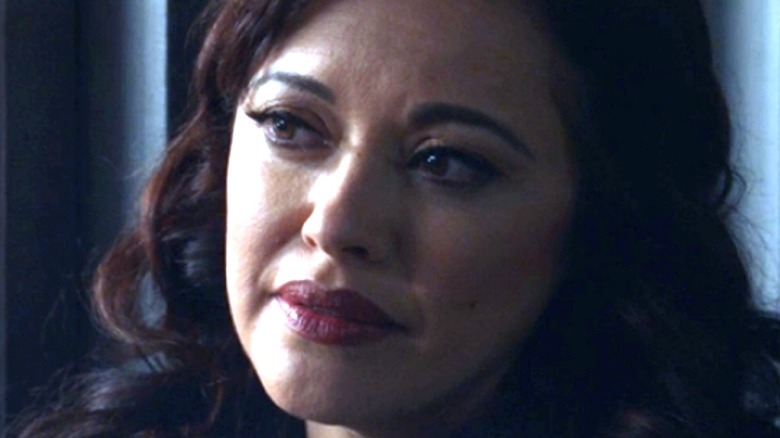 CBS
Since joining the cast of CBS' "Blue Bloods" in Season 3, Episode 17 ("Protest Too Much"), actor Marisa Ramirez has enjoyed a formidable fandom as Detective Maria Baez, pragmatic partner and grounding force to Donnie Wahlberg's short-fused Detective Danny Reagan. For nine seasons now, the duo's dynamic and chemistry — comparable, in many ways, to that of Mariska Hargitay's Olivia Benson and Christopher Meloni's Elliot Stabler — has prompted speculation, conversation, and division amongst the series' more vocal fans regarding Baez and Reagan's relationship. 
More recently, however, the speculative comments, hopes, and fears for the character had less to do with the future of her romantic arc and more to do with the future of her role in the series. After Ramirez's screen time appeared to be dwindling as Season 12 got underway, the series' Reddit threads began lighting up, with fans wondering if maybe the character was, as one user put it, "being phased out." The season's 9th episode — wherein, as its official synopsis reads (per IMDb), "Baez questions her place within the NYPD" — certainly didn't help to assuage audience anxiety. In a thread involving Season 13 predictions, one user wrote, "I think Baez has one foot out the door already. She was contemplating leaving in an earlier season right?" (via Reddit). Now, thanks to a filming sneak peek, fans can rest easy about Baez's fate.
Baez will return for Season 13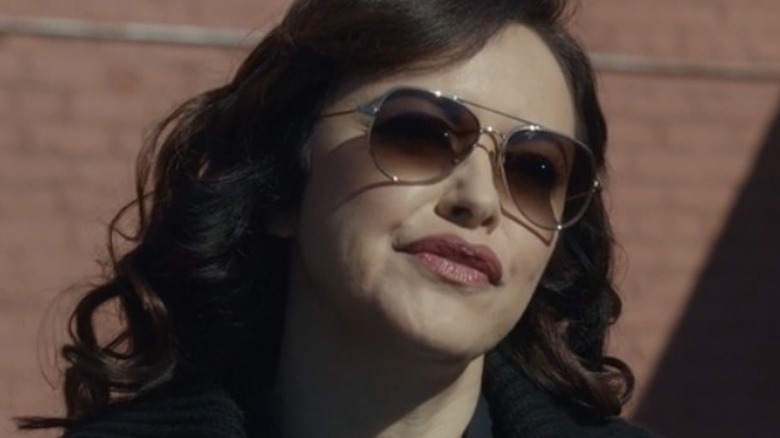 CBS, Paramount+
Last week, Express confirmed that Ramirez will be returning for Season 13, after the actor was seen filming upcoming scenes for the show. Though the Season 12 finale saw Baez adopt a baby — as female detectives are wont to do in police procedurals (e.g., Olivia Benson, Marina Squerciati's Kim Burgess of "Chicago P.D.") — it seems the character won't be leaving the NYPD to be a full-time mom, as a number of fans, including u/marknapa and u/PAACDA2, had speculated.
Nonetheless, the collective sigh of relief could be premature. While Baez's foray into motherhood didn't seem to necessitate her leaving the show, it will undoubtedly have an impact on the character's storylines, screen time, and long-beloved partner dynamic. "Blue Bloods" may have a different fan base than the Dick Wolf universe (per The Norman Lear Center and Entertainment Weekly), but that doesn't mean it doesn't live and die by the same well-established rules of the primetime procedural. Generally speaking, once a series introduces a child into the life of a single (or even an "it's complicated") detective, there have only a few standard narratives from which to choose. 
As audiences have seen (and seen again, and again) on "Blue Bloods"' rival network, adopting a child as the result of a chain reaction of unfortunate events that leads to said child's abandonment or orphaning means one thing — at some point, the child's biological parents or a distant blood relative are going to come 'round to claim it.
Where does Baez go from here?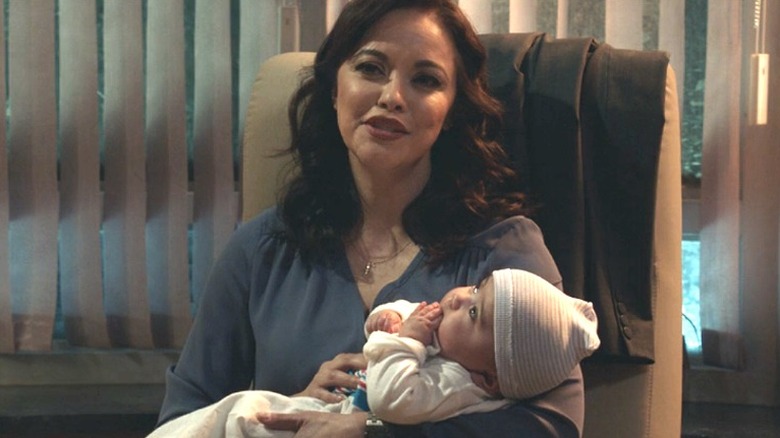 CBS, Paramount+
Fans have expressed their exhaustion at this oft-repeated plot device in the One Chicago franchise, but it's popped up elsewhere, too. In "Law & Order: SVU," Benson's son Noah (Ryan Buggle) was kidnapped by a maternal grandmother that the police captain never even knew existed. To be fair, it's a device that makes sense. A kidnapping or custody battle is dramatic and tension-filled. Watching a mother simply parent her child may serve as adequate material for a reality TV series or family dramas of a more sentimental persuasion, but it's not the kind of thing for which fans of crime dramas tune in. There's little narrative tension involved (for the viewer, anyway) in midnight feedings or reminding a kid to do their homework.
Barring a Season 13 kidnapping or custody fight, the series' other option may be to focus heavily on the difficulties Baez will face with regard to juggling her demanding career with her new responsibility. It's a focal point that, unfortunately, often goes only one of two ways. Either the stock, hard-working Lady Boss Cop is portrayed as being able to "truly have it all" with ease and grit that, in 2022, feels wholly outdated in its absurd expectation setting, or, viewers see less and less of the character as she's increasingly forced to put her family before her commitment to the force. The latter may be more realistic, but it necessarily gives characters less dramatic material to work with. In the case of Baez, this could mean that fans' collective sigh of relief might be short-lived.