Bizarre Brendan Fraser Roles You Forgot Ever Existed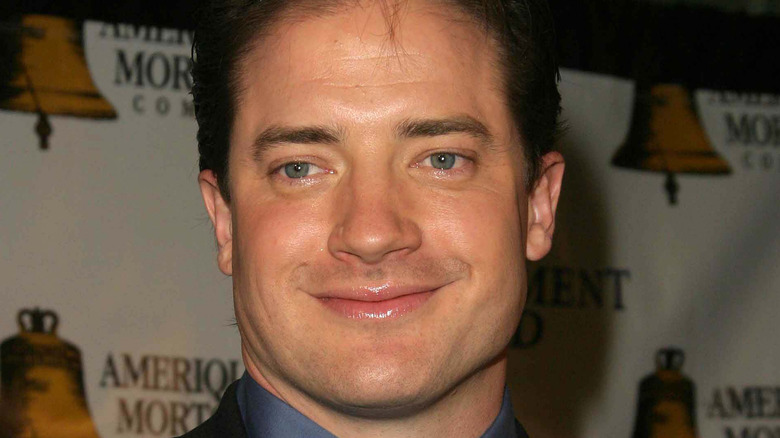 Joe Seer/Shutterstock
'90s Hollywood golden boy Brendan Fraser may be one of the last true boy scouts, an actor who's never had a scandal or controversy. He was a star who for years had always seemed to play the lovable goofball, the upstanding hero, and honest and intrepid adventurer. Best known for his role as Rick O'Connell in "The Mummy" and its sequels, he started his career in a string of comedies that included "Blast from the Past," "Encino Man," and "Airheads," all of which have become iconic in their own way.
Sadly, after a career downturn in the early 2000s, Fraser seemed to disappear from major studio movies, instead focusing on voicing roles in kids cartoons and popping up now and then in quirky indie films. His roles have run the gamut from action hero to abusive father, from lawman to lazy slacker, but some performances have slipped through the cracks over the years and been almost entirely forgotten. We're here now to bring those oddball parts back to the surface and highlight the bizarre Brendan Fraser roles that you forgot ever existed.
Monkeybone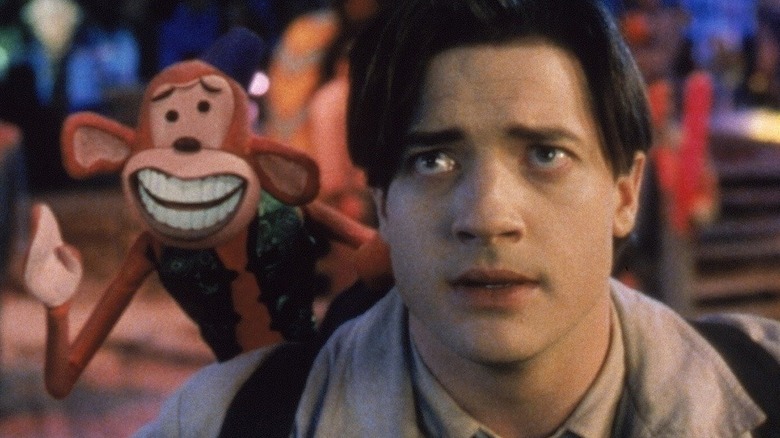 20th Century Studios
From the writer of Tim Burton's "Batman" and the director of "The Nightmare Before Christmas" came the 2001 fantasy "Monkeybone," a black comedy that has seemingly been lost to the sands of time. But if you've forgotten this one, do read on, because the film is absolutely bananas. 
First off, for a forgotten gem it boasts a surprisingly high quality cast, featuring the likes of Giancarlo Esposito, Whoopi Goldberg, and Rose McGowan. Even Bob Odenkirk of "Better Call Saul" shows up in a cameo. But Fraser stars as troubled cartoonist Stu Miley, who has created a comic called "Monkeybone" about an offbeat wisecracking monkey. But even as his hit comic is becoming a major franchise, with toys and a cartoon, Stu one day wakes up in a bizarre world somewhere in limbo, filled with dream-like creatures and a surrealist carnival atmosphere. Told he is actually in a coma out in the real world, Stu must complete a magical quest to wake up, and on his adventure encounters all manner of strange beings, as well as historical figures like Attila the Hun, Jack the Ripper, and Stephen King.
Probably the weirdest movie in Fraser's catalog, it was poorly reviewed, and never became the cult classic that it might deserve to be based on its eccentricities alone.
Kids in the Hall: Brain Candy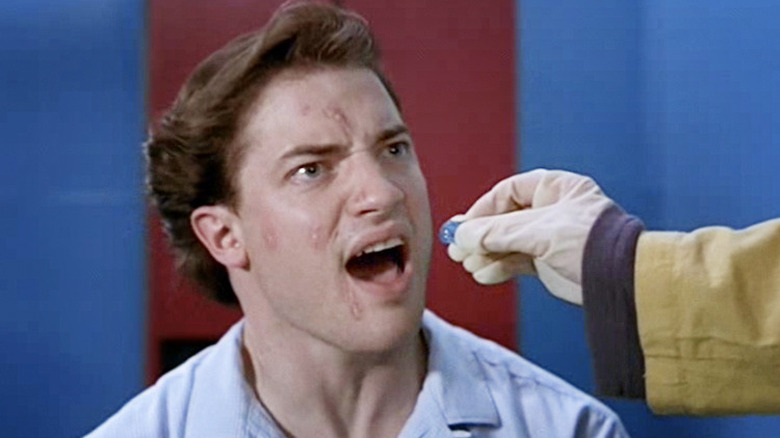 Paramount
Canadian comedians The Kids in the Hall were given their own sketch comedy show courtesy of "Saturday Night Live" head honcho Lorne Michaels in 1989 (per The Hollywood Reporter). By the early '90s their show had become a cult classic after airing on Comedy Central in the United States, and once it had come to a close, the crew went the "Monty Python" route and took to the big screen. The result was the comedy "Brain Candy," which while not a big hit in theaters, has become a classic in some circles, and has since become a comedy relic of the era. But what many forget is that Brendan Fraser — then a hot young rising star thanks to hits like "Airheads" and "Encino Man" — popped up in the film in a celebrity cameo.
The film is centered on a scientist (Kevin McDonald) who develops an antidepressant that works by triggering the recipient's most happy memories. But as the movie shows, it has a terrible side effect, eventually driving patients insane and sending many of them into endless comas. In one amusing moment, Fraser turns up as a placebo patient who is convinced he's being given sugar pills due to the awful skin reaction he has to the pill. For his part, Fraser went entirely uncredited.
In the Army Now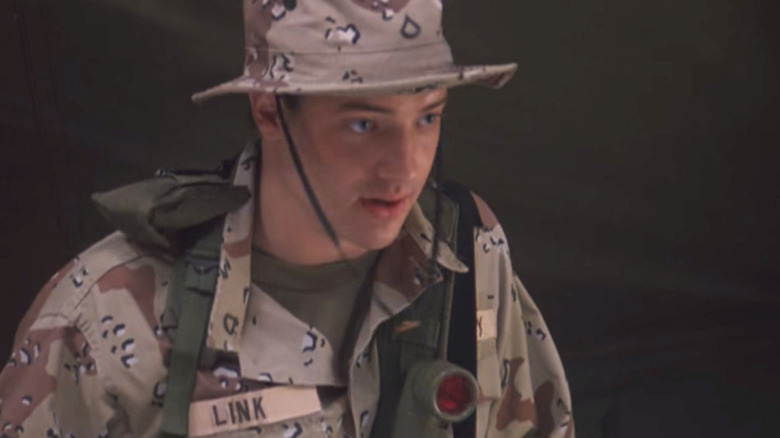 Buena Vista Pictures Distribution
Few fans can forget Brendan Fraser's role as the unfrozen caveman teen in the 1992 comedy hit "Encino Man." In this Pauley Shore vehicle, Fraser's revived early human is eventually named Link — as in the "missing link" between ape and man — and he is enrolled at an Encino, California High School. With a supporting cast that includes future "Lord of the Rings" actor Sean Astin, "Encino Man" became a classic early '90s slapstick comedy. But what many people may have forgotten — if they ever knew at all — is that Fraser actually reprised the role of Link alongside Shore two years later in the wacky military comedy "In the Army Now." 
To set the stage for his walk-on role, there's a brief moment in "Encino Man" in which Link comically eats a frog that's intended as a specimen for a dissection experiment in his science class. Well, in "In the Army Now," Shore's character is in the mess hall eating grub with his fellow recruits when he's approached by a fellow soldier whose nameplate reads "Link" and who's played by — you guessed it — Brendan Fraser. Plus, as a nod to his Encino Man character,  Private Link tells Shore, "Don't eat the chicken, it tastes like frog." A bizarre return if there ever was one.
G.I. Joe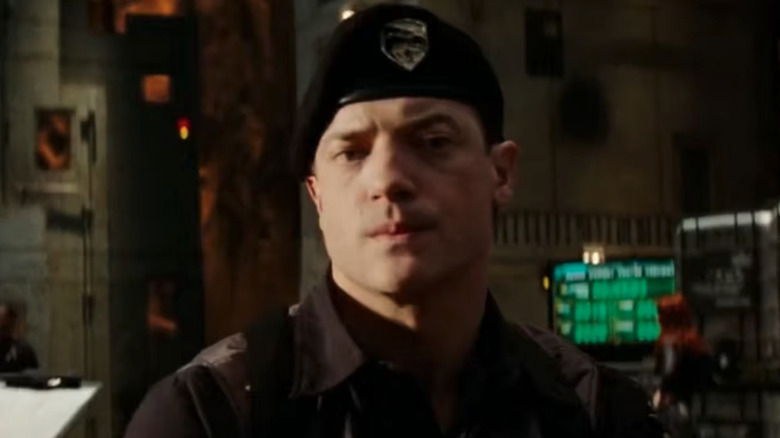 Paramount
Most would agree that Brendan Fraser's biggest and most signature role was as Rick O'Connell, the "Indiana Jones"-like adventurer from the 1999 film "The Mummy" and its two sequels. The first two entries in the trilogy were helmed by director Stephen Sommers, who also counts the films among his career-defining work. But in the wake of their success, Sommers was given the director's chair for Paramount's big screen blockbuster adaptation of the action adventure toy line "G.I. Joe." The sequel, "The Rise of Cobra," added Bruce Willis and The Rock to the cast, but it also found Brendan Fraser in a blink-and-miss-it walk-on role.
What's most odd about this one isn't just the nature of the role, being a toy come to life, but that Fraser himself didn't even know who he was playing. According to the actor, as revealed in an interview with Larry Carrol of MTV News, he was initially supposed to be playing the character of Gung Ho, until the studio's lawyers learned they didn't hold the rights to the character. Appearing in just one scene, it really didn't wind up mattering, as his character's name is never uttered on-screen. In the credits, though, he's listed as "Sgt. Stone," a fact that Fraser only learned after seeing the movie for the first time.
"Who exactly was I? I did not know until I saw the credit crawl," Fraser told MTV. "I think they might have picked [the character's name] out of a hat."
George of the Jungle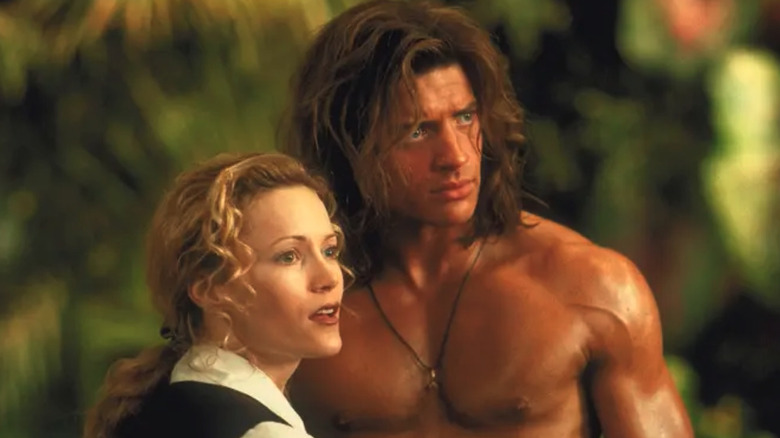 Buena Vista Pictures Distribution
You're probably familiar with pulp hero Tarzan, the wild man raised by animals in the jungle. Over the years there have been many imitators, including comic book heroes like "Shanna the She-Devil" and "Ka-Zar." But you might've forgotten about the time when Brendan Fraser starred as the title character in the 1997 adventure film "George of the Jungle." Perhaps if superhero movies had been en vogue at the time he would have starred as Superman or Spider-Man, but instead, Fraser beefed up to play jungle hero George.
Based on a slapstick kids cartoon from the 1960s created by Jay Ward of "Rocky and Bullwinkle" (remembered to this day for its silly theme song), Fraser definitely looked the part of the man raised by apes. Still, the role was definitely an oddity for him. Though the movie had a decent cast — with Thomas Haden Church, Leslie Mann, and former "Monty Python" star John Cleese — and did pretty well at the box office, it became more of a cult favorite than an icon of its time. Its silly tone and over-the-top nature earned it praise from the likes of Roger Ebert, but didn't do quite enough to spark a franchise.
Dudley Do-Right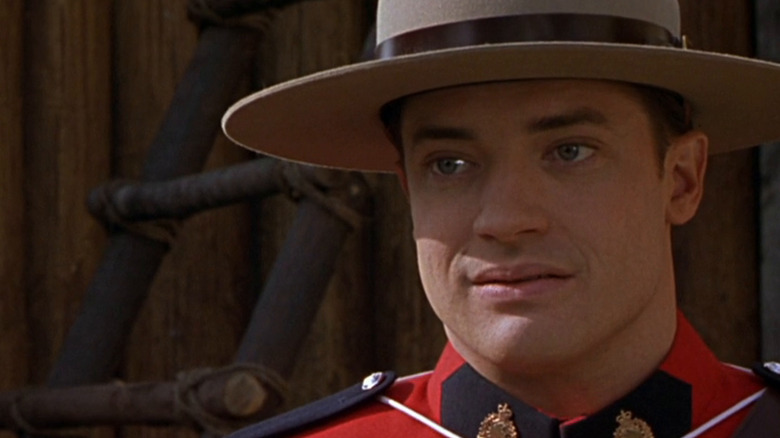 Universal Pictures
Two years after starring as the vine-swinging, bare-chested cartoon hero, Brendan Fraser was called upon a second time in an effort to adapt another classic Jay Ward cartoon, "Dudley Do-Right." The oddball Canadian Mountie was a boy scout-like figure, a by-the-book lawman always getting into silly scrapes and off-the-wall adventures, and for some reason Fraser was the go-to star. This time an even better cast was assembled around him, with Sarah Jessica Parker and Alfred Molina joining him on screen, along with another "Monty Python" star, this time Eric Idle.
In a pretty faithful translation from the 'toon to the big screen, Molina plays the mustache-twirling villain, top hat-wearing Snidely Whiplash, a well-known bank robber. In the film he hatches a complicated scheme to seize control of Frostbite Falls by filling lakes with gold and prompting a gold rush. It's a ridiculous plot populated by goofy characters — not the least of which is Fraser's title hero — doing some seriously silly stuff. Once again, the film did not become an ongoing series, and this time it was a total bomb at the box office to boot.
Inkheart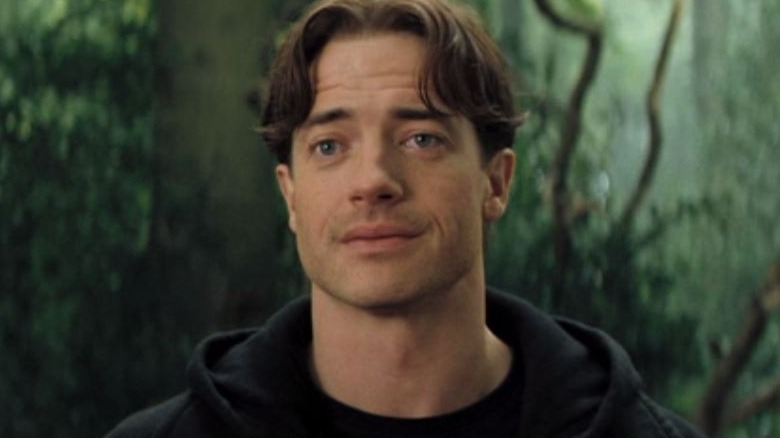 Warner Bros.
Nearly a decade after the madness of "Monkeybone," Brendan Fraser returned to star in another bizarre fantasy, this time the adventure film "Inkheart." Likely inspired by the success of "Harry Potter," the film was based on a series of teen fantasy novels, but this one did not get the big franchise it was looking for. In fact, it barely made back its budget, but that's not really Fraser's fault. Whether you remember it or not, we're here to give you a refresher on this weird one.
In the film, Fraser stars as Mortimer "Mo" Folchart, a husband and father who inexplicably possesses the power to bring fictional characters from his favorite books out into the real world. At some point in the past, Mo had brought forth the character of Dustfinger (Paul Bettany) from an old fairytale. Now he's brought out Dustfinger's henchman Capricorn (Andy Serkis), and while Capricorn is causing trouble, Dustfinder just wants to go home. Meanwhile, Mo's wife Resa has been sucked into the world of the book, and now it's up to him to get everyone to their proper place. It's a bizarre concept all around, and despite being a great-looking film, it clearly did not become one of Fraser's better-known roles.
Pawn Shop Chronicles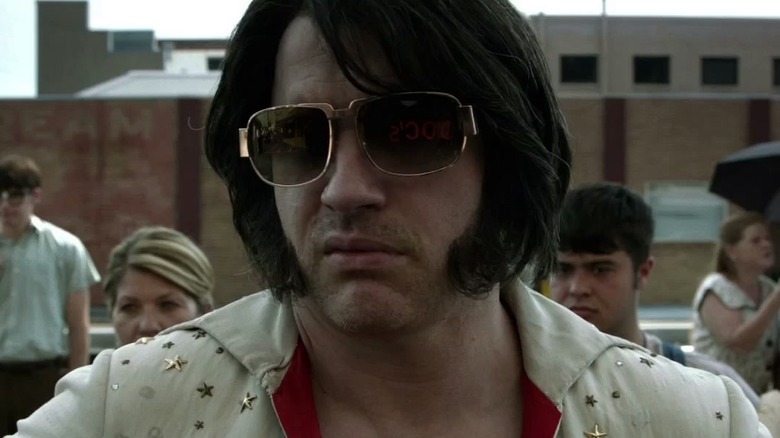 Anchor Bay
An anthology film of sorts, "The Pawn Shop Chronicles" is a quirky 2013 black comedy that tells three interconnected but separate stories. The movie features a roster of talented veterans in its ensemble cast, with Matt Dillon, Vincent D'Onofrio, Paul Walker, Elijah Wood, Ashlee Simpson, Thomas Jane, and DJ Qualls all appearing alongside Brendan Fraser. While the other two stories have their bizarre moments, Fraser's role is truly a wild one. He plays Ricky, a beleaguered Elvis impersonator on the verge of an important performance at a town fair.
But to get back into shape he needs money, so Ricky hawks a valuable medallion to the titular pawn shop, and sets out cleaning himself up. But standing in his way — at a more literal crossroad than you might expect — is an enigmatic figure who claims he can grant all of Ricky's wishes in exchange for his soul.
Decked out in late-career Elvis get-up, Fraser is seen with a spangly white outfit, big gold-rimmed sunglasses, and some massive mutton chops. Nearly unrecognizable, it's no wonder most people have forgotten this one ... assuming they ever even heard about it in the first place.
Looney Tunes: Back in Action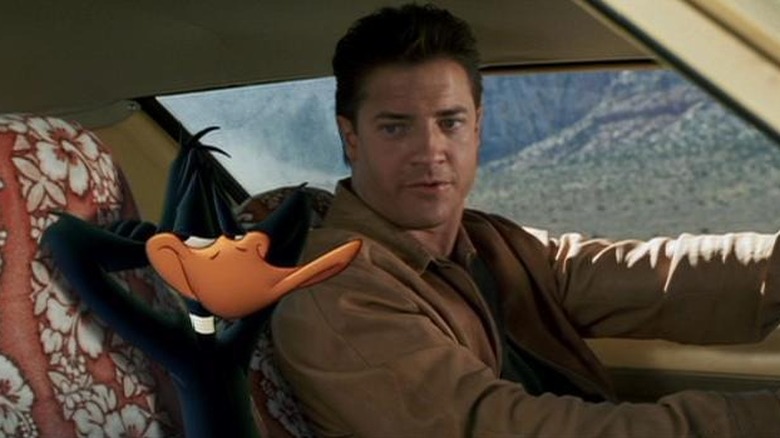 Warner Bros.
When you think of "Looney Tunes" movies, you probably think of "Space Jam," and when you think of Brendan Fraser flicks you think of "The Mummy." But it's not often that fans of either bring up the 2003 flop "Looney Tunes: Back in Action." Odd as it may sound, after the phenomenal success of "Space Jam" it took nearly a decade for the wacky wascally wabbit and his pals to get back on the big screen (hence the movie's title). But instead of Michael Jordan, it was Brendan Fraser, hot off of "The Mummy Returns," starring alongside the likes of Bugs Bunny and Daffy Duck. 
Here Fraser plays Damian "DJ" Drake, a disillusioned Hollywood stuntman who's been relegated to working as a Warner Bros. security guard, when he's fired during a Daffy Duck tirade. As it turns out, Daffy's gotten himself canned from the crew after demanding star billing and the same pay as his more well-known co-star Bugs bunny. Both thrown off the WB lot, the two become friends and eventually team up to rescue DJ's dad (Timothy Dalton), who has been kidnapped by a diabolically cartoonish villain (Steve Martin).
If that wasn't weird enough though, Fraser plays more than just the fictional human hero in the film. In addition to voicing the Tasmanian Devil, the actor also plays himself in a brief and bizarre cameo.
Duckman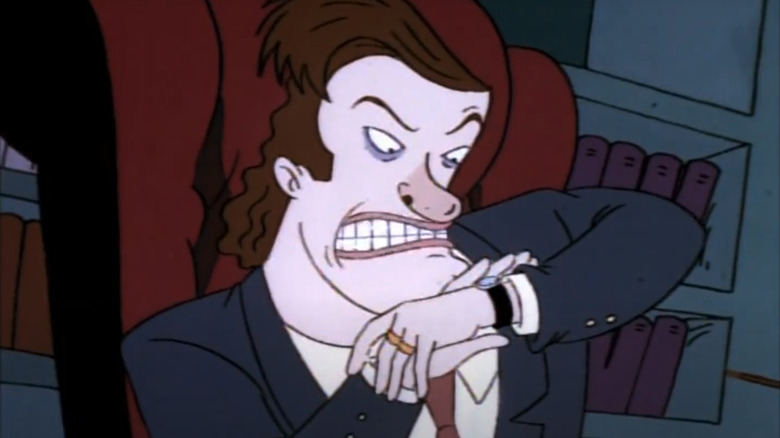 Paramount
It's not just live action movie roles that have been among the more bizarre parts for Brendan Fraser. In fact, quite a few animated performances have landed in this category, not the least of which is his one-off appearance on the mid '90s cartoon sitcom "Duckman." The cynical and satirical comedy was headlined by "Seinfeld" star Jason Alexander as the voice of a crude and long-suffering private detective and anthropomorphic duck that gives the show its name. In the show's fourth and final season, Fraser guest starred in the episode "Dammit, Hollywood," which saw Duckman take over a major movie studio.
The episode begins with Duckman heading to the home of Paradox Studios, demanding a refund for his ticket to one of their movies. He winds up in front of Fraser, or rather studio President Sammons Cagle, voiced by the future "Mummy" star. But Cagle is in trouble with his bosses and gets canned just before Duckman waltzes into his oversized office. With just minutes to go before being thrown off the studio lot, Cagle signs Duckman to an ironclad contract that puts him in charge.
It's a small role but a good one, and one that most fans of the star have likely long since buried in their collective consciousnesses.
The Fairly Oddparents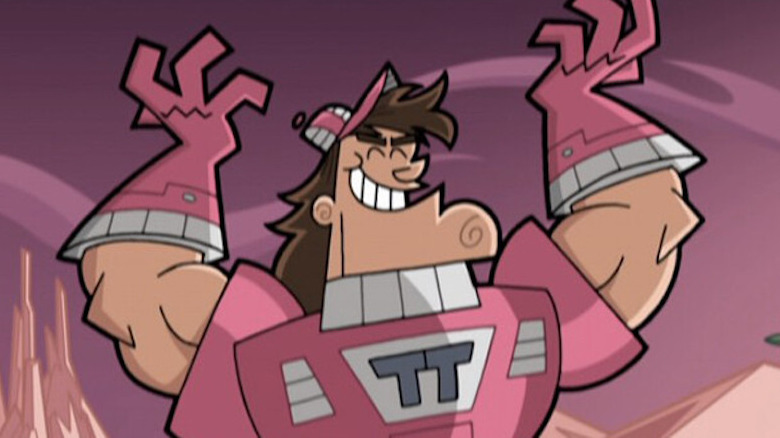 Viacom
The long-running hit kids' cartoon "The Fairly Oddparents" centers on Timmy Turner, a ten-year-old tyke whose fairy godparents grant him wishes that invariably result in wacky adventures. But in the show's sixth season, the epic three-part finale "Wishology" concluded the year with a bang, as well as a roster of big-name guest stars that included Brendan Fraser. 
In the episode, a group of robotic villains called Eliminators arrive in Timmy's town intent on destroying the mythical Chosen One, who everyone believes to be Timmy. As his grandparents attempt to help keep him safe, he is tasked with collecting three powerful wands that, when combined, are said to be able to defeat the Eliminators. While Gene Simmons and Paul Stanley of KISS fame lend their voices to a pair of characters, Brendan Fraser stars as Turbo Thunder, a mighty hero who claims that he — not Timmy — is the true Chosen One. Of course, being the righteous, do-gooding hero that he is, Fraser — er, Turbo Thunder — eventually helps Timmy defeat the bad guys and save the day.
Furry Vengeance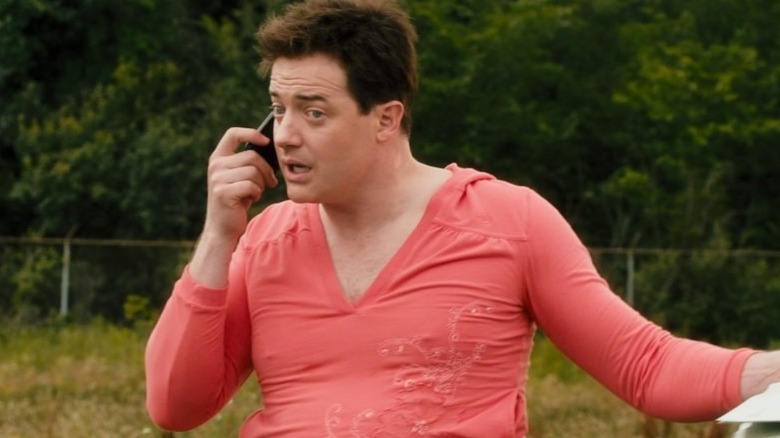 Summit Entertainment
If you're looking for a bizarre Brendan Fraser role and also one of his worst films ever, look no further than the talking animal comedy "Furry Vengeance" — and we use the term "comedy" loosely. A deeply unfunny, pathetic big screen outing, the film sees Fraser in the role of real estate developer Dan Sanders, who's been forced to quickly strike a residential development deal that would level a large swath of forest. But when the deal threatens to displace the local wildlife, the angry animals rise up to fight back, leading to all kinds of mishaps and capers that embarrass Sanders in various ways.
All in all, the movie is simply astoundingly awful, so cheaply made that it would make a sketch from the last five minutes of a "Saturday Night Live" episode look polished by comparison. Fraser's role — as the real estate agent besieged by talking animals — turned out so head-scratchingly bizarre that it prompted the actor to switch talent agencies, after which his movie prospects began to improve (via The Toronto Sun). If you haven't in fact forgotten this one, it's probably because it was just so bad that it was seared into your brain. But make no mistake — this is one Fraser wishes you'd forget.
The Nut Job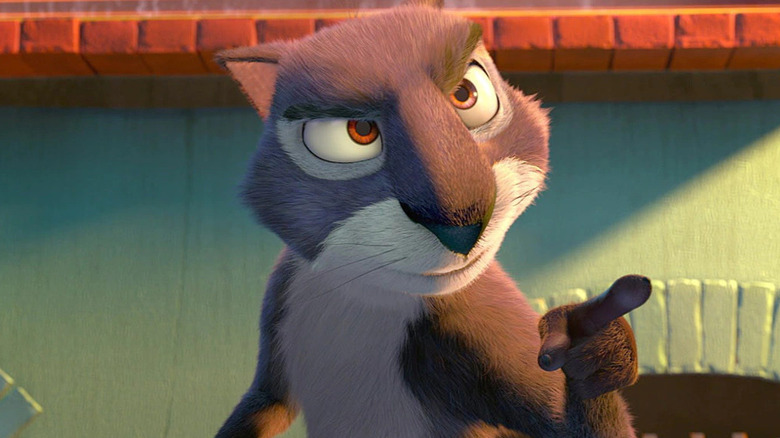 Open Road Films
A few years after starring among some live action talking animals in "Furry Vengeance," Fraser starred in the animated talking animal movie "The Nut Job." This 2014 family feature co-stars the voices of Will Arnett, Katherine Heigl, and Liam Neeson. At this time, Fraser's star had faded somewhat, and appearing in a bizarre kids' movie didn't make major waves or get the attention of wider audiences, and his role as the grey squirrel Grayson is probably one that most missed out on. But at least here, he's able to put his bumbling goofball roles behind him, and inject some satire of his heroic persona into the part, as Grayson is a pompous windbag who loves the spotlight even if he doesn't deserve it.
Grayson teams up with the film's lead, the squirrel called Surly (Arnett), to raid a cache of nuts, only to discover that the location of the stash is being used by actual bank robbers of the human kind. "The Nut Job" did well enough to get a 2017 sequel that featured Fraser's return as Grayson, but that doesn't make his role any less odd. Compared with such greats as adventurer Rick O'Connell in "The Mummy," gunslinger Billy Anderson in "Texas Rising," and even the robot Cliff Steele in the more recent "Doom Patrol," his part as a heroic nut-robbing squirrel is on the odder side for sure.
The Air I Breathe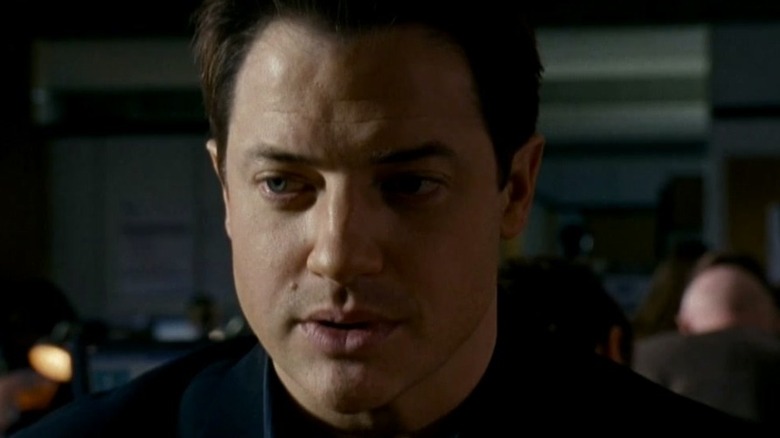 THINKfilm
Thanks to a swap of talent agents (per The Toronto Sun), Brendan Fraser started to take more serious roles in the late 2000s, in smaller dramas with parts that allowed him to flex his acting chops. In 2007, he starred as part of an ensemble cast in the anthology film "The Air I Breathe." A crime drama of sorts, the film is also a bizarre esoteric tale inspired by an ancient Chinese proverb. Fraser stars as Pleasure, one of the four main human emotions, with Sarah Michelle Gellar as Sorrow, Forrest Whitaker as Happiness, and Kevin Bacon as Love.
In Fraser's main segment, his character is a troubled man haunted by a childhood incident in which his brother was killed in a brawl with some local teens. But that's not what makes his character so bizarre — Pleasure also has the supernatural ability to literally see the future of those people he comes into physical contact with. As a result, nothing ever surprises him, and he's left bored with life. Eventually, his disillusionment leads him to join a gang run by Fingers (Andy Garcia), another literal embodiment of the an element in the original proverb.
There's a lot of deep meaning and serious themes at play in this one, which might be hard to wrap your head around if you're unfamiliar with the ins and outs of the story. Suffice to say, if you go into this one thinking it's a straight-forward crime drama, you'll be very confused.
Escape from Planet Earth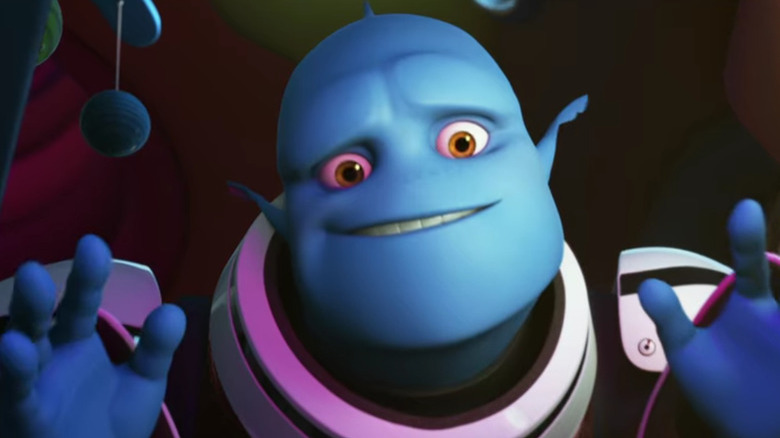 The Weinstein Company
Into outer space and back into the world of kids animation, we have the bizarre science fiction adventure "Escape from Planet Earth" from 2012. And if you're looking for a film of Fraser's with a great cast, this one might oddly be the best, with the likes of Sarah Jessica Parker, Rob Corddry, Ricky Gervais, Jessica Alba, James Gandolfini, and William Shatner all lending their voices to bring the many characters to life. On paper it's got an intriguing twist, with the main characters being heroes from another world on a rescue mission to the alien planet called Earth. In execution, unfortunately, "Escape from Planet Earth" leaves a lot to be desired.
Fraser leads the film as Scorch Supernova, his planet's greatest hero, while Corddry is Scorch's geeky brother Gary, who acts as his behind-the-scenes sidekick. But when Scorch goes to Earth and the mission goes wrong, it's Gary who has to step in and play hero to save his little brother. But awkward animation, a predictable plot with plenty of clichés made it an unfortunately bizarre misfire for Fraser. At least it went under the radar and mostly unseen, and today it's been largely forgotten — until now that it's appeared on this list, that is. Sorry, Brendan.