The Bullet Train Stunt That Landed Aaron Taylor-Johnson In The Hospital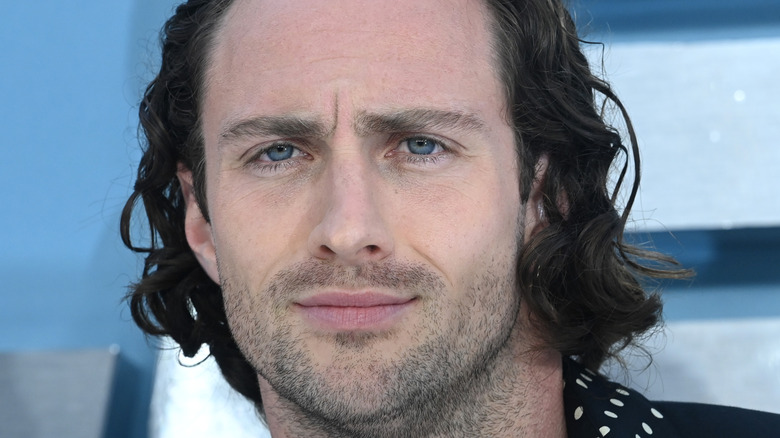 Dave J Hogan/Getty Images
"Bullet Train" serves as one of Brad Pitt's latest and highly-anticipated acting endeavors. Starring as the assassin called Ladybug, he boards one of the fastest trains in the world along with five other infamous assassins who seem to be connected to the same job. Based on the official trailer and what we know thus far, it's set to be quite the crazy and action-filled ride for fans. However, critics so far seem to be finding the plot lacking and therefore have rated it at only 56% on Rotten Tomatoes. It will be interesting to watch the fan response come in after the movie hits theaters on August 5, as "Bullet Train" seems to be set up for success with its star-studded cast.
Along with Pitt, the cast list includes names like Joey King, Brian Tyree Henry, Hiroyuki Sanada, Sandra Bullock, Michael Shannon, Andrew Koji, and Aaron Taylor-Johnson. Many, if not all, of these actors, are experienced in films like "Bullet Train" that have action sequences and special effects. Taylor-Johnson has notably played the character of Dave Lizewski, a.k.a. Kick-Ass in director Matthew Vaughn's superhero movies "Kick-Ass" and "Kick-Ass 2." Not to mention, he would again be part of massive action in the Marvel Cinematic Universe playing Quicksilver in 2014's "Avengers: Age of Ultron."
That said, Taylor-Johnson's resume in recent years features plenty of fight sequences and stunts. Although it would be "Bullet Train" that ultimately landed him in the hospital for one stunt.
Aaron Taylor-Johnson passed out during a stunt on Bullet Train
In a recent interview with Variety, Aaron Taylor-Johnson said that he had an overnight stay in the hospital while filming "Bullet Train." Taylor-Johnson explained that he was on a keto diet for the film to lose a significant amount of weight, which led to issues when he suffered a hand injury during a fight sequence. "Because I got all scrawny and lean for this, so I basically had low blood sugar levels," he said. "We were in a fight sequence and I get drop-kicked across the room. And the one sharp bit of the corner where there wasn't any padding took a chunk out of my hand. And I literally went wham, passed out."
He continued, "And then I came back and was like 'Should we go again?' And they were like 'No, no, no. You gotta go get stitches at the hospital.' So then I spent the night in the hospital." Taylor-Johnson is in pretty great spirits about it all, though, noting that a movie with David Leitch as director essentially means that you'll come out with a few scars as an actor. Not only that, but Taylor-Johnson says Leitch gave all of the cast opportunities to improvise and make creative changes on the go.
After being delayed (via Deadline), it is likely exciting for Taylor-Johnson and his fellow cast members to finally see the project reach audiences. That arguably makes all of the injuries and hospital trips worth it.