Brad Pitt Doubles Back On Recent Retirement Rumors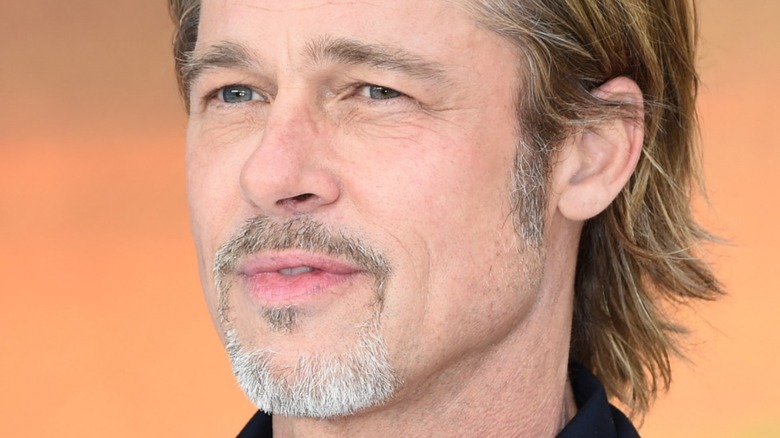 Featureflash Photo Agency/Shutterstock
Action, comedy, drama: Brad Pitt can really do it all. Since blowing up in the nineties, his career has never slowed down. His credits range from celebrated turns like "Once Upon a Time in Hollywood," to horror films like "Interview with a Vampire," to even performances that even Pitt himself is not proud of (see: "Troy") but he's proven himself to be one of the biggest movie stars of this century. This year alone, the actor has teamed up with Sandra Bullock twice for two vastly different projects: After appearing in romantic comedy "The Lost City," Pitt and Bullock are now starring in the dark comedy "Bullet Train."
Based on the Kōtarō Isaka novel of the same name, the film centers around interweaving stories about assassins on the titular train. Looking like a nonstop thrill ride, "Bullet Train" has had fans talking. The most surprising thing about the film's promotional tour, though, have been Pitt's remarks about where his career would be going from here, because in an interview with GQ, the actor seemed to imply that he was looking down the barrel of retirement. In his words, Pitt said, "I consider myself on my last leg. This last semester or trimester. What is this section gonna be? And how do I wanna design that?"
Is it true? Well, maybe not quite. During the premiere of "Bullet Train," Pitt had some more comments on the matter, which have only thrown more confusion into the mix.
Brad Pitt isn't throwing in the towel any time soon
During the premiere for the upcoming "Bullet Train," Deadline caught up with Brad Pitt, eager to set the record straight about the actor's previous comments. When the outlet mentioned that Pitt may be retiring, the actor immediately laughed at himself. He seemed to be aware of how the interview came off and stated that his comments didn't exactly come across how he intended. "I really have to work on my phrasing," Pitt joked.
"I was just saying," Pitt went on to clarify, "I'm past middle age and I want to be specific about how I spend those last things however they may be [...] I've never been a five-year plan kind of guy. I'm just, whatever feels right for the day. I still operate that way." 
Basically, when asked about whether he had any exciting projects to look forward on the horizon, the actor made it clear he wasn't looking too far ahead. He stated that he selects projects the way he always has — whatever is right for him at the time. The only difference now is that he wants to think about the legacy he is leaving behind. All of which is good news for Pitt fans, and judging from his previous filmography, there isn't much to worry about. In recent years the acclaimed actor has made intriguing choices and already has something lined up: Following the success of the "Ocean's" franchise, Deadline reported that Pitt will once again be collaborating with former co-star George Clooney in an untitled project. Said to be a thriller, the film is for Apple Studios and will be directed by Jon Watts. Clearly, the end is not nigh for Pitt (yet).