Better Call Saul Fans Think The Creators Made A Bold Move With This Season 6 Episode 11 Decision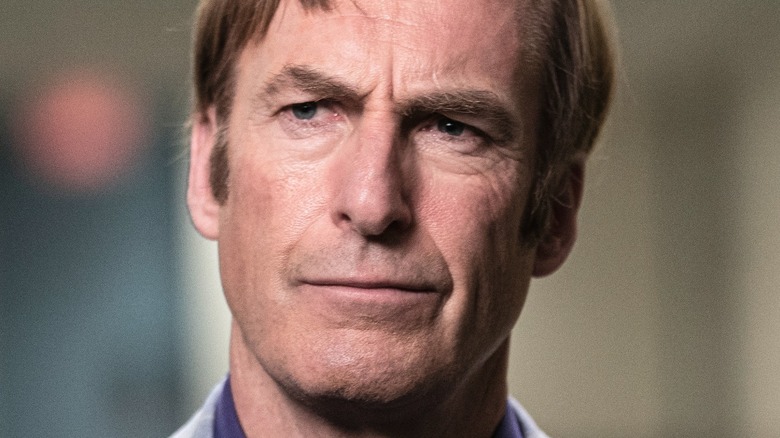 Greg Lewis/AMC/Sony Pictures Television
Contains spoilers for "Better Call Saul" Season 6 Episode 11, "Breaking Bad"
As its name implies, "Better Call Saul" Season 6 Episode 11 delivers the show's meatiest "Breaking Bad" connection yet by revisiting the uncomfortable first meeting between Saul Goodman (Bob Odenkirk), Walter White (Bryan Cranston), and Jesse Pinkman (Aaron Paul) from Saul's point of view. Still, the cameo return of the "Breaking Bad" stars is just one layer in this extremely packed episode, which explores the increasingly criminal activities of Saul's exiled Gene Takovic identity, and juxtaposes his activities with Saul's "Breaking Bad"-era plots and plans. 
As the mild-mannered Cinnabon manager breaks bad in the black-and-white timeline, Saul reveals that he may have had more to do with the events of "Breaking Bad" than viewers could have assumed ... and fans of the show appreciate what's going on. Here's why "Better Call Saul" viewers think the creators made a bold move with one Season 6 Episode 11 decision in particular.
Saul may have played a surprisingly big part in Heisenberg's rise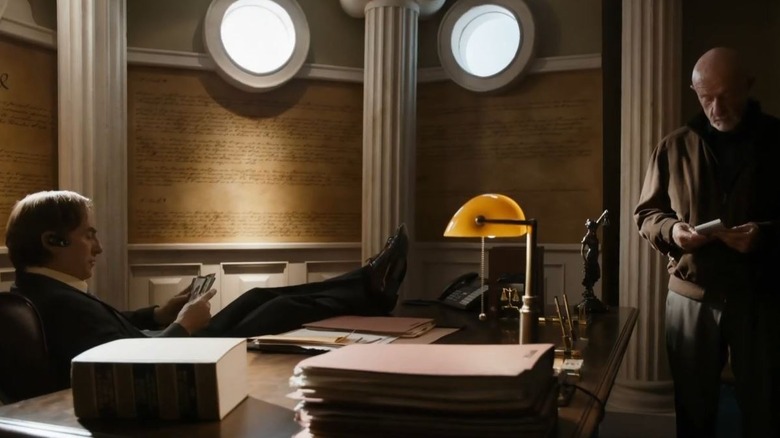 AMC
The episode implies that Jimmy "Saul Goodman" McGill is at least partially responsible for turning Walt White into a monstrous crime lord. While Mike Ehrmantraut (Jonathan Banks) warns Saul about the amateurish Walt, Saul sees potential in the chemistry teacher. Fans on Reddit have taken notice, and admire the revelation that puts Saul's role in "Breaking Bad" in a whole new light. 
"The most ambitious thing this episode did was essentially contextualize all of Breaking Bad as being kinda Jimmy's fault. Walt was an amateur nobody was taking seriously, and Jimmy decided to make him into something, all because he's coping over losing Kim," redditor u/_snout_ summed their opinion about the episode's most impressive offering. Others agreed that this radical new framing of Walt's rise as Saul's pet project is indeed ambitious. "People keep saying those scenes were pointless but that one was a great one that illustrated how much Saul spurred heisenbergs rise," u/Shpongolese wrote about the scene between Mike and Saul. Redditors like u/competentcuttlefish and u/radiocomicsescapist heartily concurred, and u/CringeNaeNaeBaby2 even pointed out how chillingly Gene's ruthless decision to con the cancer patient reminds Saul's vested interest in Walt. 
Meanwhile, Twitter user @BrendanWeathers analyzed how this latest twist changes the nature of "Breaking Bad" the show. "It WAS a story about a man's cancer diagnosis turning him into an amoral monster. It's now a story about two men who collide at a point in time to turn each other into the worst versions of themselves. Masterful," they wrote.
There are still two episodes of "Better Call Saul" to go, and hopefully, they'll shed more light on Saul's true role behind Walt and Jesse. Was he a mere consigliere during the rise of Heisenberg's empire, or did he actually pull the strings behind the scenes all along?