Here's Where You Can Watch Better Call Saul Season 6 Online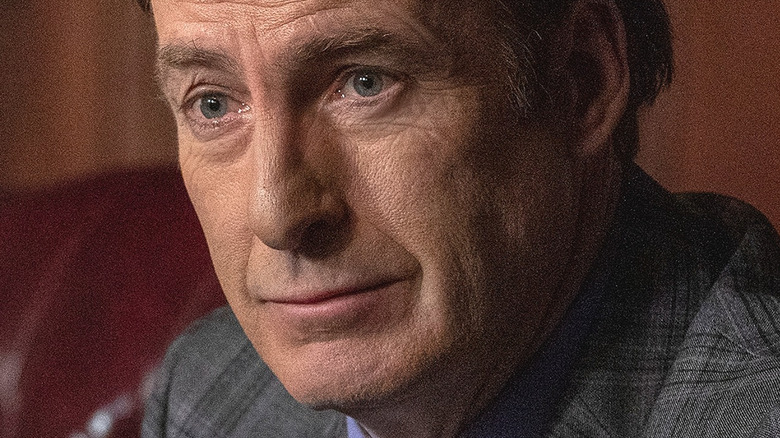 Greg Lewis/AMC/Sony Pictures Television
"Better Call Saul" is certainly among the more successful television spin-offs in the modern pop culture sphere. A prequel to AMC's breakout hit, "Breaking Bad", the legal drama takes place in the same New Mexico underworld as its parent series, even if its storytelling goals are somewhat different. Although the series features many of the same characters from "Breaking Bad," the central focus of the spin-off is on Jimmy McGill (aka Saul Goodman) (Bob Odenkirk), a former small-time con artist who turns streetwise lawyer after working the mail room at his brother's law firm. 
When we first meet Jimmy in "Better Call Saul," he is scraping at the bottom of the proverbial barrel of the justice system and just barely managing to get by. However, he later discovers how to apply his skills as a con artist to the legal world, a move that grants him a surprising amount of success. Sadly, the more Jimmy gets in deep with the criminals of Albuquerque, the further he is pulled into their seedy realm of violence, intimidation, and murder.
Of course, while that world is understandably unattractive in real life, it's also exceedingly entertaining to watch on television. Unfortunately, if you don't have cable or the right streaming service, you might have some trouble locating where to watch the sixth and final season of "Better Call Saul." Here's how you can watch the show the easiest.
You can watch Better Call Saul Season 6 on AMC+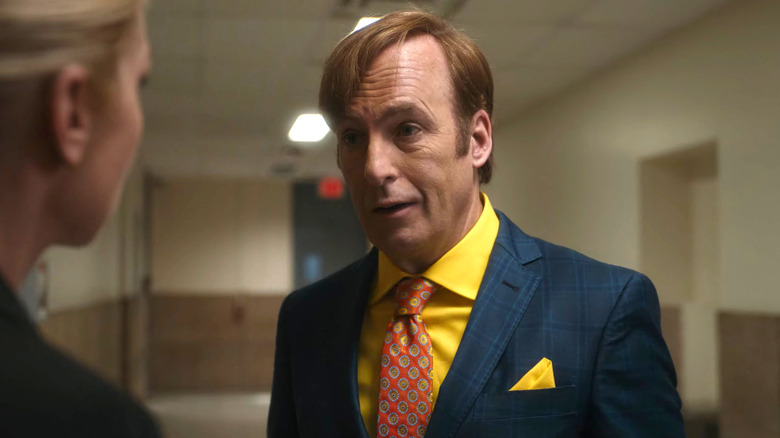 AMC
There is currently only one place to watch "Better Call Saul" Season 6 online, and that's on AMC+. If you want to start watching right now, you can sign up for the service on its own or even add it to your channels on Amazon Prime Video. These plans range in cost from $6.99 to $8.99 per month, but your first week is free of charge while you try out the service.
If you feel like there's more cable you're missing out on, you can also try services like Sling TV. While the base monthly charge is $35, Sling currently allows customers to purchase their first month at 50% of regular costs. Although you'd have to wait for any episodes you've missed to air again, the service also includes 50 hours of DVR space with your subscription (via Sling).
As it stands, AMC+ is probably your best bet if you're just looking to watch "Better Call Saul" Season 6 before too many spoilers come along and ruin your enjoyment of the show. Seeing as the legal drama is one of AMC's most popular shows, it's no surprise that the network isn't ready to start farming it out to other streaming services quite yet. 
Of course, like with many other shows, "Better Call Saul" will likely pop up on Netflix somewhere down the line. As of this writing, the first five seasons of "Better Call Saul," all of "Breaking Bad," and the spin-off film "El Camino" are currently available on the service.