She-Hulk's Tim Roth Explains Why Two Hulks Actually Are Better Than One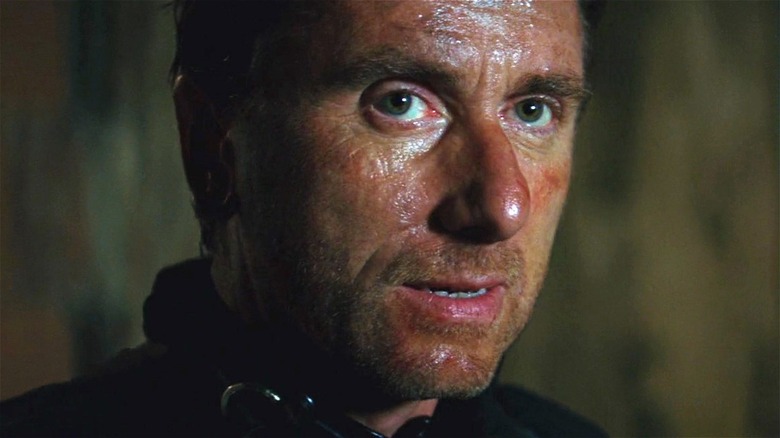 Universal Pictures
Like a phoenix, the story of Phase 4 for the Marvel Cinematic Universe is all about rebirth. In the wake of "Avengers: Endgame," the franchise has taken the time to focus on the legacy of the its original heroes. Sam Wilson (Anthony Mackie) retires his Falcon wings to become a new Captain America for the modern day, Hawkeye (Jeremy Renner) trains an enthusiastic Kate Bishop (Hailee Steinfeld) to become his successor, and Yelena Belova (Florence Pugh) carries on the Black Widow mantle in the wake of the death of her sister Natasha (Scarlett Johansson). However, there's one passing of the baton that has some fans rather conflicted: the introduction of Bruce Banner's (Mark Ruffalo) crime-busting cousin Jennifer Walters aka She-Hulk (Tatiana Maslany) in her own titular Disney+ series.
Some fans have pondered whether the MCU really needs two Hulks, or if having one will dilute the impact of the other. As a character, She-Hulk has a very distinct tone and history from her male counterpart, though that doesn't change the fact that they are both bright-green Marvel heroes with super-strength. But while some fans may have worries that these two powerhouses might step on each other's toes, Tim Roth wants to put those fears to rest. According to the actor, who undergoes a surprising change in "She-Hulk" as MCU villain Abomination, having the two Hulks together is better for one very compelling reason.
The Hulks have enormous chemistry
It turns out that Hulk and She-Hulk are a power duo both on-screen and off-screen. In an interview with Screen Rant, Tim Roth spoke about his time filming alongside his "She-Hulk" costars. Per the actor's words, watching the engaging dynamic between Tatiana Maslany and Mark Ruffalo as the two Hulks gave him inspiration for his own performance on the show.
"I had a couple of days early on in the schedule with Tatiana and Mark Ruffalo and watching them interact and play — it was a penny drop moment to me," Roth said. "'Oh, that's what you do.' And then I could jump into the world."
It's good that Maslany and Ruffalo have remarkable chemistry, as the dynamic between Bruce and Jennifer serves as a focal point of "She-Hulk." Though the former enters a newfound mentor role as his cousin grapples with her new powers (a revised origin story for She-Hulk), the characters' relationship extends far before the events of the show. Series showrunner Jessica Gao told Screen Rant that the pair of actors made that connection feel believable from the get-go.
"They instantly clicked, and when you see them together, you're like, 'Oh, they're cousins,'" Gao said. "'They're cousins. They grew up together. They went to every family reunion together, and they know how to push each other's buttons. They've got pet names for each other; they know each other's secrets.' It's really fun, and I really can't wait for people to see their dynamic."