Bodies Bodies Bodies Review: House Party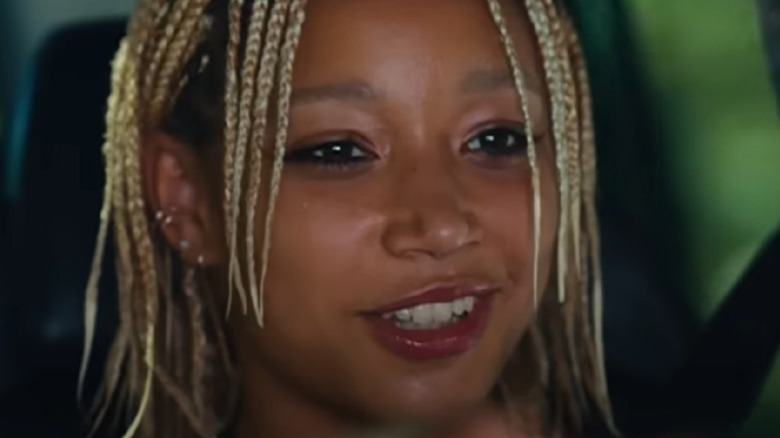 A24
If you spend a significant amount of time on the internet, you're probably familiar with the adage that every day Twitter gets a new "Main Character," and your goal is to keep from ever becoming that person. People love a target, a scapegoat, a seemingly righteous cause to throw their anger, scorn, and humor against for a few hours, and someone who said something ridiculous on the internet feels like a pretty apt place to aim.
It's a dynamic that extremely online folks are quite familiar with, but despite that familiarity, it's also hard to recreate, particularly in a way that appeals to people who barely use Twitter or who never go near the dreaded bird app at all. But "Bodies Bodies Bodies" manages to not only capture that feeling of social blood in the water but to push it further into an exploration of the chaotic, often fleeting attention spans of the social media age. With its tale of murder, betrayal, and Gen Z-driven comedy that feels at once firmly tongue-in-cheek and bitingly incisive, Halina Reijn's film is both raucous and haunting, the kind of film you can laugh through on a Saturday night and then spend all Sunday chewing over, looking for even more hidden flavors beneath its glossy, candied popcorn coating. That's all enough to make it one of the most compelling movies of the year, and that's before the film digs deep to really deliver the horror movie goods.
Before the storm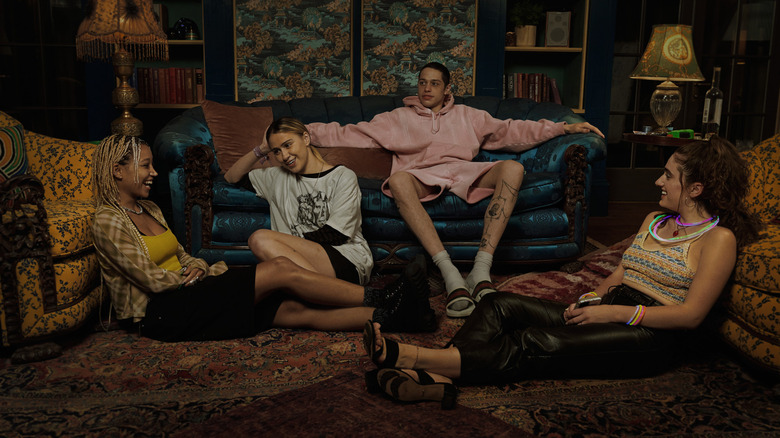 A24
"Bodies Bodies Bodies" takes its title from a game the ensemble cast of characters opts to play when they all join up for a hurricane party at the home of David (Pete Davidson), their wealthiest friend who is all too happy to fill up his parents' pad with all the booze, drugs, and snacks he can find. Headed to David's house for the weekend are his girlfriend Emma (Chase Sui Wonders), their friends Alice (Rachel Sennott) and Jordan (Myha'la Herrold), and Alice's new older boyfriend Greg (Lee Pace).
The real stars of the party, though, are Sophie (Amandla Stenberg) and Bee (Maria Bakalova), who drive in from the city for the event and bring with them no small amount of awkwardness. Sophie's the one with a connection to the friend group, but she hasn't seen them since she got out of rehab. Bee is Sophie's new girlfriend, and meeting her triggers quite a bit of suspicion, not just over who Bee is, but over what Sophie may or may not have told her about the friend group's shared past.
After no small amount of liquor and drugs to numb the strangeness of the reunion, the title game is proposed, with fairly simple rules. Someone will be "the killer" and stalk the dark house while everyone else hides and the killer seeks out and "kills" each of them one by one. It's simple enough, but when a real dead body turns up, the friends begin a drug-fueled descent into paranoia, accusation, and murder.
To tell you more about how all of this goes down would be spoiling the fun, but the way Reijn stages Sarah DeLappe's deeply witty script immediately sets the tone of a film walking the fine line between horror and comedy. The two genres often go hand-in-hand, because the timing of tension and release between them is similar, but with this film it's less about hopping across either side of that line and more about straddling it, blurring the boundary between the genres to create an intoxicating combination of the two. "Bodies Bodies Bodies" will make you laugh, then make you scream, then make you laugh while afraid you're about to scream again. It's a film that's wonderfully adept at this delicate tonal dance, and it owes a lot of that dance to the cast.
Eye of the hurricane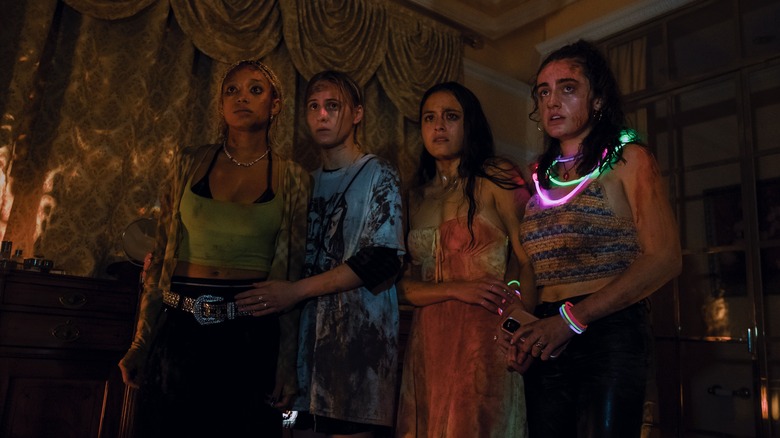 A24
As the storm settles in, the power goes out and the deaths start to pile up, turning "Bodies Bodies Bodies" into a Gen Z "And Then There Were None..." with plenty of self-aware, biting jokes along the way. The cast, who begin the story as players in a twenty-something drama about resentment and unspoken truths, have to carry the film from that baseline into something much darker, all while retaining the comedic tone established as they trade barbs about each other and a shared past that slowly rises up over the course of one bloody night.
Within that dark descent, each actor builds their own version of events, which means they're playing a game not just of dueling bodies, but of dueling perspectives. Among these, Sennott proves to be the ultimate scene-stealer, building on all the promise she showed with "Shiva Baby" to reveal an absolute star with depths we haven't yet seen. Stenberg and Bakalova are left carrying much of the leading role energy within the ensemble, and while they attack it from completely different angles, both arrive at satisfying conclusions, whether through Bakalova's quiet fury or Stenberg's constantly simmering resentment and fear. But even with certain clear standouts, it's also apparent that no one in "Bodies Bodies Bodies" is a weak link. From Pace's chill outsider energy to Davidson's anarchic party machine persona, they all find a place, and they all manage to shine.
One of the reasons the film is so accommodating to this cast within this scenario, one of the reasons you find standout moments for pretty much everyone, is the way the film manages to work the title game, and the emotional premise that springs from that game, into every seam of the story. Just as there's always one "Main Character" on Twitter, in this house there's always one prime suspect, and whether they deserve to be in that hot seat or not, the other survivors will find a way to turn on them, to make everything that's ever gone wrong that night about them, their transgressions, and their insecurities. It's both a perfect microcosm of the social media world and an examination of a social landscape in which everyone is presumed guilty of something, even if we have no idea what that something is. That's what makes "Bodies Bodies Bodies" a truly haunting and modern work of horror-comedy, but it shines even brighter because it never abandons its mission to be an absolute blast. With its darkest depths and its brightest lights, it proves time and time again that it's one of the year's must-see genre films, as existentially frightening as it is riotously funny.
"Bodies Bodies Bodies" arrives in theaters on Friday, August 5.