The Trailer For A24's Bodies Bodies Bodies Promises A Different Kind Of Slasher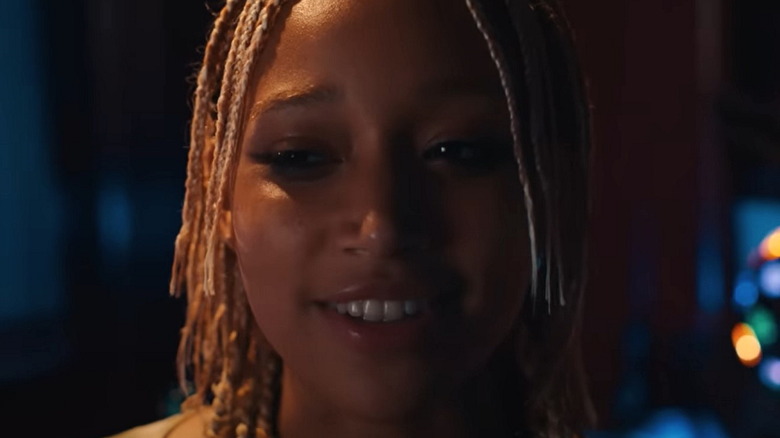 A24/YouTube
In the last few years, A24 has ushered some truly wild horror movies out into the world, while also helping deliver an era of so-called "elevated horror," which intentionally uses the genre to make social commentary. Ari Aster's "Hereditary" and "Midsommar" are often touted as two of the best horror movies of recent years, but the studio's horror output as a whole has been fascinating. Titles like "Green Room," "It Comes At Night," "Lamb," and "The Lighthouse" all challenge the audience in different ways. Needless to say, it's an exciting time to be a horror fan.
In 2022, A24 also delivered "X" from director Ti West, which follows a cast and crew who head to a remote Texas location to shoot an adult film, only to fall into the hands of a brutal serial killer. "X" wowed critics, earning itself a 96% rating on Rotten Tomatoes. There's even a prequel on the way from West, titled "Pearl" (via IGN) so he clearly impressed the studio. 
Now, A24 is looking to continue its horror roll with the first trailer for "Bodies, Bodies, Bodies" — from Dutch director Halina Reijn — which just arrived online, and promises a very different kind of slasher flick with a pretty impressive cast.
Bodies Bodies Bodies is not a safe space
The A24 slasher follows what happens when a group of young friends host a small party in the middle of a hurricane, and they decide to play a game called "Bodies, Bodies, Bodies." One of the group is picked as the "murderer" and the others have to try to "survive" in the dark. Unfortunately when the game is over, it turns out that someone has actually been killed. It's a pretty simple premise that clearly riffs on typical horror tropes — a killer? At a party? Audiences have seen that before — but the killer one-liners in the footage show that "Bodies, Bodies, Bodies" is pure Gen-Z satire, as some of the characters tell each other "You are so toxic," "You're gaslighting me" and "You are silencing me!"
The cast is stacked with young talent, including breakout "Borat 2" star Maria Bakalova, "Shiva Baby" lead Rachel Sennott, Amandla Stenberg, Myha'la Herrold, and Chase Sui Wonders. Surprisingly, two of the girls' boyfriends are played by none other than "SNL" alum Pete Davidson and "Pushing Daisies" and "Foundation" star Lee Pace. The slasher is clearly a whodunnit in the same vein as "My Bloody Valentine" and "Scream," but it'll be interesting to see who the killer really is. The footage is scored to Charlie XCX's latest single "Hot Girl," which adds a fun sense to the carnage unfolding in the A24 film — and it's clear that this is more of a horror comedy than just a straight slasher.
"Bodies, Bodies, Bodies" arrives on August 5, 2022.