The Devastating Death Of Pat Carroll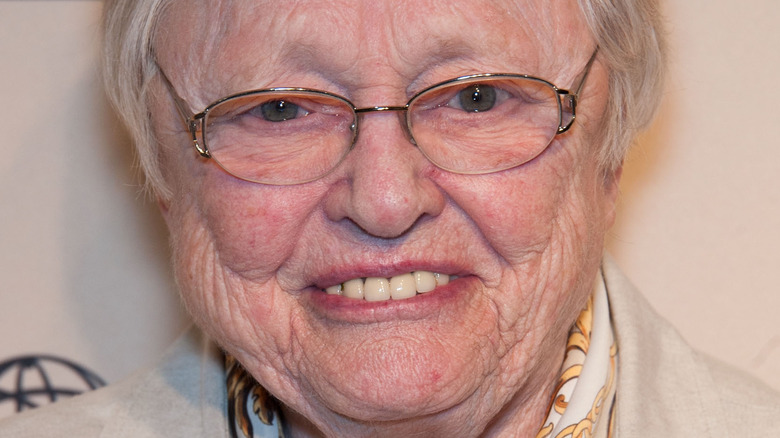 Valerie Macon/Getty Images
"You keep doing what you love no matter what the insecurities are. That doesn't make any difference. Everything is insecure. So you might as well do what you love" (via Pixie Video Production). These are the words of Emmy Award-winning actor Pat Carroll, who died due to complications from pneumonia on July 30, 2022, at the age of 95 (via The Hollywood Reporter). Her career spans far and wide, with most modern-day audiences recognizing her best as the voice of Ursula from the hit 1989 Disney animated feature "The Little Mermaid."
Throughout her life, Carroll was known as a charming and hilarious individual whose undying enthusiasm made her a natural for comedies and animated projects. She had the chance to star alongside such notable and colorful personalities as Jimmy Durante, Steve Allen, Red Buttons, Mickey Rooney, and more, with her infectious energy managing to always win over her co-stars just as much as it did audiences the world over.
Her life was full to the brim with unique encounters, great opportunities, and plentiful rewards that others could only dream of. Carroll never lost her high spirit and love for her work. Up to the end, her personality remained as big and boisterous as the characters she portrayed, which ultimately helped these creations remain as beloved now as they were when she first birthed them.
A life that was anything but poor and unfortunate
Pat Carroll was born on May 5, 1927, in Shreveport, Louisiana. After serving in the military as a civilian actress technician, Carroll starred in a number of off-Broadway, Broadway, and television productions throughout the 1950s and 1960s. Some of these shows include "Make Room for Daddy," "The Red Buttons Show," "The Danny Kaye Show," "The Mike Douglas Show," and "Caesar's Emmy," which won her an Emmy in 1957. In addition to this, she proved to be a natural choice as a voice actor in animation. Carroll's multitude of animated projects includes the likes of "Yogi's Treasure Hunt," "A Pup Named Scooby Doo," "Chip N' Dale: Rescue Rangers," "A Garfield Christmas," and the English-language dub of "My Neighbor Totoro."
Her most famous role, animated or otherwise, was in 1989's "The Little Mermaid" as the villainous Ursula. Carroll, a longtime admirer of Disney, was cast in the role after a lengthy process to find the perfect performer. She later voiced the character in various specials, video games, and the film's spin-off television show. In an interview with Disney Parks about what makes Ursula so beloved, Carroll stated, "She is physically bigger than life, but she's bigger than life in her head, in her voice, in her laughter ... There is a fatal attraction about the horrible, mean characters of the world because we don't meet too many of them in real life. So when we have a chance, theatrically, to see one ... it's fascinating for us."