The Chicago Med Star You Likely Didn't Know Voiced A Character In Baymax!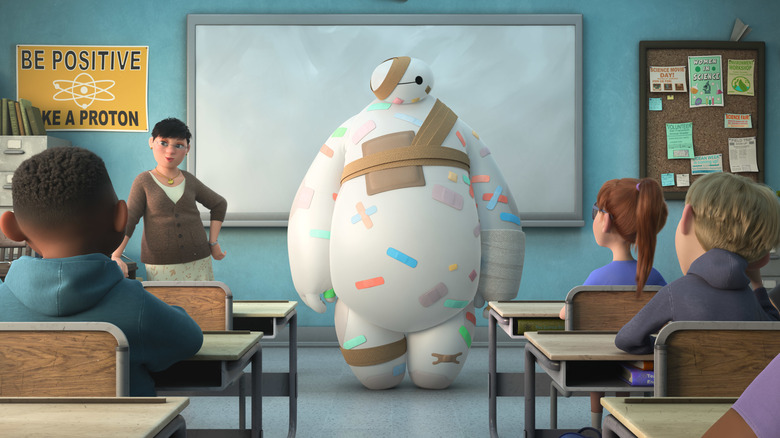 Disney
If challenged to name the actor on NBC's hit drama "Chicago Med" most likely to lend their vocal talents to Disney's new "Baymax!" animated series, who would you nominate? As it turns out, you'd have plenty of likely suspects who could bring their seasoned voice-over chops to this spin-off series about a loveable, relentlessly caring medical welfare robot.
A sampling of "Chicago Med" stars reveals off-camera-on-tape performances from a number of fan favorites who have voiced characters on TV shows and in films. For instance, Steven Weber, who plays Dr. Dean Archer, is the voice of the pushy Powersauce representative Neil in the 1998 "The Simpsons" episode "King of the Hill." He also voiced the German Shepherd/Border Collie top dog Charlie B. Barkin in "All Dogs Go to Heaven: The Series," and filled multiple voice roles as Norman Osborn, Green Goblin, Trapster, and Iron Patriot in the "Ultimate Spider-Man" TV series (via IMDb). Then there's Oliver Platt (Dr. Daniel Charles), with voice credits including a stint as the sinister Voice in the feature film "I'm Thinking of Ending Things" and narration for the "American Experience" TV documentary series. And Nick Gehlfuss (Dr. Will Halstead) voices Martinson Radio in the 2009 family film "Sam Steele and the Junior Detective Agency."
Even with a roster like this to pick from, it turns out it's yet another "Chicago Med" regular who's bringing a certain character to life in "Baymax!"
Brian Tee supplies the voice of Yukio on the Disney+ animated series Baymax!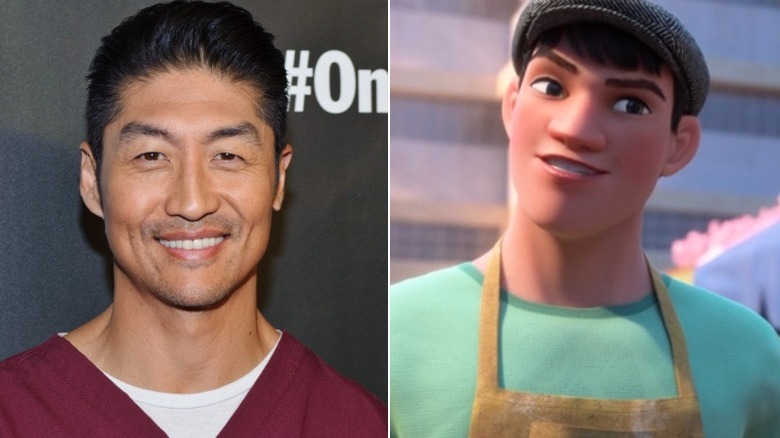 Timothy Hiatt/Getty Images; Disney+
Most familiar to "Chicago Med" viewers as surgeon Ethan Choi, Brian Tee voices the good-natured apple vendor Yukio in the "Mbita" episode of "Baymax!", joining Scott Adsit as the amiable health-care robot, Ryan Potter as Hiro Hamada, and Jaboukie Young-White as Mbita (via IMDb). A spin-off from the 2014 Walt Disney Animation Studios $600-million-plus box office smash "Big Hero 6," the series follows the exploits of the show's eponymous inflatable robot and his comical attempts to serve the health care needs of humanity -– and the occasional terrified house cat. In Season 1, Episode 4, Tee voices the close friend and potential gay love interest of food truck owner Mbita, with the two being brought together via some helpful robotic match-making.
While, as noted, Tee is best known for portraying Dr. Choi on "Chicago Med," the actor is no stranger to voiceover work. Other productions where fans may have heard Tee speaking up for a character include Disney's "Star Wars: Visions," where he took on the role of Ronin. He also supplied the voices of Mike Chan in the Cartoon Network series "Sym-Bionic" and the character Jyunichi in the video game "Saints Row 2."
Tee's episode on Baymax! is a highly praised winner with fans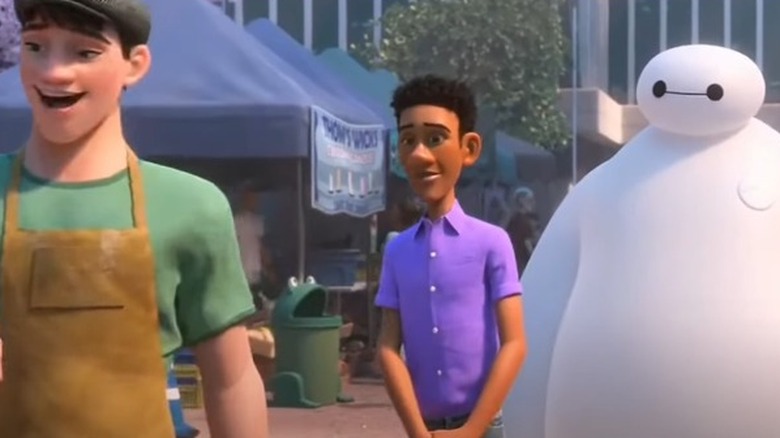 Disney+/YouTube
In his first and so far only "Baymax!" episode, Brian Tee's Yukio is pleased to be asked out on a date by the tongue-tied but determined Mbita. The encounter is presented as a mildly humorous, delightfully charming interlude for both characters, and fans were quick to voice their appreciation of the representation displayed in this LGBTQ-centric moment.
Posting on Twitter, @MationMiss declared, "WAKE UP PEOPLE! BAYMAX! GAVE US A NEW GAY COUPLE AND THEY'RE ADORABLE! (Rainbow emblem)." Series fan @Vault319 noted that the couple gets an assist from the show's ever-helpful, socially tuned-in robot, tweeting, "Shoutouts to best bot Baymax for helping Mbita get a date with Yukio." Joining the outpouring of praise for the Mbi-kio combo, Out Magazine applauded the episode in an article that notes even though the interaction between the two characters is a bit underplayed, Disney has nonetheless "... snuck in the cutest, gayest storyline we've seen from the studio in a while. " And Forbes chimed in to celebrate the series' brilliant, feature-quality animation and "solid voice acting," singling out Yukio and Mbita's nascent relationship as "a heartwarming budding romance."
And for anyone who missed the initial airing of the episode, this YouTube clip has your back, replaying a scene that had user vecnussy exclaiming, "AHHHHH IM SORRY THIS IS TOO CUTE (Tears of joy emoji with stars)."