The Red And Eric Moment That '70s Show Fans Dream Of Seeing In That '90s Show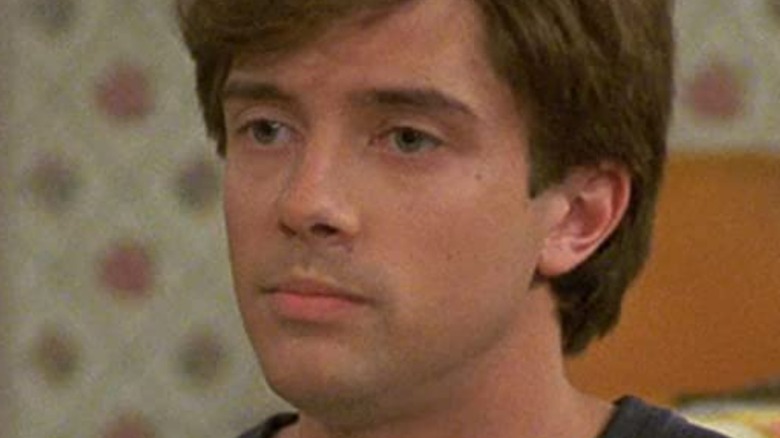 Fox
"That '70s Show" has gone down as a beloved television hit thanks to its fanbase that refuses to let it go. Despite only gracing the airwaves from 1998 to 2006, it managed to pack in countless memorable moments, hilarious jokes, and intriguing character arcs during that time, hence why fans can't help but rewatch it from time to time. Not to mention, it's loaded with now-iconic characters who all brought something unique to the table and, in most cases, connected with audiences. Thankfully, we haven't seen the last of many of them since several will return for Netflix's sequel title, "That '90s Show."
Announced in 2021, "That '90s Show" will pick up roughly 15 years after the events of the "That '70s Show" finale with a 10-episode first season. Alongside a few recognizable faces, the spin-off will focus on Callie Haverda's Leia Forman: the daughter of "That '70s Show" favorites Eric Forman (Topher Grace) and Donna Pinciotti (Laura Prepon), who plans to spend the summer of 1995 with her grandparents, Red (Kurtwood Smith) and Kitty (Debra Jo Rupp) Forman. In doing so, she'll make plenty of new friends and likely learn about her parents' misadventures way back when.
Even though Leia is the primary protagonist of "That '90s Show," fans are hopeful that Eric and Red will get to enjoy this specific fun moment together at some point.
Fans wanna see Eric and Red together in the circle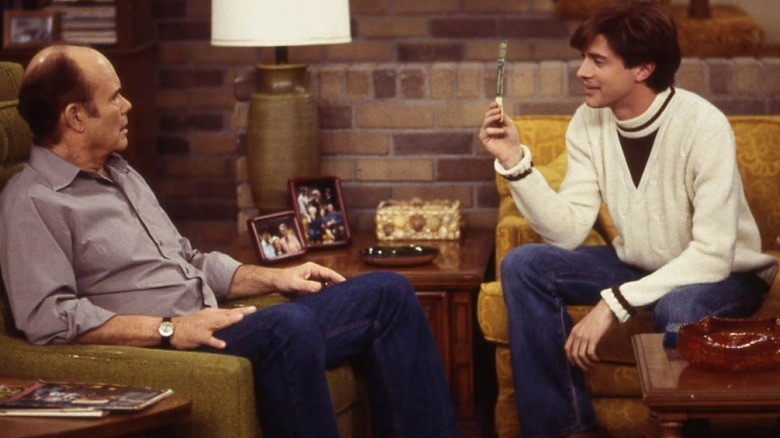 Fox
One of the hallmarks of "That '70s Show" is the famed "circle," where a few characters sit around a circular table in the Forman family basement and smoke while talking about any number of things. These scenes typically involve the younger members of the cast, but the likes of Red and Kitty took part on rare occasions, too. It's unknown if the circle will return for "That '90s Show," but some fans are hopeful they'll get to see it make a comeback. More specifically, folks on Reddit have their fingers crossed that if it does, Red and Eric will join together at least once — perhaps for a reprisal of "Whipped Cream Head."
Surely Red and Eric will share a scene or two on "That '90s Show," but it's up for speculation on whether they'll sit in the circle together or not. Regardless, we can at least count on more quality moments between Red and Kitty as they keep a watchful eye on their granddaughter Leia. As Kurtwood Smith told Looper, getting the chance to work with Debra Jo Rupp again was an absolute treat. "The affection that Debra Jo and I have always had for each other as performers, we fell back into it very easily. We're smiling and happy to work until she decides to tell me what to do," he said while highlighting the excellent work put in by the crew and the rest of the cast.
As the wait for "That '90s Show" continues, all anyone can do is hope that a Red and Eric Forman reunion in the circle is in the cards.