Shazam 2 Star Asher Angel Shares Insight That Will Have Fans Buzzing With Excitement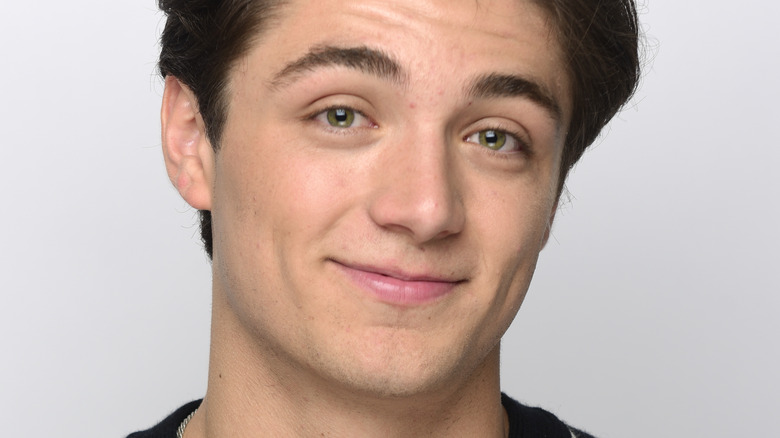 Vivien Killilea/Getty Images
San Diego Comic-Con 2022 was, as always, a wellspring for upcoming pop culture news. While Marvel flooded the public's collective consciousness with a literal wave of releases, it still wasn't enough to entirely drown out the excitement for other properties. Paramount won over fans by announcing that Dungeons & Dragons: Honor Among Thieves will star Chris Pine as a bard (imagine his "Into the Woods" character with a lute, and that's basically the vibe), and DC reminded the world that not all of its properties are crumbling beneath the behavior of out-of-control celebrities.
Along with hauling Dwayne "the Rock" Johnson onto the stage in his Black Adam costume in the most beautifully dramatic display possible, DC showed off the first trailer for "Shazam! Fury of the Gods," the sequel to Zachary Levi's 2019 superhero story — except it's only partially Levi's film. Because when Billy Batson isn't in superhero form, he's played by Asher Angel, and the teen star had plenty to say during SDCC about why audiences are going to adore the sequel.
Asher Angel promises action and heart from Shazam sequel
In an interview with Screen Rant during San Diego Comic-Con 2022, Asher Angel spoke about why he thinks "Shazam! Fury of the Gods" will be better than the first film. "It feels incredible. People have been waiting for this movie. It's bigger, it's better, and there's more action-packed scenes," he said. "It's literally everything you want in a superhero movie. There's so much heart, and there's so much fun. It's such a fun movie, so I think people are really going to be excited to see it. Get ready."
Even without Angel's assurances, when audiences saw the newest "Shazam!" trailer, they knew to expect a wider breadth of action. The sequel starts off with the entire Shazam Family not only fully powered but also spreading out and "doing their own thing," which sounds like the kids are testing out their abilities on their own. Also, hey, there's a dragon thrown in the mix too.
More importantly, or at least more interestingly, the trailer heavily focuses on the theme of family, and in conjunction with Angel's promise of the film conveying "so much heart," it seems like "Shazam! Fury of the Gods" hasn't forgotten what made the first movie so enjoyable. And that's something everyone can look forward to.