Ezra Miller's Future As The Flash Doesn't Look Good Right Now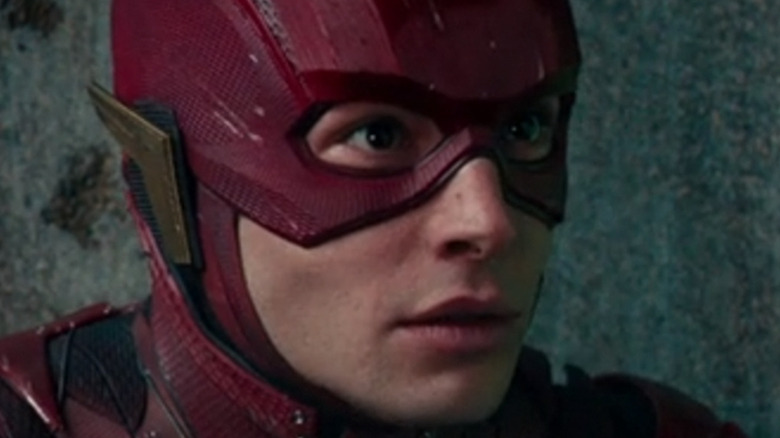 Warner Bros. Pictures
Ezra Miller has played Barry Allen, aka The Flash, in seven DC Extended Universe films since their debut in 2016's "Batman v Superman: Dawn of Justice." But given recent allegations involving erratic and disturbing behavior, they may be out of the role quicker than, well, a flash. With the DCEU speedster's first solo feature film still scheduled for release in summer 2023, new Warner Bros. Discovery CEO David Zaslav will have to make some critical decisions about the future of the project as well as Miller's involvement in the DCEU.
In March, a few weeks before the Warner Bros. Discovery merger was finalized (via Reuters), Variety reported that Warner Bros. delayed "The Flash" from November 2022 to June 2023. It was the latest development in a long string of delays for the Miller-led movie. But buying more time may not be enough, and reshooting "The Flash" could mean a massive financial hit and be tough to sell to a new board of directors.
In mid-June, crisis management expert Tony Freinberg told CNBC, "When you start to have a string of things, that's a worrying pattern. It's worrying about what it says about someone's well-being, and it's worrying about what it says about someone's suitability to be the face of a large Warner Bros. franchise." Freinberg's commentary accurately summarizes the conversation that's been unfolding about Miller's future in the DCEU. Concerns were first raised in March when AP News reported one of Miller's multiple arrests during a trip to Hawaii, prompting Warner Bros. to meet and reportedly mull the situation (via Rolling Stone).
Now, the latest update from sources close to the situation at Warner Bros. provides fresh insight into the likelihood that "The Flash" will be released and Miller's involvement with their nascent solo franchise, as well as the studio.
There are no easy answers on how to proceed with Miller or The Flash solo movie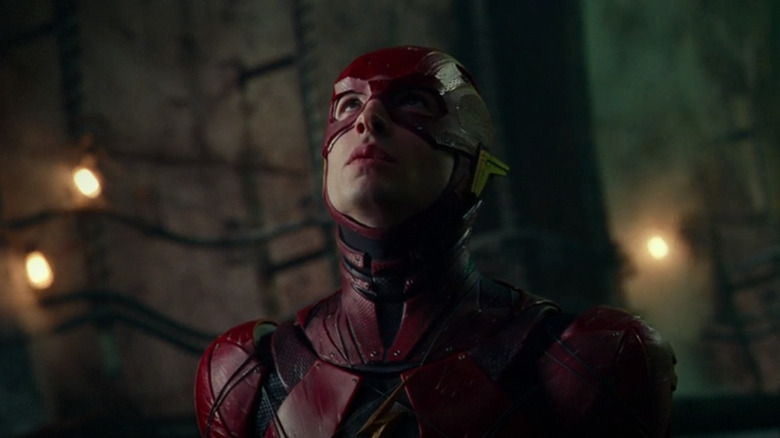 Warner Bros. Pictures
In a new update from Deadline on the situation at Warner Bros. regarding Ezra Miller's future with the DCEU and how the studio will handle the release of "The Flash," it seems the company — and particularly CEO David Zaslav — has some tough decisions to make. The pressure to decide is mounting as new allegations against Miller continue to make headlines (via The Daily Beast). Per the trade outlet, Warner Bros. has reportedly tried to find a way to help Miller, but it's unclear if any progress was made on that front. One unnamed source who spoke to Deadline acknowledged this was practically a no-win situation for the studio, noting, "The hope is that the scandal will remain at a low level before the movie is released, and hope for the best to turn out."
If the $200 million budget for "The Flash" and any outstanding contractual obligations involving the cast and crew of "The Flash" lead Warner Bros. to release the film, they could opt to bury it under a limited theatrical or HBO-only release. Regardless of their plans for "The Flash," the studio may be best separating themselves quickly from Miller, who, per Newsweek, appears to have deleted their Instagram account goading law enforcement with a post that read, "You cannot touch me, I am in another universe." The studio will also have a similar decision to make regarding Miller's participation in any future "Fantastic Beasts" films, although the disappointing box office performance of "The Secrets of Dumbledore" may make that call easier.
Tony Freinberg advised Warner Bros. Discovery to act quickly but calmly, telling CNBC, "There's no time to waste, but they don't want to announce something that is half-baked."