The Hilarious Price Is Right Slip-Up Fans Never Got To See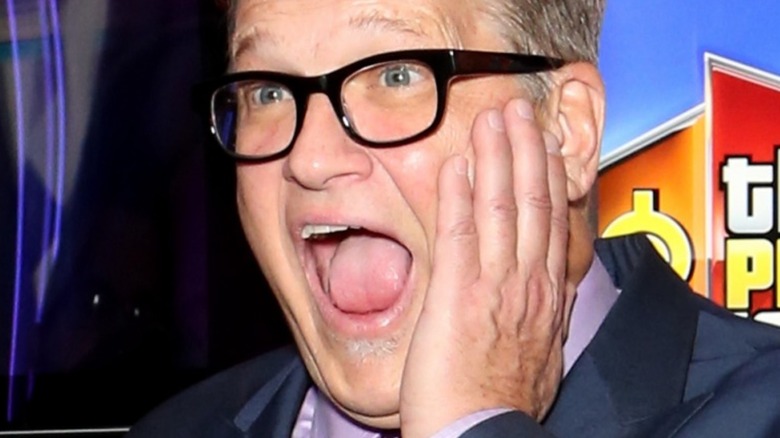 Gabe Ginsberg/Getty Images
When it comes to game shows, has there ever been a program as iconic as "The Price Is Right" in daytime television history? Between the incredible prizes, wacky contestants, and countless ways to win stuff, there's not much to dislike about the long-running CBS series, which has now been on the air for roughly half a century. But there's one thing about "The Price Is Right" that many people don't know: There are outtakes!
You see, CBS actually records the legendary game show in advance and then airs it at a later date. There are often two episodes recorded per day, with numerous contestants getting chosen to "come on down" and take part (via On Camera Audiences). Sometimes, things make it on camera during the tapings that aren't shown on TV, such as a contestant cursing or something even crazier — like what happened during a "Price Is Right" episode from years back that saw host Drew Carey unable to control himself. 
"I've never seen Drew Carey laugh so hard before," said YouTuber Doug Roberts, who, luckily for us, posted the unaired outtake on his page.
Showcase winner's fake tooth falls out and rolls around on stage, causing Drew Carey to lose it
In the unaired "The Price Is Right" clip, a showcase winner somehow manages to lose her fake front tooth during the show's closing moments — just as the iconic "Price Is Right" theme starts playing. "The Showcase winner's false tooth pops out of her mouth, falls on the floor and rolls around the stage," Doug Roberts explained in his YouTube video description. "She then chases it around, picks it up and puts it back in her mouth and keeps on celebrating!" What a moment. 
Now, most people would automatically think that the tooth blooper is a unique, one-of-its-kind scene in "Price Is Right" history that just can't ever be duplicated. But think again. 
Back in 2012, an 85-year-old contestant ran up on stage after winning the "One Bid" round and accidentally fell forward onto the ground, causing one of his teeth to fly off. "My tooth came out!" the man said ecstatically while cracking up with laughter. He planted a big kiss on Drew Carey's cheek moments later, prompting the longtime host to say: "That's not the only person missing a tooth that's ever kissed me."