Roles That Top Gun: Maverick Actors Would Like You To Forget About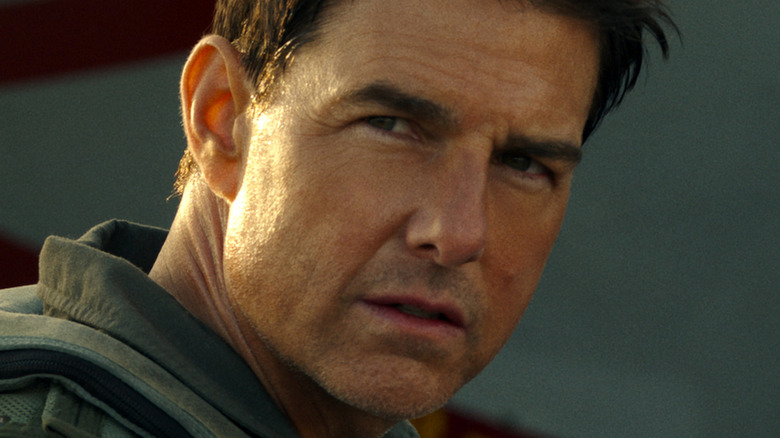 Paramount
It's seldom you see a sequel released more than three decades after its predecessor, but in 2022, star Tom Cruise returned to his most iconic role in "Top Gun: Maverick." The long-awaited sequel to the 1986 aerial combat classic, Cruise reprised his role as Pete "Maverick" Mitchell, the risk-taking ace pilot who never takes anything too seriously. 
But 36 years later, Mitchell is brought back into the Top Gun program to train a new group of recruits for a vital mission. There, he comes face to face with the ghosts of his past, as well as the son of his best friend whose death he's long felt responsible for. Met with universal acclaim, the cast of "Top Gun: Maverick" can boast of appearing in one of the best-reviewed films of the year.
The cast, comprised of star veterans like Ed Harris and Jennifer Connelly and a roster of new young talent like Danny Ramirez and Monica Barbaro, are all basking in the glow of critical praise. But looking back at their career, each and every one of them has at least one role that wasn't so well received. While "Top Gun: Maverick" may go down as the film featuring the best roles of their respective careers, let's take a flight down memory lane and check out their worst — the ones they want us all to forget about.
Danny Ramirez's role in The Giant was luckily small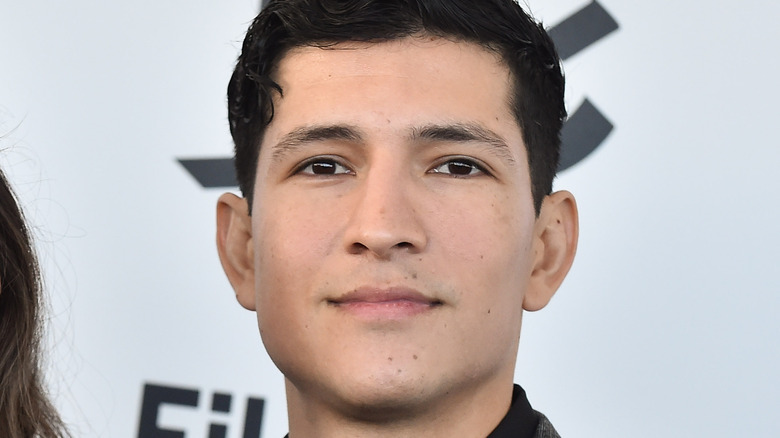 DFree/Shutterstock
Beyond his appearance as hotshot pilot Fanboy in "Top Gun: Maverick," actor Danny Ramirez had a major supporting role in the recent Disney+ Marvel series "The Falcon and the Winter Soldier." Set up to be a future superhero, and with an important part in the "Top Gun" sequel, Ramirez' career is poised to make some major leaps over the next few years. If it does, one film that the young star will look back and pray we all forget is the 2019 indie drama "The Giant."
Expanded from a short film of the same name by first-time director David Raboy, the film is about a small town whose peace and quiet is shattered by a rash of brutal killings. The story focuses on a teenager named Charlotte, whose boyfriend returns to town after inexplicably disappearing for a while. The murders begin soon after in grisly fashion. A dark psychological thriller, the film is oozing with atmosphere, but unfortunately doesn't offer up much else. Confusing and listless, the film simply doesn't go anywhere, something critics like the one in Variety were quick to latch onto.
Thankfully, Ramirez's part is small, and if his star continues to rise as expected, he can look back and chalk this one up to taking work where he could find it in the early days of his career.
Jennifer Connelly probably wishes Of Love and Shadows stayed in the dark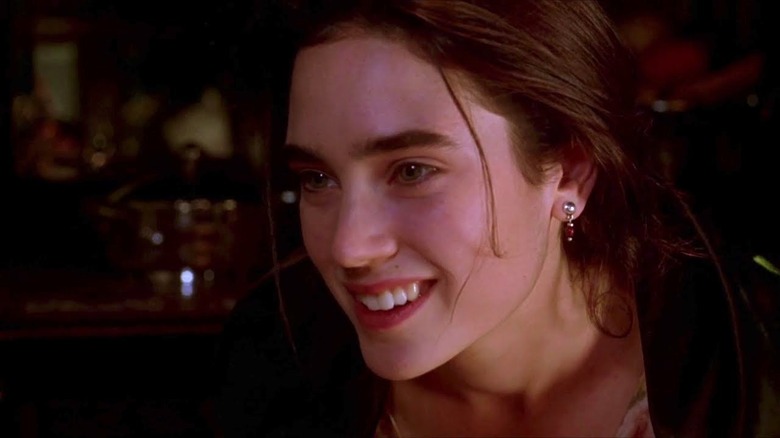 Miramax
Following "The Rocketeer" in 1991, rising star Jennifer Connelly left the spotlight for three years, turning up only in a made-for-TV movie. But in 1994, she returned to the big screen opposite Antonio Banderas, who had yet to become a star in America, in the erotic drama "Of Love and Shadows." Connelly plays a young publishing editor named Irene who is living in Chile during a time of great political upheaval. At first, she wishes to stay neutral, but that all changes when she meets a handsome, charismatic photographer named Francisco (Banderas). As the two become caught up in a passionate, whirlwind physical affair, she soon joins the growing rebellion against the government's iron-fisted dictatorship.
Poorly received, "Of Love and Shadows" is a disaster of a film, with graphic adult scenes that don't do much to enliven a lackluster story. While Connelly has appeared in many risque moments in her career, here it feels gratuitous and pandering, perhaps because it's also used as the centerpiece of the movie's poster in a cheap attempt to lure viewers. The real problem  is that it's all in service of a terrible film. Thankfully, it was just a brief low point, as Connelly returned to better-reviewed films like "Higher Learning," "Inventing the Abbotts" and "Dark City" over the next few years.
Ed Harris doesn't want anyone to know The Aliens are Coming!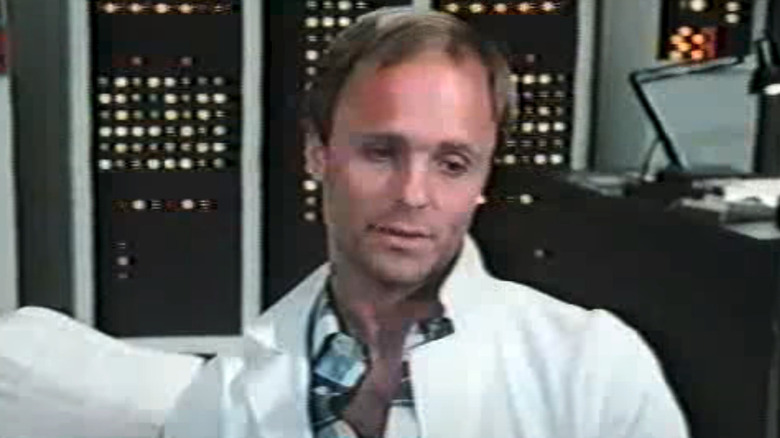 WorldVision Home Video
Hollywood vet Ed Harris is known for playing military types, powerful figures, and stern leaders. In "Top Gun: Maverick," he plays Admiral Chester "Hammer" Cain, the no-nonsense officer who is disdainful of Pete "Maverick" Mitchell, even more so when the pilot gets an experimental aircraft destroyed in a test flight early in the film. It's a perfect role for Harris, who's made a name for himself in similar parts in a number of film classics, such as John Glenn in "The Right Stuff," the NASA commander Gene Kranz in "Apollo 13," and TV mastermind Christof in "The Truman Show." 
But one movie in Harris' career that didn't become a classic, and one he likely wants you to forget — if you even knew it existed — is the 1980 TV movie "The Aliens are Coming!" Released in the wake of such late '70s sci-fi hits as "Star Wars" and "Close Encounters of the Third Kind," the film was a low-budget sci-fi/horror B-movie that impressed nobody. Harris appears early in the movie as a researcher, in a story that sees an alien spaceship arrive on Earth to steal human bodies.
On the other hand, if you've always wanted to see Ed Harris when he still had hair, you'll get your wish with "The Aliens are Coming!"
Raymond Lee should beg forgiveness for Penance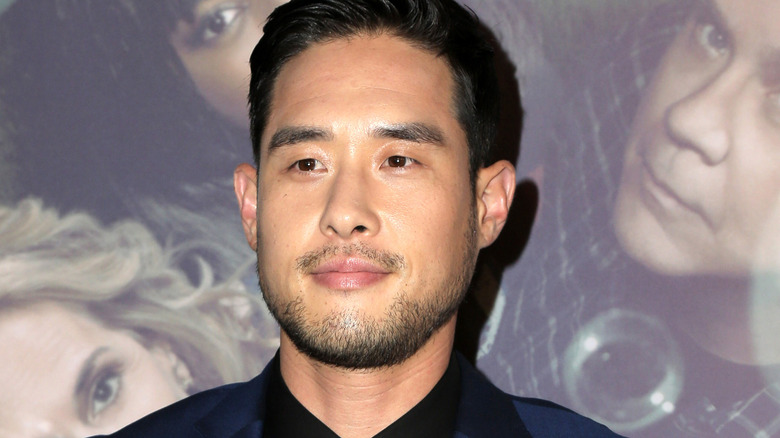 Kathy Hutchins/Shutterstock
Actor Raymond Lee, who plays Lt Logan "Yale" Lee in "Top Gun: Maverick," is probably thankful that one would have to watch this next film and actively look for him to find his appearance in it. Playing only a background extra, Lee gets off easy in this one, but it's still a credited role that puts a black mark on his filmography. "Penance" is little more than a low-rent, homemade horror movie, and not of the "so bad it's good" variety. Who doesn't get off quite as easily? The iconic Tony Todd, star of "Candyman" and "Star Trek," who gets top billing despite having a glorified cameo as an enigmatic and sinister taxi cab driver.
The film is like a mix of "Striptease" and "Saw" and in none of the good ways. It focuses on a young single mother who turns to sex work to make ends meet, but soon finds herself at the mercy of a twisted madman who wants to punish her for her sins in all sorts of gory and graphic ways.
Amateurish and sloppy, it's the kind of garage film that aspiring filmmakers put together in college, and should never have been released on home video. Lee can be given a pass on it, as he was just an unknown at the time looking for a paying gig. Hopefully after he becomes a star in the upcoming "Quantum Leap" reboot, he can look back and laugh at it.
Jon Hamm likely wants all copies of Aardvark vacuumed up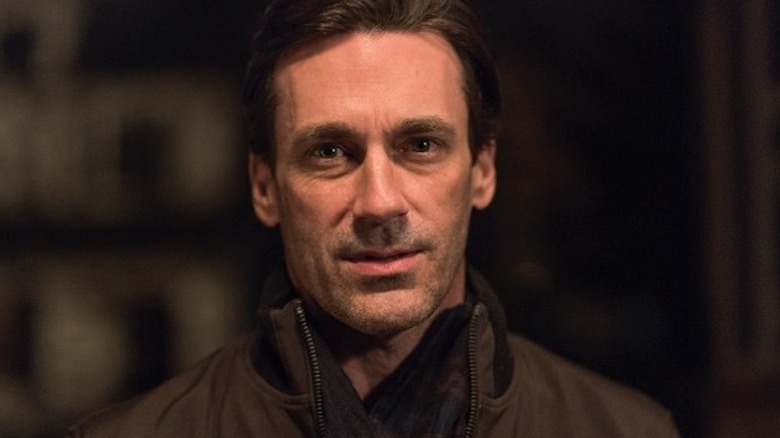 Great Point Media
Jon Hamm, best known to most as slick, smarmy 1960s ad man Don Draper on the hit drama "Mad Men," stars in "Top Gun: Maverick" as Beau Simpson, callsign "Cyclone," the commander of Naval Air Forces. He's also well-known around Tinseltown as an irreverent personality, making fun of his own reputation on "Conan" and taking small comedic parts such as his recurring role on the Tina Fey sitcom "30 Rock." His success as Don Draper, however, has allowed him to be selective about what work he takes on, so Hamm's appearances outside of his signature role have largely been in smaller dramas, while he mostly avoids bigger Hollywood blockbusters. 
But even Hamm has some roles he probably wishes he could erase. Case in point: the indie drama "Aardvark." The film introduces Emily (Jenny Slate), a therapist whose troubled patient Josh (Zachary Quinto) starts to have feelings for her. But things take a turn when she's introduced to Josh's brother Craig (Hamm), who she falls head over heels for, creating an awkward doctor-patient love triangle. Hamm does what he can, but the film is ultimately a bore. While reviewer Sheila O'Malley acknowledged that the actor was a scene stealer, it's not enough to save the project.
Sitting at just 12% on Rotten Tomatoes, "Aardvark" is both awkwardly titled and an awkwardly written film that gives a talented cast nothing, turning it from a promising drama into cinematic backwash.
Miles Teller did not have a fantastic time making Fantastic Four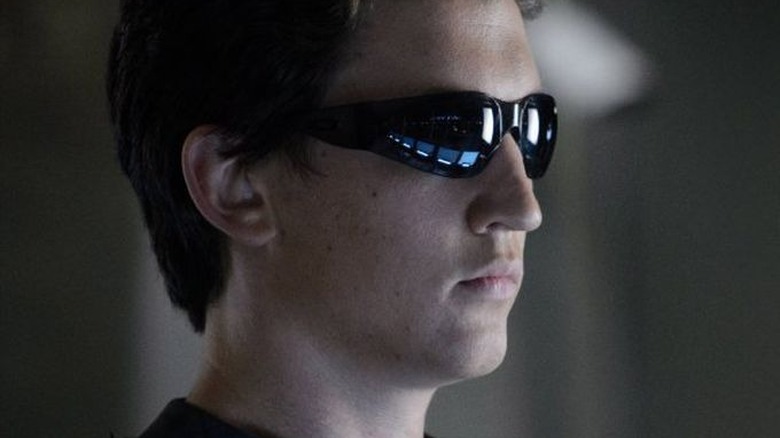 Fox
"Top Gun: Maverick" sees the surprise introduction of Bradley "Rooster" Bradshaw, a tough young pilot who is revealed to be the son of Pete Mitchell's former co-pilot and friend from the original film, Nick "Goose" Bradshaw. At the heart of the movie is Mitchell's struggle to overcome the guilt that he's carried since his friend was lost, and many of Tom Cruise's best scenes are opposite Rooster, played by standout star Miles Teller. While the breakout performer from "Whiplash" proved his acting chops once more in the high-flying billion-dollar hit, there's one well-known box office flop and failed franchise starter that he probably wishes he could take back: the 2015 Josh Trank-directed debacle, "Fantastic Four."
The film was a gritty reboot of the Marvel comic book super-team that had previously appeared in two films in the mid-2000s, with Teller starring alongside Michael B. Jordan, Kate Mara, Jamie Bell, and Toby Kebbell. The re-imagining proved disastrous from top to bottom: there have long been reports of serious on-set problems between Trank and the studio (per THR), as well as between Trank and Teller (via Yahoo! News). In the end, screenwriter Simon Kinberg stepped in to oversee extensive reshoots that only made the movie worse. It was all for naught though, as the film was a bomb in theaters anyway and dismissed by fans. Whether the gossip about Trank was true, no doubt everyone involved wishes it never happened.
Glen Powell should run as fast as he can from Wind Walkers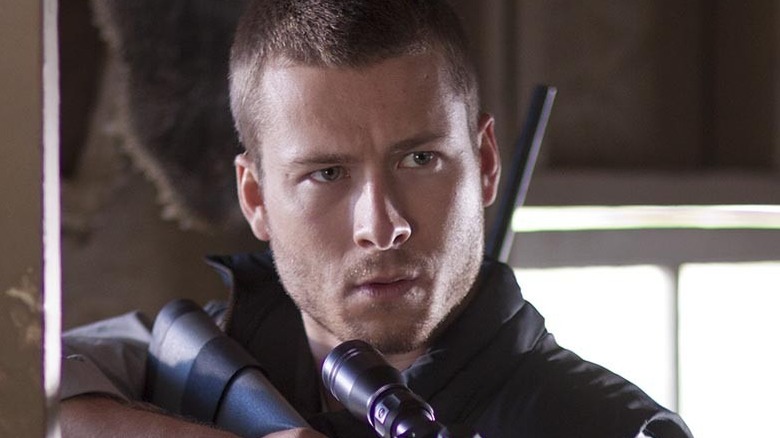 Iron Circle
Glen Powell is the second actor on this list to have played real-life astronaut John Glenn (after Ed Harris), with the younger star having played him in the 2016 film "Hidden Figures." In "Top Gun: Maverick," Powell again plays an intrepid airman, this time Lieutenant Jake "Hangman" Seresin, a devil-may-care pilot who rubs some of his fellow trainees the wrong way. Powell hasn't had a ton of big roles so far, being relegated mostly to bit parts and supporting characters, but he starred in a movie in 2015 that he almost surely wants us all to forget: the indie thriller "Wind Walkers."
The film follows a group of friends, including Powell, who head to the Florida Everglades to go hunting after the return of their buddy from his military tour overseas. But they soon find themselves being tracked by deadly and supernatural hunters, the fabled "Wind Walkers," who may or may not be real. 
Cheaply made, poorly acted, and supremely slow-moving, "Wind Walkers" is an ineffective thriller that crawls to the finish, slogging its way through a poorly directed, incomprehensible script. Even diehard horror reviewers who tend to be more forgiving — like the folks at Dread Central — had harsh words for it, which says a lot. If you managed to make it through, you're probably wishing — like Powell — that you could unsee what you just saw.
Val Kilmer's visit to The Island of Dr. Moreau was a debacle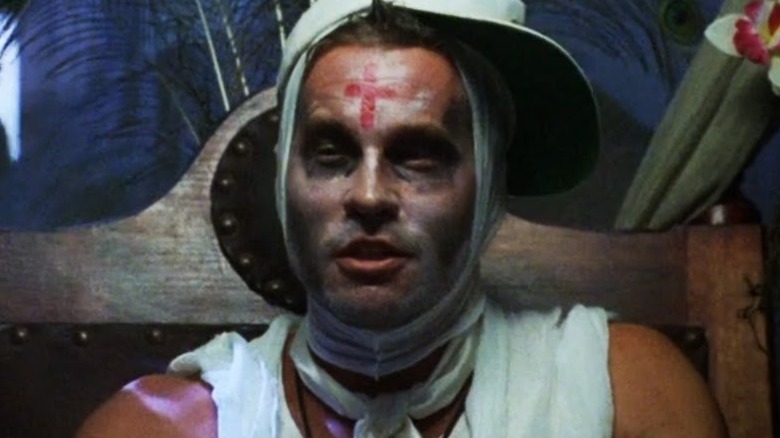 New Line Cinema
The only other star to return in "Top Gun: Maverick" from the original 1986 classic, Val Kilmer's role as Admiral Tom "Iceman" Kazansky was warmly greeted by fans, particularly given his troubles with throat cancer that have slowed his career. In the film, it's Iceman's watchful eye that has long kept Maverick out of trouble, as his former rival has helped protect him through the years. In a climactic moment, Cruise and Kilmer share the screen in a touching reunion that proves to be a highlight of the film.
Kilmer's career hasn't always been highlights, and has been dotted by alternating successes and failures over the years. Few, however, have been so low as the disaster that nearly ended it: "The Island of Dr. Moreau." A notoriously troubled production, the film stars Marlon Brando as an eccentric, deranged scientist on a remote island whose genetic experiments result in strange half-human mutations. Kilmer stars as Moreau's twisted henchman Montgomery, and some of the film's many troubles can be placed directly at the actor's feet. Filling in at the last minute for Bruce Willis, who had unexpectedly dropped out, the quarrelsome Kilmer caused problems on the set that he later blamed on having just received divorce papers.
From real-world problems to the abominable results on screen, we're fairly certain that Kilmer would wipe this one out of existence if he could.
Lewis Pullman managed to survive The Strangers: Prey at Night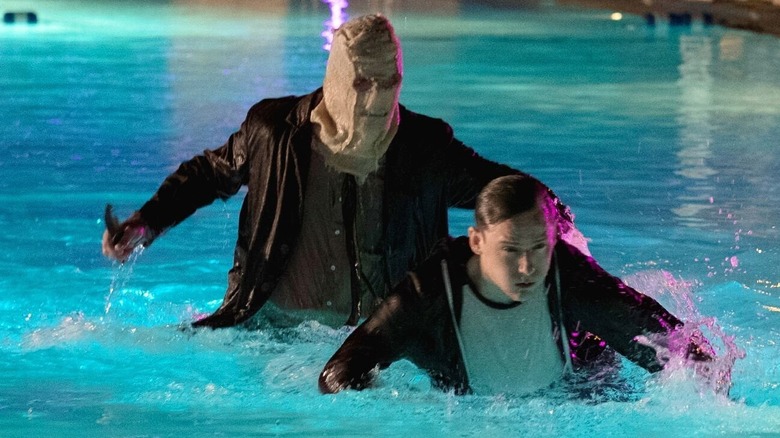 Aviron Pictures
In "Top Gun: Maverick," actor Lewis Pullman (son of "Independence Day" star Bill Pullman) plays the highly skilled but timorous Lieutenant Robert "Bob" Floyd, the weapons officer who flies with pilot Natasha "Phoenix" Trace (played by Monica Barbaro). The actor described himself as a "quiet burning ember" in an interview with THR, with his performance inspired by members of the actual TOPGUN program that he met during his prep for the film. A younger actor with few films to his credit, you might think he hasn't been acting long enough to have a dud on his resume, but think again.
In 2018, Pullman appeared in the belated sequel to the 2008 horror film "The Strangers," which had starred Liv Tyler. Joining a cast that includes Bailee Madison, Christina Hendricks, and Martin Henderson, Pullman stars in "The Strangers: Prey at Night" as Kinsey, a young man who goes to stay in a remote cabin with his family, but falls victim to a trio of psychopaths in bizarre masks. A cliched story so full of genre tropes that it borders on being a spoof, there's very little to entertain here unless you just want to see the kind of mindless killing that you've seen a thousand times before.
Despite its best efforts, it couldn't replicate the relative success of the original, unlike "Top Gun: Maverick," and Pullman surely wishes he could bury this one forever.
We doubt Monica Barbaro feels Bullish about this film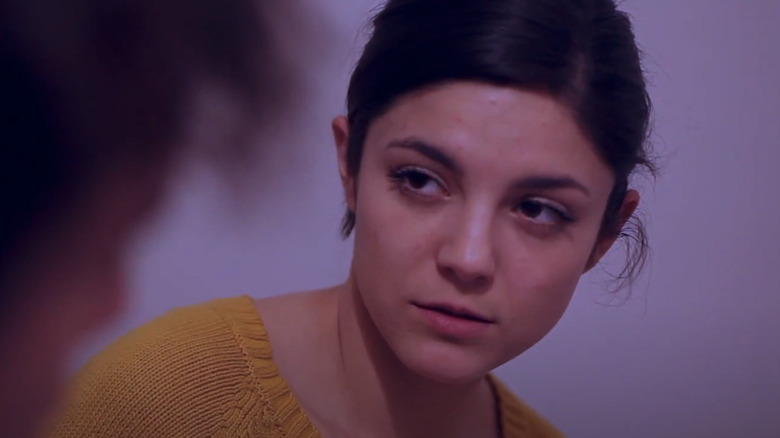 Maverick Movies
In 1986, when the original "Top Gun" was released, women weren't even allowed to fly fighter jets in the U.S. Navy (per the New York Times). But in 2022, standout "Top Gun: Maverick" star Monica Barbaro impressed audiences as "Phoenix," the lone woman in the film's group of elite pilots. The actress herself has been on screen for about a decade, mostly making appearances in such TV hits as "Hawaii Five-0," "Notorious," and "Lethal Weapon," while being a part of the main cast of the short-lived Dick Wolf spin-off, "Chicago Justice." But if there's any role she'd probably rather not talk about, it's in a little indie thriller called "Bullish."
Billed as a mix of "Wall Street" and "Van Wilder," it has nothing as compelling or funny as either. Instead, it's an amateurish project that looks like it was assembled in a weekend, and if not for Barbaro, you'd be forgiven for thinking that nobody involved was actually a professional actor. It tells the story of a group of college students out to make a big score on the stock market. Eventually they get into real estate, which of course leads to all kinds of trouble. The story, the performers, the direction, and just about every element of "Bullish" is weak and ineffective, to the point that it doesn't even look or feel like a real movie. Thankfully, Barbaro would rebound and start her TV career just a few years later.
Manny Jacinto should have found the exit in Peelers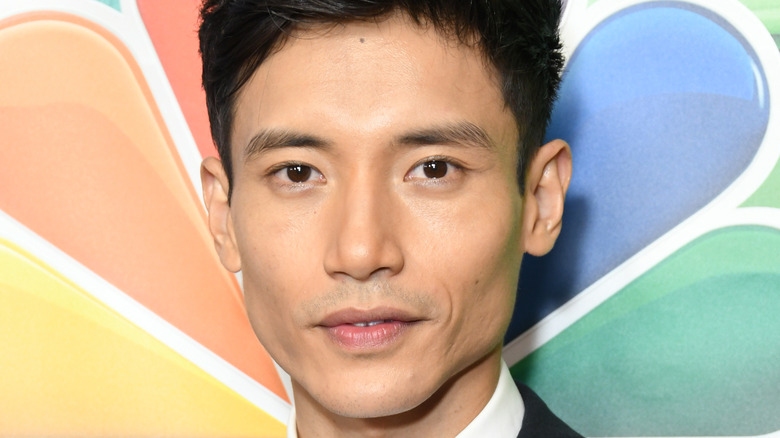 Quinn Jeffrey/Shutterstock
Playing Top Gun graduate Lieutenant Billy "Fritz" Avalone in "Top Gun: Maverick" is actor Manny Jacinto. For many, Jacinto might be better known for his role as Jason Mendoza on the NBC comedy "The Good Place," alongside Kristen Bell, Jameela Jamil, and Ted Danson. He also appeared with fellow "Maverick" cast members Jon Hamm and Lewis Pullman in the 2018 thriller "Bad Times at the El Royale." But not all of Jacinto's earlier work has been as high-profile or well-received. Though he only had a minor role in the horror film "Peelers," it's probably an entry that Jacinto would rather you not revisit.
A zombie movie set in the dingy confines of a seedy strip club, the premise alone is enough to make you roll your eyes. Right away, we can see we're in for some cheesy, sleazy schlock, and if that's what you're looking for, you'll get it in spades. It all starts when the club announces that it's closing its doors, so the owners, employees, and a group of rowdy patrons prepare for one last dance ... literally. When a group of mine workers become infected with a zombie virus, they're all suddenly in for the night of their lives.
Whether it's guns, knives, or kickboxing, there's plenty of gruesome violence, but the acting is atrocious and the effects none too impressive. At least with a breezy 95-minute run time, you can put this one behind you quickly.
Endless Love will never fade away for Tom Cruise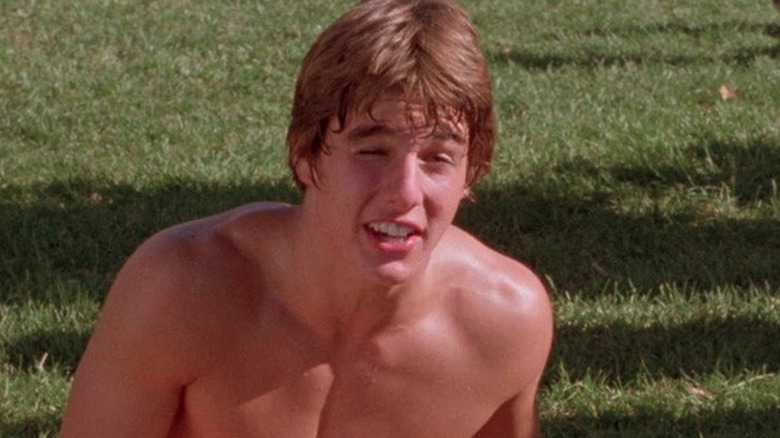 Universal Pictures
It may come as a surprise to some, but even superstar Tom Cruise has at least a few performances under his belt that he'd probably love us all to forget. Before "Top Gun" in 1986, before even his breakout role in "Risky Business," there was one that stands out pretty clearly as a real misfire for Cruise. No, we're not talking about the early '80s road comedy "Losin' It," but in fact, Cruise's debut film: the 1981 romantic drama "Endless Love." 
The story follows David (Martin Hewitt) and Jade (Brooke Shields), a pair of teenagers who get caught up in a passionate love affair. As Jade, the more freewheeling of the two, spirals into pure obsession over their relationship, her parents forbid the couple from seeing each other. Cruise plays David's friend Billy, who shares a story that inadvertently starts David on a destructive quest to bring Jade back to him, ruining multiple lives in the process. 
Bordering on the preposterous, critics found the story more silly than sinister, although the movie was a modest box office success. Though Cruise's part in "Endless Love" isn't a big one, it came before he had his damaged front teeth fixed (via Closer). His awkward look might be one reason he wishes it didn't exist — but it's also a downright awful movie.