The Grey's Anatomy Finale Theory That Would Change Everything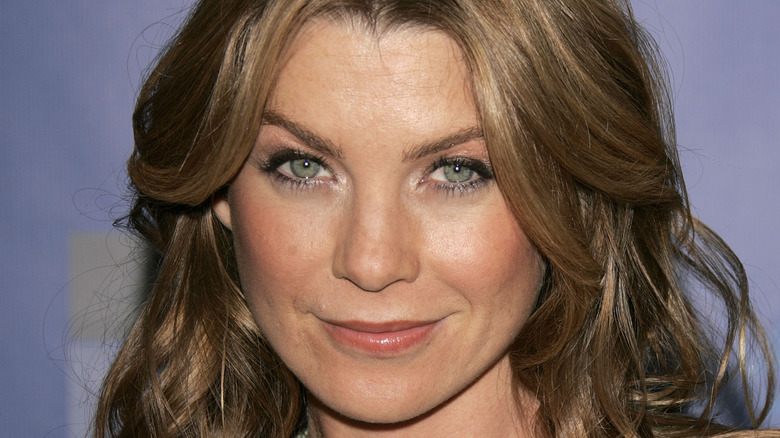 DFree/Shutterstock
Since debuting in 2005, "Grey's Anatomy" has established itself as TV's longest-running primetime medical drama (via Forbes). The show made good use of its time: According to IMDb, it was the recipient of the 2007 Golden Globe Award for Best Drama Television Series and was nominated for multiple Emmys, including Outstanding Drama Series.
"Grey's" follows the titular Dr. Meredith Grey and her fellow physicians at Grey Sloan Memorial, who are constantly faced with life-or-death decisions on the job in addition to personal struggles. With so many episodes, relationships, and beloved characters, it makes sense that fans take time to theorize how the series will end, as the series' fate was still not clear even after the show hit its 400th episode milestone in May 2022.
Despite the show's success, Ellen Pompeo, who portrays Grey, told Insider something fans couldn't have been happy to hear: "I've been trying to focus on convincing everybody that it should end ... I feel like I'm the super naive one who keeps saying, 'But what's the story going to be, what story are we going to tell?' And everyone's like, 'Who cares, Ellen? It makes a gazillion dollars.'" So, what do fans think that final story will be, whenever it is finally told? It's a theory that can be traced through the seasons of "Grey's," all the way back to the pilot — and centering around our lead character.
Fans predict that Meredith could end up like her mother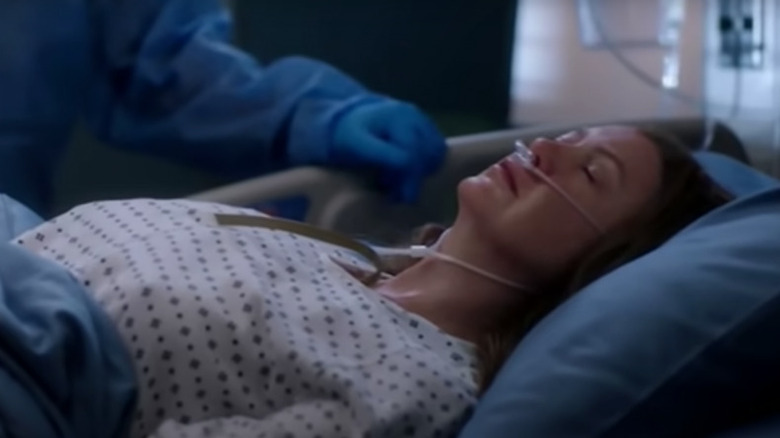 ABC
We see Meredith fight for her life in Season 17 after getting COVID, but many think she will eventually face an even bigger, more tragic battle as the series comes to an end: Alzheimer's. One Reddit user, u/Rhysieroni, predicts, "I think it ends with Mer being diagnosed with Alzheimer's and we see a grown up version of Zola or one of the other kids finding her journals, which are her voiceovers that she does every episode."
Meredith's narration has been a major storytelling tool since the beginning: In the pilot, we find out that her mother is sick with Alzheimer's and is in an assisted living facility during one of these very voiceovers. Ellis Grey (Kate Burton) even kept her own journals, which Meredith eventually discovers. Having the next generation uncover the tales told through Meredith's voiceovers — even after she herself has forgotten them due to the disease — would bring the story full circle.
Alzheimer's not only leads to Ellis Grey's death in Season 3, but it has also been a theme of the show ever since in small and large ways. In Season 7, Meredith is the surgical resident for Derek Shepherd's (Patrick Dempsey) Alzheimer's clinical trial, which she ends up compromising. Later, in Season 9, Meredith finds out that she's positive for multiple genetic indicators for the disease.
Fans think this could lead to old Grey's characters returning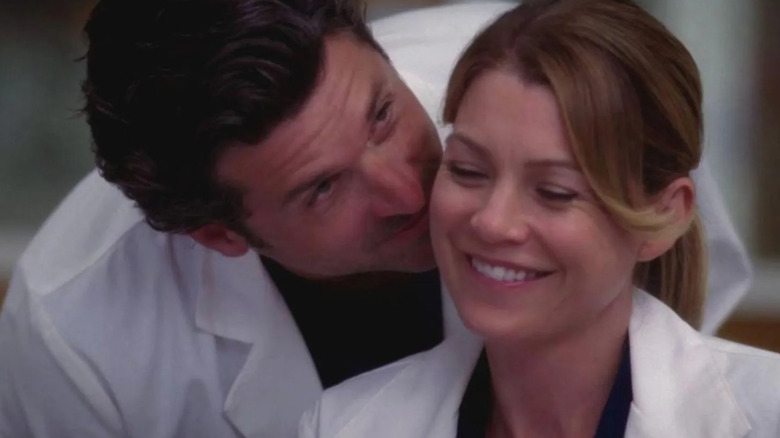 ABC
Now, how would Meredith developing Alzheimer's affect the rest of the cast and the conclusion of the show? u/guccimang0s has an idea: "All the old characters come back to visit her. As Meredith is fading away, she would be at Joe's bar again ... and Derek would be there waiting for her. Then together, they would go into the afterlife." u/BOTK_TA agrees, saying that they'd like to see "one big finale" full of cameos from major characters who visit Meredith in deathbed visions. Ending a series after so long is no easy task, but what better way to do it than to have popular former "Grey's" characters return to the hospital and reunite Meredith with the love of her life? Sounds pretty perfect, if bittersweet.
Considering all of the evidence, and the fact that the show never shies away from tragedy and sentimentality, these theories certainly hold some weight when it comes to Meredith's fate and would add undeniable poignance to the series' farewell.