Why The Conners Fans Are Getting Loud Over Jackie's Hair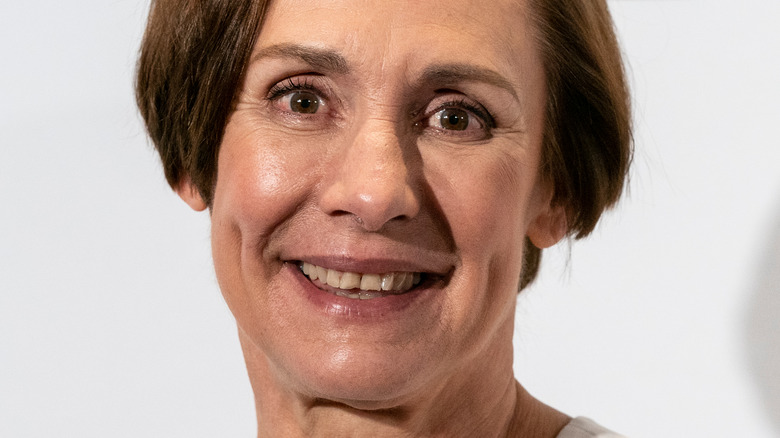 lev radin/Shutterstock
It's been more than 30 years since fans first met Jackie Harris on the ABC sitcom, "Roseanne." The character, played by veteran actor Laurie Metcalf, is the sister of Roseanne Conner (played by Roseanne Barr), and has been an ever-present auntie in the Barr-less spin-off series, "The Conners."
Over the years, fans watched a young Jackie get flirty with her supervisor (okay, it was George Clooney!) at Wellman Plastics, and she had jobs as a Rodbell's department store perfume girl and a police officer. Fans also watched her hairstyle change throughout the original series.
In the early seasons of "Roseanne," Jackie wore her hair long with bangs. She also wore ponytails and loose buns and rocked a blond bob at one point before committing to a short hairstyle during Season 6. Some fans noted that Jackie's personality changed along with her hairstyle. "The shorter the hair, the crazier she got. Loved how cool Aunt Jackie was in the first few seasons," u/lioncourt91 wrote on Reddit. "Yes! She got weirder the more she cut her hair," another user, u/DareWright, agreed.
But even with the "heads up," some fans still weren't prepared for Jackie's look when she returned for "The Conners" in 2018.
Jackie's hairstyle on The Conners has left some fans confused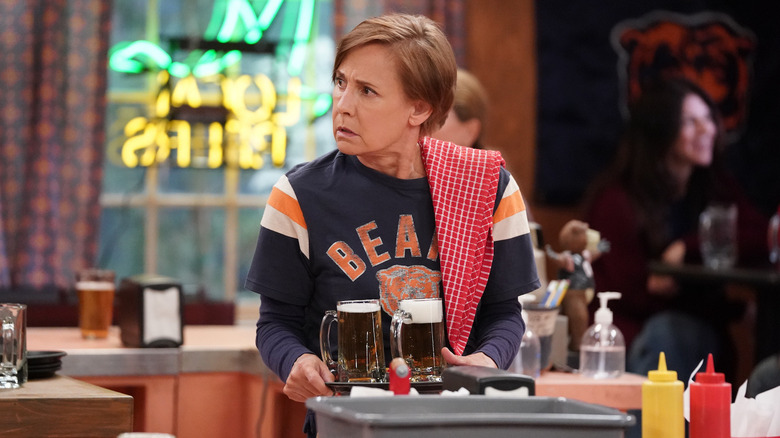 ABC/Eric McCandless
Fast forward a few decades and Jackie Harris is far from a fashionista. The Lunch Box co-owner dresses down and doesn't do much to her hair, which remains short and free of styling products. In one episode, Jackie is even mistaken for a lesbian due to her short haircut.
In a Reddit thread, fans reacted to Jackie's present-day look. "Back in the Roseanne show she had several nice short styles. Her hair now just looks like a chop job," one fan, u/KarateG, wrote, adding that 1990s Jackie "looked more put together." Others noted that 2022 Jackie doesn't care about her appearance. "I hate to say this, I love Laurie Metcalf, but her hair really is not a flattering look right now. I frequently confuse her for Mark," u/the_queen_of_nada noted, referring to Darlene's (Sara Gilbert) teenage son. 
And other fans weren't sure if the disheveled 'do was Laurie Metcalf's decision or that of the show's hairstylist. "Actors don't get to choose their own hairstyles. There's a hairstylist on set that decides what everyone's hair should look like," wrote u/reindeermoon. "You'd be surprised. Laurie Metcalf is too important to the show to not get input," u/Acrobatic-Adagio9772 fired back.
Metcalf has also weighed in on her character's look. When "The Conners" returned to production under COVID-19 protocols in late 2020, she told "On the Red Carpet" that she was intentional about Jackie's look. "As soon as I heard we were going back and I hadn't, of course, done anything to my hair, I thought, oh, this is going to be perfect," Metcalf said. "I'll let the roots grow out. I'll do my own hair and makeup, and I'll look like hell like we all do and are supposed to right now."