The Conners Season 5 - What We Know So Far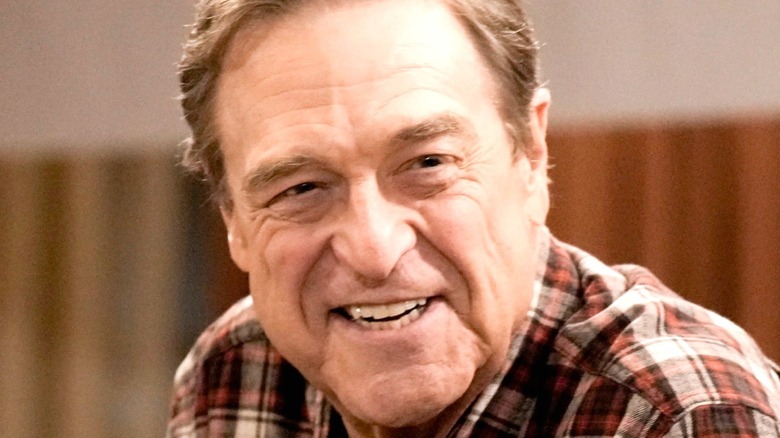 ABC/Scott Everett White
"The Conners" will make a return to ABC. The "Roseanne" spinoff series about the loving but dysfunctional Conner family from Lanford, Illinois, received a Season 5 renewal from the network on the heels of new contract deals for its main stars Sara Gilbert, John Goodman, Laurie Metcalf, and Lecy Goranson, according to Deadline.
The return of "The Conners" isn't a huge surprise. Despite a rocky start –- the series was spawned amid the firing of Roseanne Barr for racist remarks shortly after the original cast reunited for one season of the "Roseanne" reboot in 2018 –  the show has been a consistent ratings hit and remains ABC's second-highest rated sitcom overall, as Deadline also noted. Last season, the spinoff series averaged an impressive 4.84 million viewers each week, per The Hollywood Reporter. Not too shabby for a show that was born out of controversy.
"The Conners" season 4 finale ended with two weddings — and a breakup. Fans saw both Darlene (Gilbert) and Jackie (Metcalf) marry their longtime loves (Ben and Neville, respectively played by Jay R. Ferguson and Nat Faxon), but Darlene's daughter Harris (Emma Kenney) ditched plans to wed her older boyfriend Aldo (Tony Cavalero). The marriages will set the stage for a new era for the family, who will no longer all be living together in one "full house."
But what will Season 5 bring to the table? Here's what we know so far.
Season 5 promises a number of interesting new storylines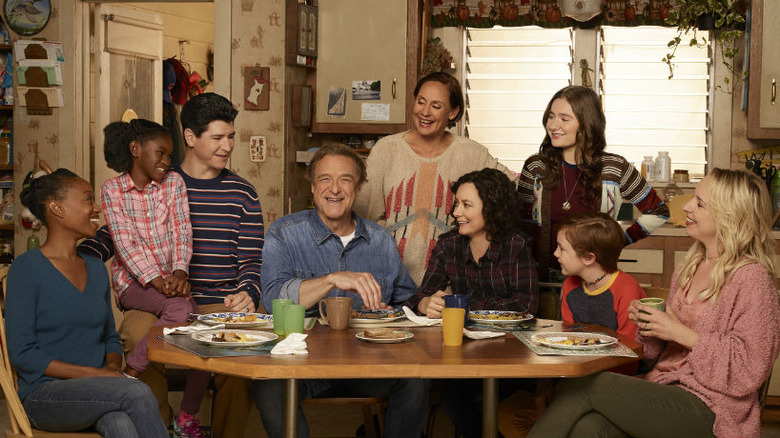 ABC
When "The Conners" premiered in 2019, fans were reintroduced to the sitcom family sans matriarch Roseanne, but since then, new characters have been introduced. In addition to Sara Gilbert, John Goodman, Laurie Metcalf, and Lecy Goranson, who play Darlene Conner, dad Dan Conner, aunt Jackie Harris, and Becky Conner, respectively, for Season 5, fans can expect to see the return of brother D.J. (Michael Fishman) and a brood of Conner grandkids, including Darlene's children, Harris and Mark (Emma Kenney, Ames McNamara), D.J.'s daughter, Mary Conner (Jayden Rey), and Becky's quickly growing girl, Beverly Rose (Charlotte Sanchez), per IMDb. But based on the events that took place in Season 4, it's also a no-brainer that Jay R. Ferguson's Ben, Nat Faxon's Neville, and Katey Sagal's Louise will all be back.
In an interview with TVLine, showrunner Bruce Helford teased the upcoming storyline of Darlene and Ben's new house being built, with big sister Becky as a housemate. "We're not going to spend a whole season watching that house be built, but there's a lot to come. Maybe some honeymoons," Helford teased. He also added that Dan Conner and his second wife Louise won't exactly have an empty nest with the grown Conner kids finally out of the house. "Harris is going to decide — and this is not really a spoiler — she's going to decide to live with Dan and Louise and not with her mom, which is going to make for some interesting [stories]," he said. Executive producer Dave Caplan also referenced the new house situation, telling CinemaBlend the build itself won't be a major storyline. "We're not going to do sort of a whole house-building for the course of the season," he said.