Ellen Pompeo Dishes On Her Pick For The Best Grey's Anatomy Moment Of All Time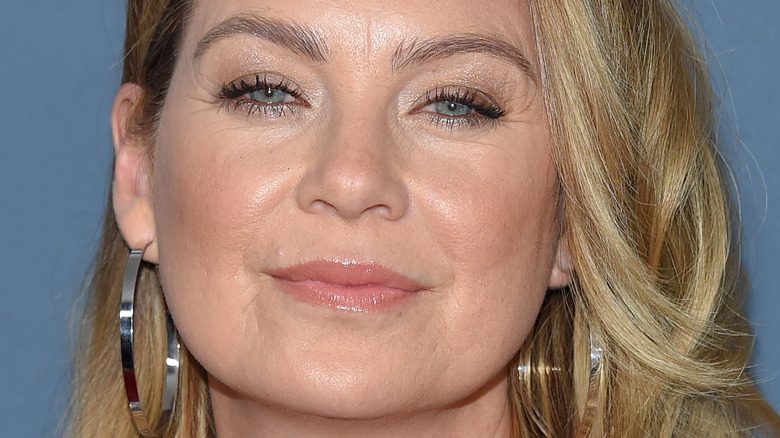 DFree/Shutterstock
"Grey's Anatomy" wouldn't be the same without lead actress Ellen Pompeo, who's been playing Meredith Grey since the series premiered. The character has outlasted many of her colleagues at Grey Sloan Memorial, a testament to her resilience. As the daughter of famed surgeon Ellis Grey (Kate Burton), Meredith has an intriguing backstory that seamlessly weaves into her narrative on the show. We've seen her through all the different career stages, from internship to residency and beyond. For a show that's seen so much change since its inception, Pompeo has been an unshakable anchor.
Viewers have been with Meredith for 18 seasons, with a 19th season of "Grey's Anatomy" soon to come (via Twitter). Fans have seen her through ups and downs, marriages and deaths, and her journey to motherhood. Meredith has survived too many near-death experiences to count, learning lessons along the way that always work themselves into the narration that opens and closes each episode. With so many incredible moments to look back on, it's hard to pick a favorite. Thankfully, Pompeo has weighed in for the show's best moments.
Cristina and Meredith cement their friendship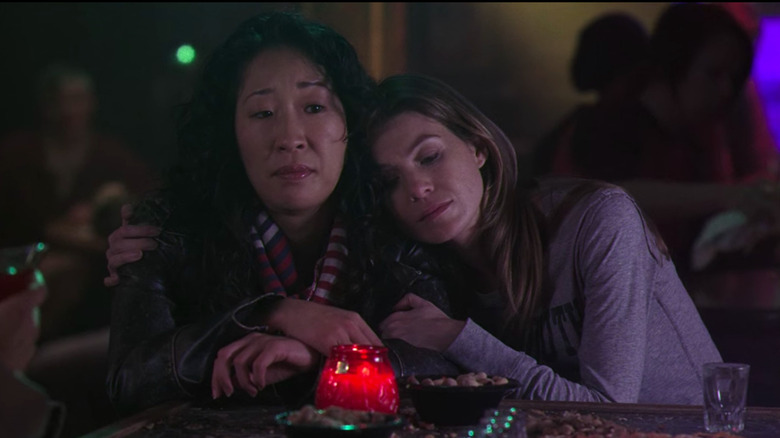 ABC
As the star of the show, it makes sense that Ellen Pompeo has spent time reflecting on her favorite "Grey's Anatomy" moments. During an interview with Entertainment Tonight, the actress revealed two of her top picks. Surprisingly, both take place in Season 2. The first happens in the season premiere, "Raindrops Keep Falling on My Head," which picks up right where the previous season left off. The narrative primarily centers around Meredith Grey and Derek Shepherd's (Patrick Dempsey) break up after the unexpected arrival of his wife, Addison Forbes Montgomery (Kate Walsh). Despite the dramatic revelation, Cristina Yang (Sandra Oh) isn't doing so well, either. She's trying to work through her tangled relationship with Preston Burke (Isaiah Washington), a situation complicated by the fact that she's pregnant.
Cristina's one true love is her work, so she decides to get an abortion. After the dust settles, Cristina and Meredith take a minute to evaluate their lives. Cristina admits that she needed to designate an emergency contact person, so she gave them Meredith's name. "You're my person," she tells Meredith, which has remained one of Pompeo's favorite interactions (via YouTube). It's a line that the characters repeat back to each other frequently, a concise expression of love that perfectly sums up their friendship. The scene confirms what the first season showed: No matter what challenges come their way, Meredith and Cristina will always stick together.
Cristina is pushed to her limit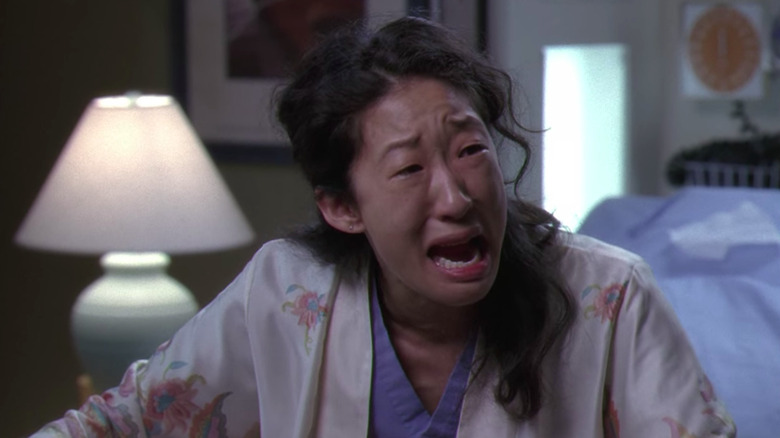 ABC
Ellen Pompeo's second favorite moment occurred a few episodes later in an installment titled "Deny, Deny, Deny." In the previous episode, Cristina collapsed in the operating room after her fallopian tube burst, discovered to be the result of an ectopic pregnancy. Sitting back and relaxing isn't exactly in Cristina's wheelhouse, so she tries to insert herself into her co-workers' cases as a distraction. The arrival of her nosy mother, Helen (Tsai Chin), only worsens the situation. The stress soon overwhelms her, and the usually stone-faced Cristina starts to weep uncontrollably. 
As George O'Malley (T.R. Knight) and Izzie Stevens (Katherine Heigl) do their best to comfort Cristina (without success), the bedridden surgeon screams, "Somebody sedate me!" (via YouTube). Her traumatic pregnancy, her breakup with Burke, and her mother's never-ending questions are just too much, manifesting as a flow of tears that's just as hilarious as it is heartbreaking. It's one of Cristina's most relatable lines, and the scene has been heavily memed across the internet. Having brought so much levity and passion to the character before Sandra Oh left "Grey's Anatomy," it's no wonder these scenes stand out to Pompeo.