She-Hulk's Jameela Jamil Explains Titania's Hilarious Super Power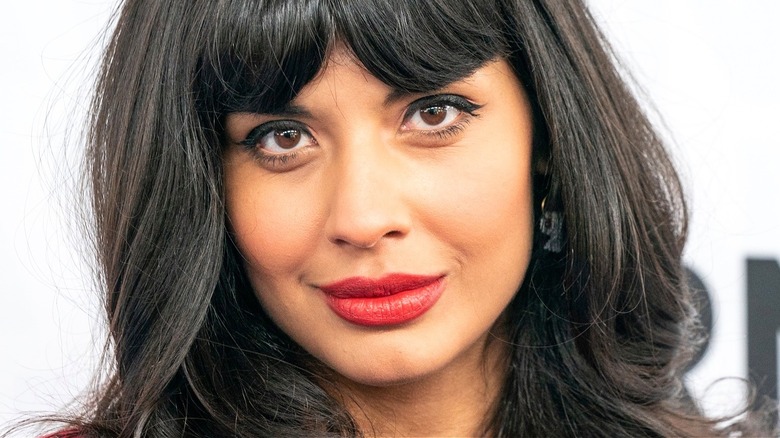 lev radin/Shutterstock
During San Diego Comic-Con 2022, Disney+ premiered a new trailer for "She-Hulk: Attorney at Law." This latest look at one of the next big Marvel Cinematic Universe entries showcases how characters both new and old will fit into the series' world, which is presented in a markedly different manner than most MCU projects of years past. Whereas a typical MCU movie or TV series is largely action-oriented, based on this new trailer, "She-Hulk" appears to be a superpowered spin on a workplace comedy.
Back in 2021, Jameela Jamil joined the cast of "She-Hulk" as its villain Titania. Jamil is perhaps best known for her part in the ensemble cast of NBC comedy "The Good Place" as aloof socialite Tahani Al-Jamil. Meanwhile, Titania is a classic "She-Hulk" villain, who acquires the power of super strength in order to retaliate against those who wronged her in her ordinary human life. That said, in comic book canon, Doctor Doom helps her attain these powers, so barring the introduction of one of Marvel's most iconic villains in "She-Hulk," the character's TV origin story will likely differ somewhat from her source material.
During Comic-Con 2022, in addition to appearing in the latest "She-Hulk" trailer, Jamil shared some new insight into her take on Titania, revealing an unexpected superpower-of-sorts unique to this incarnation of the character.
Titania's new super power is being extremely annoying
Jameela Jamil spoke briefly with Screen Rant during San Diego Comic-Con 2022 about the version of Titania she portrays in "She-Hulk: Attorney at Law." By her estimation, her incarnation of Titania is so annoying that this aspect of her personality effectively qualifies as a superpower.
"Titania stands out because I think she's the most annoying of them, actually. I think she almost doesn't need to use her strength; she could just annoy you to death. And I think that is a superpower that we haven't really utilized enough," Jamil joked. The "Good Place" actor then went on to describe a couple of other traits of Titania's that she appreciates, namely her appearance and unselfconsciousness.
Currently, fans have yet to see Titania in action beyond the limited footage of the character included in the latest "She-Hulk" trailer. Nevertheless, Jamil's description seems to be in line with the comedic tone showcased in this and other early previews, hinting that She-Hulk (Tatiana Maslany)'s biggest battles may not all be physical, but include some conflicts of personality like all great workplace comedies.
Fans may get their first look at Jamil's Titania when Episode 1 of "She-Hulk: Attorney at Law" premieres on Disney+ on August 17.