Tatiana Maslany Says She-Hulk Has More In Common With Orphan Black Than You Realize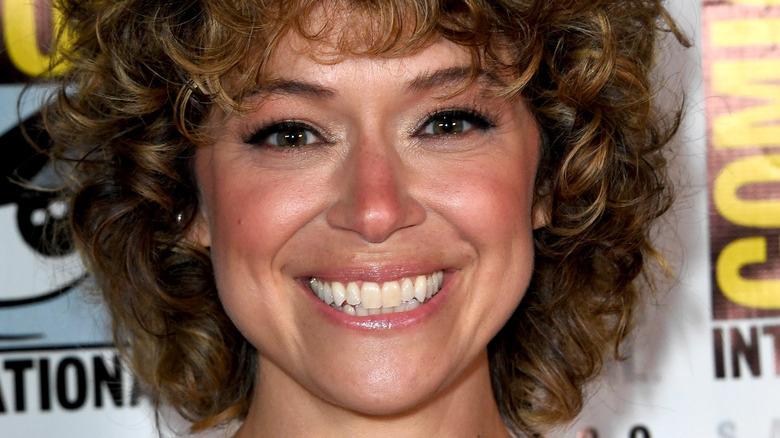 Albert L. Ortega/Getty Images
Ever since Tatiana Maslany was announced as the star of the upcoming Disney+ series "She-Hulk: Attorney at Law," fans of the actor have been ecstatic. Maslany is best known for her critically-acclaimed and award-winning performance as sestras Sarah, Allison, Cosima, Helena, Rachel, and multiple other clones on "Orphan Black." Whatever criticism fans have had about the initial "She-Hulk" CGI pales in comparison to their excitement over seeing Maslany joining the Marvel Cinematic Universe. As Redditor u/WhichWayToPurgatory put it, "Maslany's performance will be all anyone remembers."
Maslany has always been vocal about how much "Orphan Black" has meant to her and still means to her. "I think I'm still realizing how much it's affected my life," she said in an interview with Collider. "I'm very lucky that the thing that I love is character and that, because Orphan Black came along, I was able to really explore that and let that be something that people know me for." Devotees of "Orphan Black," known as The Clone Club, love finding similarities between their beloved show and the upcoming "She-Hulk." Recent comments made by Maslany show that she also sees such similarities.
Maslany loves to explore characters and their identities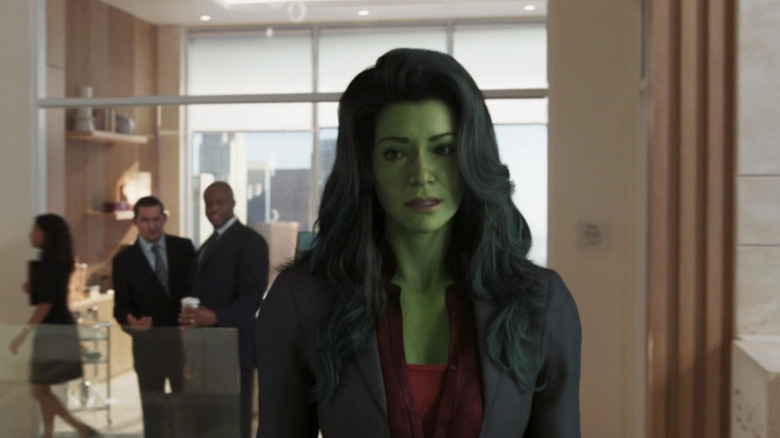 Marvel Studios/Disney+
At San Diego Comic-Con, Tatiana Maslany was asked by ScreenRant if her experience playing multiple characters on "Orphan Black" helped her find a balance between Jennifer Walters and the She-Hulk persona. Maslany responded, "Obviously, Jen's consciousness stays the same when she becomes She-Hulk. She never loses sense of who she is. But she does occupy two completely different bodies ... I'm always curious about identity and perception and aesthetic and all of that. So to get to explore that feels like a bit of an extension of Orphan Black, for sure."
Maslany was previously hesitant about taking on the role of Jennifer Walters/She-Hulk because she was worried about joining something as big as the Marvel Cinematic Universe. However, as she told SFX Magazine (via The Direct), reading the show's unique and character-driven pilot helped change her mind. As Maslany explained, "There's really great explorations of the mundanity of life, in really great ways." Maslany's fans are definitely on board with the idea of "She-Hulk" as an extension of "Orphan Black," with Redditor u/scallycap94 writing, "Disney: 'She-Hulk: Attorney at Law' Me, an intellectual: 'green sestra.'" 
"She-Hulk: Attorney at Law" is set to premiere on August 17th.