The Teenage Mutant Ninja Turtle Role You Forgot David Warner Played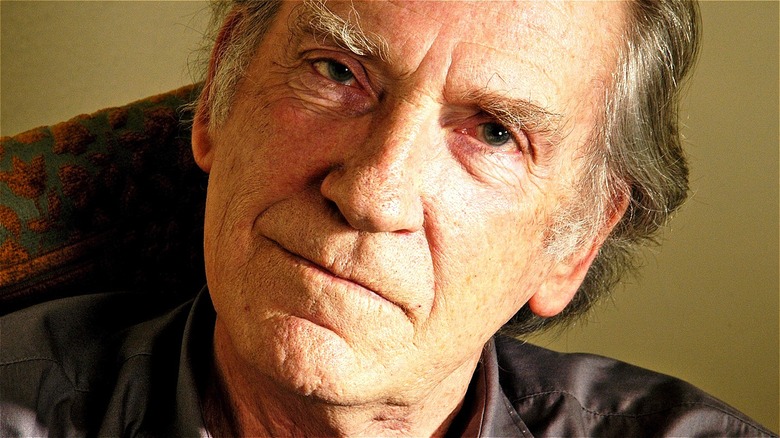 Cambridge Jones/Getty
On the morning of July 25, news began to circulate that seasoned British actor David Warner died the day prior. His acting career spanned decades, during which he appeared on stage in a number of Shakespeare productions (via Telegraph), as well as in numerous classic films and TV series including "The Omen," "Tron," "Twin Peaks," and "Titanic."
Among some of the defining work of Warner's career was his involvement in the "Star Trek" franchise. Warner is one of a number of actors who played multiple "Star Trek" characters, appearing in the likes of "Star Trek V: The Final Frontier," "Star Trek VI: The Undiscovered Country," and a story arc on "Star Trek: The Next Generation." In fact, Warner's affinity for the type of melodramatic performances required for genre films almost landed him the role of Freddy Krueger in the original "Nightmare on Elm Street." At one point during the film's production, Warner was Wes Craven's choice to play Freddy Krueger, before he had to leave due to a scheduling conflict.
While these are among some of the high points of Warner's career as a prolific genre movie actor, some viewers may have forgotten that he played a prominent role in a "Teenage Mutant Ninja Turtles" film as well.
Warner was a scientist in Teenage Mutant Ninja Turtles II
In 1991 — by which point he had already established himself as a prolific actor in films like "The Omen," "Tron" and countless others — David Warner appeared in "Teenage Mutant Ninja Turtles II: The Secret of the Ooze" as Professor Jordan Perry.
Although Warner's portrayal of Perry is limited to this single "TMNT" movie, he's something of an important player in the events of the film series, as a Techno Global Research Industries (T.G.R.I.) scientist. As the Turtles figure out, the T.G.R.I. is behind the creation of the ooze referenced in the film's title, which itself is responsible for mutating the Turtles from mere animals into humanoids. Because of his unique knowledge of the ooze and its transformative properties, the Shredder (François Chau) kidnaps Perry somewhat early on in "The Secret of the Ooze" and orders him to create two new powerful henchmen, Tokka and Rahzar (both voiced by Frank Welker). When the Turtles eventually save Perry from the Shredder's capture, he helps develop an agent that can counteract the Shredder and his goons' powerful ooze mutations.
So, even though his "TMNT" work is limited to a single film, Warner's character is at the heart of that film's story, and ultimately an important part of the original series of live-action "TMNT" movies.