What Is The Song In The Shazam! Fury Of The Gods Trailer?
The official trailer for "Shazam! Fury of the Gods" has finally arrived and it gives fans plenty of lighthearted superhero action to chew on. Most exciting are these appearances from not just the titular superhero Shazam (Zachary Levi) and his Shazam Family, but Helen Mirren as Hespera, Djimon Hounsou as the ancient wizard Shazam, and Lucy Liu as Kalypso. The trailer, which dropped during the Warner Bros. panel at San Diego Comic-Con 2022, also teases such delights as Billy Batson (Asher Angel) treating his pediatrician like a psychiatrist while in superhero form, and a story about Batson's inferiority complex compared to all the other older, more mature, and more confident superheroes running around in his neck of the woods.
In between all the one-liners, references to the larger DC Extended Universe, and special effects, you might have noticed a certain Detroit rapper also makes an appearance in the trailer in the form of the song that is prominently featured. If you're wondering which song it is that you're hearing in the trailer, you've come to the right place, so read on.
Eminem's 'Business' is heard in the first Shazam! sequel trailer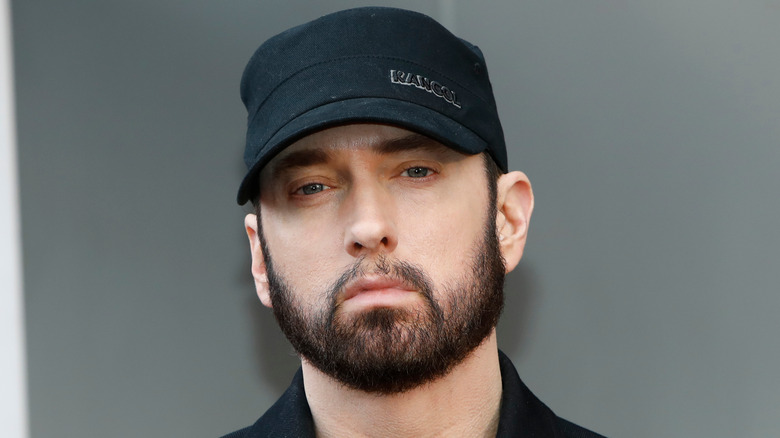 Kathy Hutchins/Shutterstock
The song heard in the new "Shazam! Fury of the Gods" trailer is "Business" by Eminem, off the rapper's 2002 album "The Eminem Show." It works as a kind of hype song for the Shazam Family. The trailer is chock-full of epic shots of Billy Batson and his foster siblings powering up and showcasing the superheroes in spectacular style. If anything, it seems like the Shazam Family is in the business of saving the day, which makes the Eminem track a perfect fit for the trailer. We expect the "Shazam!" Fury of the Gods" trailer will help drum up a couple of million extra streams for the 20-year-old song in the coming weeks.
Interestingly, the song does have another connection to the DC universe in its lyrics (via Genius). The song features Eminem likening both himself and his mentor, Dr. Dre, to Batman and Robin, which gives the song's use in the trailer a fun metatextual component for the fans. But including that line in an actual DCEU sequel trailer might have been too on-the-nose.
In any event, if the "Fury of the Gods" trailer has you craving more "Business" from Eminem, you can check out the song in full at Em's official YouTube channel.