The Seinfeld Star You Likely Forgot Appeared On Wheel Of Fortune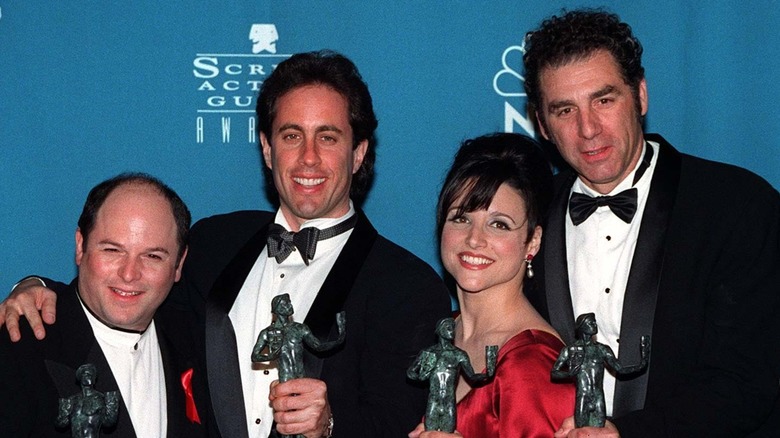 Featureflash Photo Agency/Shutterstock
It's the most "Seinfeld" thing to never happen on "Seinfeld." Back in September 2021, one of the show's iconic stars appeared in a "Celebrity Wheel of Fortune" episode for charity. Before they managed to win the entire thing, they proceeded to pick the same letters almost back-to-back during a bonus round. Can you guess who?
For nine legendary seasons, "Seinfeld" cast members Jerry Seinfeld, Jason Alexander, Julia Louis-Dreyfus, and Michael Richards, were arguably the most famous actors on television, with each becoming global TV sensations through their brutally honest and hilarious portrayals of a fictionalized Jerry Seinfeld, George Costanza, Elaine Benes, Cosmo Kramer, respectively. The characters were known for getting into crazy situations and doing things that were socially awkward, often in well-known pop culture settings, like Seinfeld appearing on "The Today Show" in his iconic puffy shirt (that's now a historical artifact) or Kramer promoting his coffee table book on coffee tables during a taping of "Live with Regis and Kathie Lee." 
Just imagine how funny an episode with Elaine, George, or Kramer, appearing on "Wheel of Fortune" would have been during the show's heyday. Luckily for us, Pat Sajak and ABC gave us a small taste of what this could have looked like with its "Celebrity Wheel of Fortune" episode featuring one of the aforementioned "Seinfeld" stars.
Jason Alexander goes full George Costanza on Celebrity Wheel of Fortune appearance
Appearing on the Season 2 premiere of the celebrity game show, Jason Alexander made sure to leave his George Costanza mark on the "Wheel of Fortune" universe. This was achieved by doing something that only his character could do best — repeat the same letters nearly back-to-back while attempting to solve a bonus round puzzle. And then, in classic "Seinfeld" fashion, Alexander somehow won the entire thing, leaving viewers hilariously stunned. 
"George Costanza is absolutely SLAYING on Celebrity @WheelofFortuneright now," tweeted @ChrisLongKSTP. Meanwhile, @cdorso also got a kick out of Alexander's appearance and wrote, "I love how seriously Jason Alexander is taking Celebrity @WheelofFortune tonight. Dude is *on.*"
Alexander managed to raise $198,650 for the nonprofit group Americares during his "Celebrity Wheel of Fortune" appearance, which at the time, was a new "Celebrity WoF" record (via Fandom). He competed against WWE superstar Mike "The Miz" Mizanin and "Dancing with the Stars" dancer Cheryl Burke. Alexander wound up being the third highest-earning contestant for Season 2, with only Melissa Joan Hart ($1,039,800) and "Glee" star Amber Riley ($243,600) ahead of him.