An Iconic Seinfeld Prop Is Now A Historical Artifact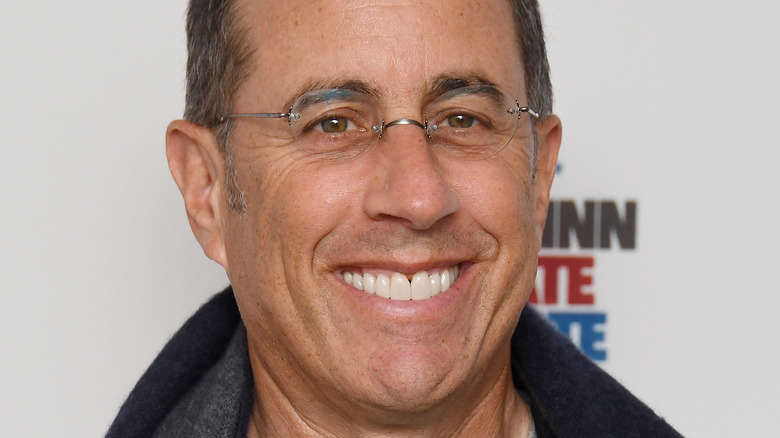 Nicholas Hunt/Getty Images
Fans don't always fully appreciate the role props play in a sitcom. When a show is set in modern times, they often fade into the background as a collection of products and furniture that creates the realistic setting where the plot can take place. Take Jerry Seinfeld's prop-filled apartment for example. There's a typical couch-and-coffee-table setup, plenty of cereal in the kitchen, and a bike hanging in the hallway, city-style. Nothing to get too excited about.
But "Seinfeld" is one of those rare shows that became a flashpoint for pop culture comedy throughout its nine-season run from 1989 to 1998. As such, its props sometimes drove storylines as well as punchlines, acting almost as separate characters in their unforgettable roles. Who could forget the Manssiere, a bra for men that Kramer (Michael Richards) and Frank Costanza (Jerry Stiller) invented in Season 6, Episode 18? Or Kramer's pasta sculpture Fusilli Jerry, created (and dramatically destroyed) in Season 6, Episode 20? While these and other items had their moments in the spotlight, one "Seinfeld" prop rose to the top. It gained fame in a fictional setting and is now a real-life historical artifact.
That pirate trend never took off on Seinfeld
In Season 5, Episode 2, "The Puffy Shirt," Kramer has a soft-spoken girlfriend named Leslie (Wendel Meldrum). Over dinner, Kramer explains to Jerry and Elaine (Julia Louis-Dreyfus) that Leslie is a designer whose latest creation is about to take men's fashion by storm. He describes it as a puffy shirt that makes people look like pirates. When Kramer excuses himself, there's an awkward silence that Elaine fills with news about Jerry's upcoming appearance on "The Today Show."
The low-talking Leslie naturally responds so quietly that neither Jerry nor Elaine can make out a word she says. Nevertheless, they try to keep the conversation flowing. "Sure... yeah..." Jerry drawls, nodding his head, not realizing what he's just agreed to do. He remains clueless until the next time he sees Kramer.
"You're not gonna believe what's happening with Leslie," Kramer says. "You know, since you agreed to wear the puffy shirt on 'The Today Show,' she's getting all these orders from boutiques and department stores."
Jerry is mystified, then horrified as Kramer reveals the ridiculous shirt and the studio audience screams with laughter. He can't wear that shirt on TV — yet he must. He's trapped. "This pirate trend that she's come up with, Jerry, this is gonna be the new look for the '90s," Kramer insists. "You're gonna be the first pirate!" While things don't exactly work out that way in the show, the shirt did gain notoriety and a place in history as an artifact in the Smithsonian's National Museum of American History in Washington, D.C.
Thank goodness Seinfeld's puffy shirt is preserved for future generations
When Jerry is interviewed on "The Today Show," Bryant Gumbel is so distracted by the puffy shirt, he can't stay on the topic of Jerry's upcoming benefit show. He suggests adding an eye patch to complete the look, and Jerry is moved to speak the truth — that he hates the shirt — prompting low-talking Leslie to shout at him. Later at the coffee shop, Jerry proclaims the benefit show as the worst he ever did all because of the puffy shirt he wore on TV. "Some of those heckles were really uncalled for. 'Avast, ye matey!' What the hell does that mean?" he complains. "'Twenty degrees over the starboard side, it's a Spanish galleon.' There's no comeback for that!"
While the shirt wasn't a hit in Jerry's world — and it marked the end of Kramer's romantic relationship and the downfall of Leslie's career in fashion — it did exactly what it was designed to do for the show. Created by "Seinfeld" costume designer Charmaine Simmons (per The Smithsonian Institution), the puffy shirt inspired the kind of specific comedy that set the sitcom apart during its original run. As the central prop in an iconic episode, the shirt earned its rightful place in history and became a part of the National Museum of American History's collection when it was donated in 2004. Though not currently on display, fans can learn more about it on the Smithsonian's website and rest easy knowing that the puffy shirt is being well taken care of for, hopefully, future viewing.