Aramis Knight Recalls The Moment He Discussed A Dream DC Role In Front Of Marvel Execs And Actors - Exclusive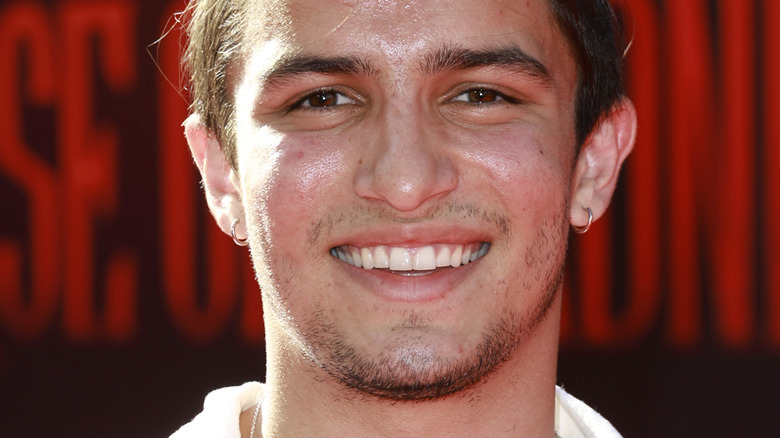 Frazer Harrison/Getty Images
When it comes to making it as an actor, you need to have a pretty thick skin and an endless supply of charisma and guts. That's certainly the case for Red Dagger Aramis Knight, who made his MCU debut in the Disney+ series "Ms. Marvel." His character is a staple of the original comics, often working alongside (and even occasionally romancing) Kamala Khan, and his character in the series doesn't stray too far from his comics origin. 
However, Red Dagger isn't the only comic book character Knight has his sights set on. Not everyone would be brave enough to wax poetic about DC characters in front of a bunch of Marvel big wigs, but hey — honesty is the best policy, no? During an exclusive interview with Looper, Knight recalled the time he professed his most coveted DC Comics role. He also dished on working with the MCU president Kevin Feige.
Getting candid with Marvel execs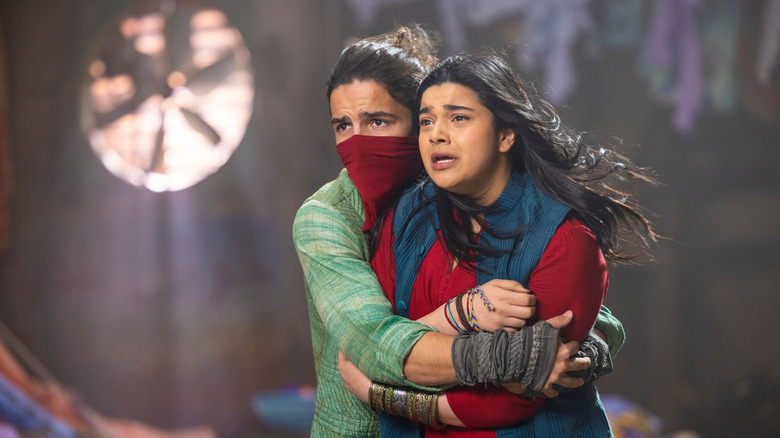 Disney+/Marvel Studios
On whether or not there's a role that Knight would love to take on, he said, "I've got a really good story for you now. We're at dinner in Thailand. All of our Marvel producers, Sana [Amanat], all of the creatives on our show are sitting around, and all of our cast [is] there." Painting the picture, he added, "We're all going around talking about dream roles, and everyone's giving their dream role. It gets around to me, and I wasn't really thinking about it. It was one of those moments where I was like, 'Oh, s***, it's my turn. I better have a good answer.'" Well, he had an answer, but it probably wasn't what the table expected.
"Immediately, Damian Wayne pops into my head, and me not even thinking about it, I say, 'Damian Wayne,' and the table gets all silent," Knight recalled. "Everyone's like, 'Whoa, dude. You really are brave to say that you want to be Damian Wayne at a table full of Marvel producers.'" With Knight, speaking his mind is the name of the game. He noted, "But honestly, that's me in a nutshell. I'm so honest. I treat everybody the same ... Just because they're my bosses, I'm not going to kiss up to them."
For anyone who needs a bit of a refresher on their DC Comics knowledge, Damian Wayne is Batman's son. His mother happens to be Talia al Ghul — talk about an opposites attract scenario. Talia's dad is none other than the supervillain Ra's al Ghul, the mastermind of the League of Assassins. Suffice to say, this character straddling between two worlds would be fascinating to play.
The man, the myth, the Feige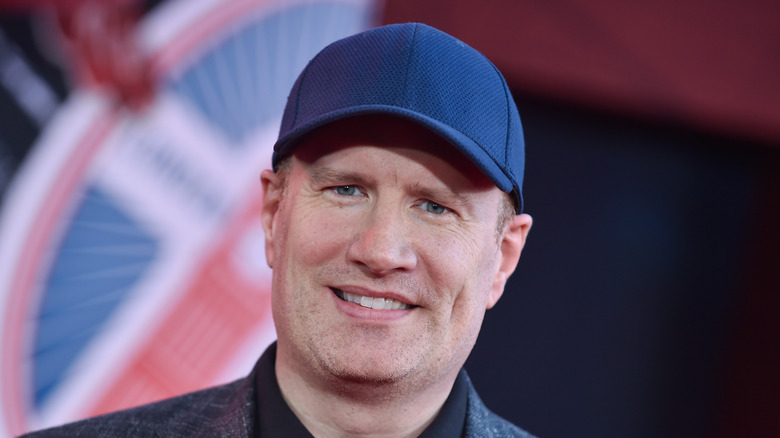 DFree/Shutterstock
Knight wasn't surprised at the notion that Kevin Feige is rumored to be a big DC Comics fan. He explained, "I'm sure he is. We've never spoken about it." It's no big surprise that a competing comic franchise wouldn't exactly come up in conversation between an MCU actor and the president of the company. However, Knight only has lovely things to say about Marvel's head honcho.
"Kevin is so nice, though. He always seems nervous whenever we talk. Mind you, I only see him at events and certain times on a Zoom call or something," Knight said. "But he's always so nervous when I talk to him. Meanwhile, I'm thinking, 'Wait, I'm supposed to be nervous talking to you because you're the one who pays me, and you're the one who gives me a career. Why are you being so humble?'"
The first season of "Ms. Marvel" is now streaming on Disney+.