Underrated Kids Shows From The 2000s You Need To Watch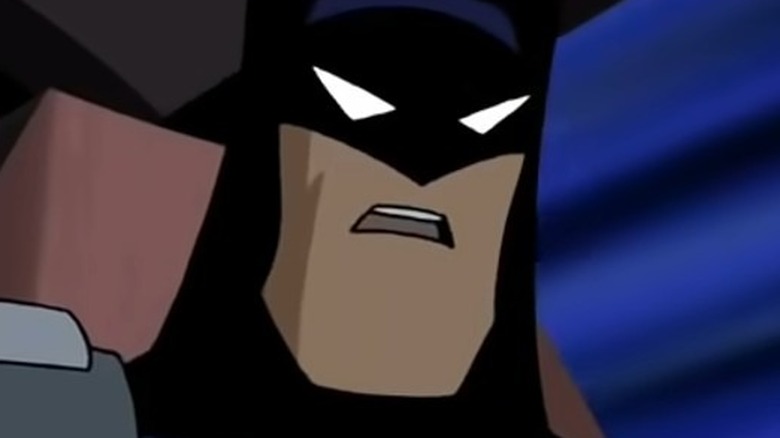 Cartoon Network/YouTube
The 2000s were an interesting period for children's television, stuck between the landscape-shifting 1990s and the innovative takes of the 2010s. The decade reaped the benefits of traditional children's TV while also pushing the boundaries for the new school. With that said, the era also produced a number of universal hits and cult classics. 
In large part, the 2000s were defined and dominated by Cartoon Network and Nickelodeon, networks that featured long-running shows like "SpongeBob SquarePants," "Totally Spies," "Drake and Josh," "Avatar: The Last Airbender," and "The Fairly OddParents," among others. Of course, Disney was no slouch either in the 2000s, with series like "Kim Possible," "That's So Raven," "Lizzie McGuire," and "The Proud Family." Because the landscape was littered with so many different options, there were bound to be a number of children's TV series that didn't properly get their due.
With that in mind, let's look through the decade and shine a light on some underrated kids' shows from the 2000s.
Unfabulous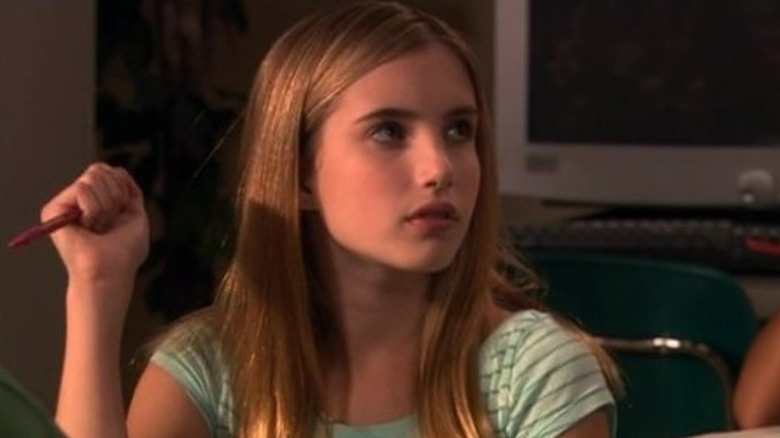 Nickelodeon/YouTube
The live-action teen comedy series "Unfabulous" first debuted on Nickelodeon in 2004, introducing viewers to the world of Rocky Road Middle School. The show ran for three seasons, marking series lead Emma Roberts' first starring role after playing minor characters in the hit films "Blow" and "America's Sweethearts" (with her aunt Julia Roberts).
The teen sitcom follows middle school singer-songwriter Addie Singer as she navigates normal adolescent troubles — crushes, her friendship with Geena Fabiano (Malese Jow) and Zack Carter-Schwartz (Jordan Calloway), and avoiding the wrath of mean girls Maris and Cranberry (Emma Degerstedt and Chelsea Tavares). While school serves up the teenage drama, Singer's home life is a bit lighter, featuring various zany plotlines with her overzealous parents and girl-crazy, self-obsessed older brother Ben (Tadhg Kelly). The series also has a recurring musical aspect that keeps the energy fresh, fun, and entertaining. "Unfabulous" not only served as Roberts' breakthrough role in Hollywood, but it also helped launch the careers of Jow, Calloway, and Carter Jenkins.
Phil of the Future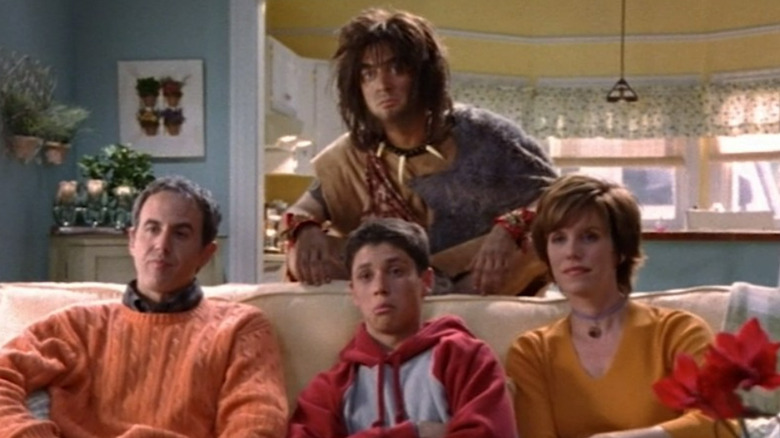 Disney Channel/YouTube
Disney Channel took the fish-out-of-water story to the extreme with the time-traveling "Phil of the Future." From 2004 to 2006, the show explored what might happen if a 22nd-century teenager and his family had to adjust to life in the early 21st century.
For two seasons on the Disney Channel, Phil Diffy (Raviv Ullman) masquerades as a 21st-century teenager trying to hide his futuristic upbringing from the world around him. He does all this with the aid of his best friend Keely Teslow (Alyson Michalka), while also navigating normal teenage problems. Like any 2000s Disney series, slapstick hijinks and good-natured fun are ingrained into the series, which never takes itself too seriously. The "will-they-won't-they" relationship game between Phil and Keely adds a cute romantic element to the story as well. However, it's Phil's little sister Pim (Amy Bruckner) who really steals the show with her bratty behavior and plans for world domination. While the Diffy siblings rarely get along on screen, the cast remained close, even reuniting in 2020 to celebrate the sitcom's 16th anniversary.
Chowder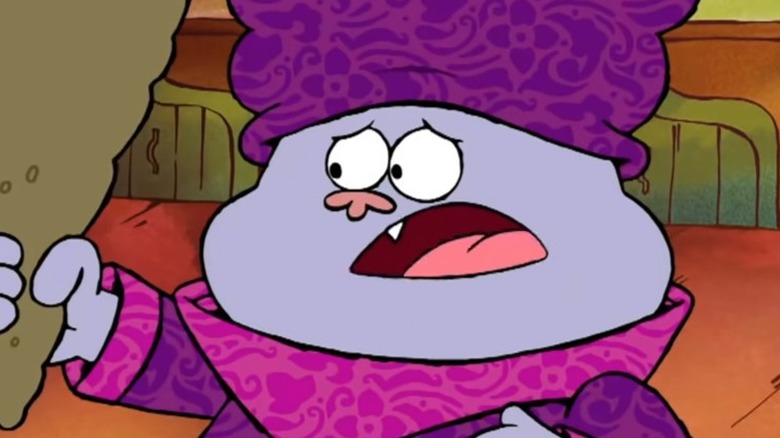 Cartoon Network/YouTube
From its premiere in 2007 to its conclusion in 2010, "Chowder" served as a contrast to the rest of Cartoon Network's lineup. The quirky series mixed cooking with fantasy and surrealism, separating it from the bizarre campiness of "Dexter's Laboratory" and "Johnny Bravo" and the outlandish silliness of "SpongeBob." 
"Chowder" follows the eponymous aspiring young chef, who winds up in a number of precarious otherworldly situations while living in the fantastical city of Marzipan. Chowder works as an apprentice under the watchful tutelage of husband-and-wife team Mung and Truffles Daal and their head chef Shnitzel at Mung Daal's Catering Company. Though they serve as his grounding force in the fantasy world, they're just as zany as he is. Of course, the members of the popular catering company are only a sampling of Marzipan's myriad of unusual characters, who also include flamboyant entertainer Pate. Watching Chowder fend off his lovesick paramour Panini while trying to become a top chef in his own right is consistently entertaining, and the whole show has a whimsical energy that makes it a joy to watch.
As Told by Ginger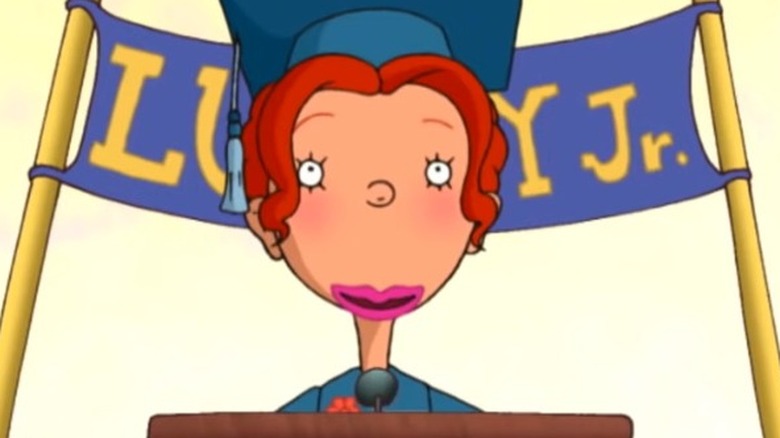 Nickelodeon/YouTube
Like many Nickelodeon shows from the 2000s, "As Told by Ginger" taps into the pre-teen and teen market with a unique spin on the adolescent experience. The series spent three turbulent seasons on air before quietly concluding on its sister channel Nicktoons in 2006.
The animated comedy-drama highlights awkward teen Ginger Foutley and her friends Dodie, Macie, and Darren as they strive to gain social acceptance with their peers at Lucky Jr. High (Lucky High in the final season). Her actions catch the eye of popular girl Courtney Gripling (and the ire of her best friend Miranda). The series takes its cues from live-action teen shows, featuring long-term story arcs, continuous character development, and some pretty serious thematic content. All of this is personified in the evolving relationship between Ginger and Darren from just friends, to a couple, to exes over the show's run. 
Outside of the core group, the supporting and adult characters are compelling, interesting, and fully fleshed out. Notable characters include Ginger and Dodie's brothers Carl and Hoodsey, whose mischievous misadventures provide the right amount of silliness and heart. "As Told by Ginger" was nominated three times for Best Animated Program at the Primetime Emmy Awards, and it's easy to see why.
Justice League and Justice League Unlimited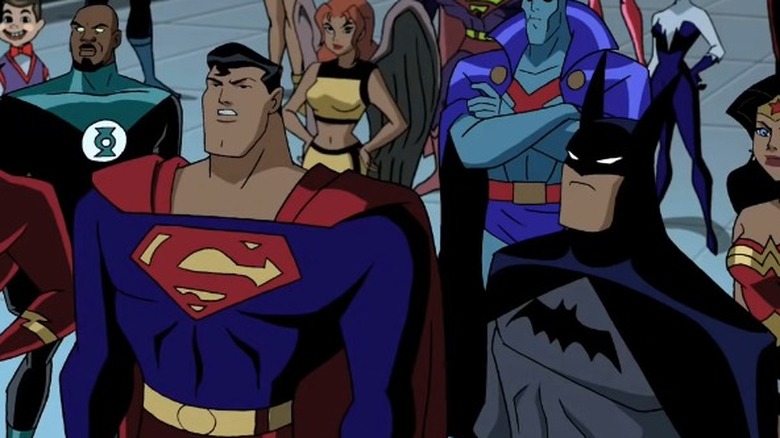 Cartoon Network/YouTube
In 2001, Cartoon Network debuted the all-star superhero series "Justice League," three decades after the 1970s and '80s "Super Friends" cartoon finished its run. The show came on the heels of hit 1990s DC shows like "Batman: The Animated Series," "Superman: The Animated Series," and "The New Batman Adventures."
The original series ran for two seasons from 2001 to 2004 before being rebranded to the more expansive "Justice League Unlimited" for three seasons from 2004 to 2006. Despite this separation, both series follows the superhero collective –- Batman, Superman, Wonder Woman, The Flash, Hawkgirl, Green Lantern (John Stewart version), and Martian Manhunter –- as they deal with DC's cavalcade of notable villains, including Lex Luthor and Darkseid. The series leans into 2000s teen culture with its dark and dramatic tone, sarcastic and reference-filled humor, and adult subject matter. There are also some long-term will-they-won't-they arcs, such as the love triangle between Green Lantern, Hawkgirl, and Vixen in the sequel series and the ever-present tension between Batman and Wonder Woman. Both shows helped popularize the modern superhero team cartoon formula later seen in series like "Teen Titans" and "Young Justice," and they're definitely still worth watching today.
My Life as a Teeange Robot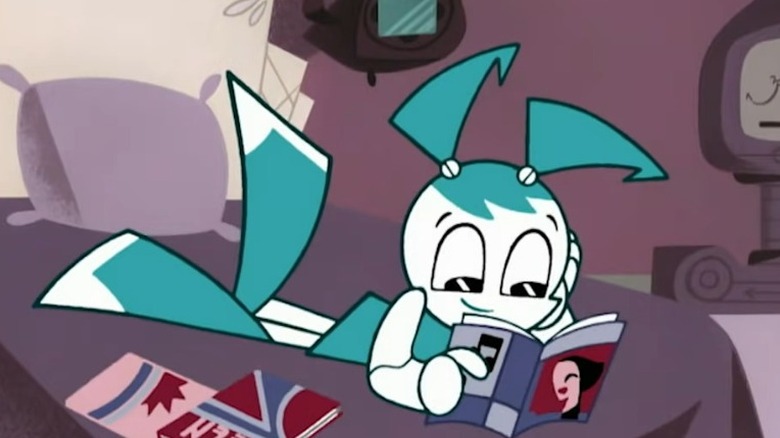 Nickelodeon/YouTube
From its debut in 2003 to its quiet conclusion in 2009, 'My Life as a Teenage Robot" gave a unique twist on the tried-and-true coming-of-age cliché. This time, a teenage robot girl serves as the vessel for adolescence angst and other areas of teenage life.
The Nickelodeon animated series is a nice blend of teenage sitcom and superhero action-adventure, as robo-teen XJ-9 (known as Jenny in her human form) balances saving the town of Tremorton from constant danger with trying to live the life of a normal teenage girl. That delicate balance mirrors that of Blossom, Bubbles, and Buttercup from rival Cartoon Network's "The Powerpuff Girls," provided you swap out preschool for high school. Due to the sheer number of recurring antagonists, the show uses a villain-of-the-week format to cycle through bad guys, which keeps things fresh.
At the same time, Jenny deals with typical adolescent issues like high school crushes and social acceptance. While supervillains are always a source of tension, popular mean girls Brit and Tiff don't make Jenny's daily life any easier either. Fortunately, Jenny has a consistent support system, which includes neighbors Brad and Tuck Carbunkle and her creator and surrogate mother Dr. Nora Wakeman. All in all, it's a quirky series with a fun animation style that plays on the tropes of multiple genres in interesting ways.
The Backyardigans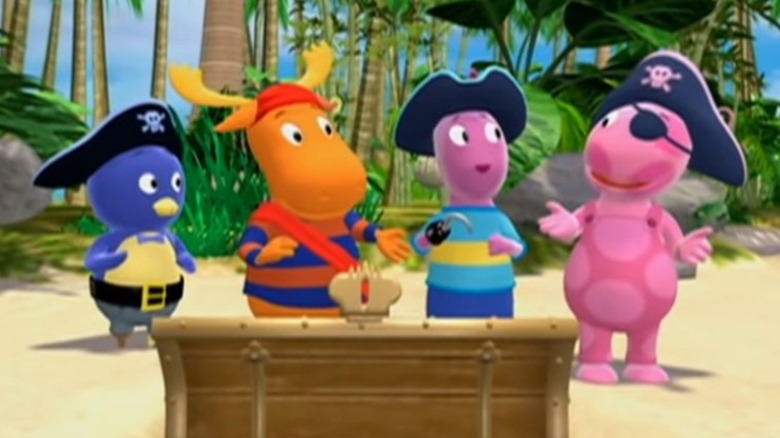 Nick Jr./YouTube
Throughout the 2000s, Nickelodeon's early childhood block Nick Jr. was the place for young children to have fun and learn. In 2004, the block added "The Backyardigans," an imagination-heavy musical series that ended after four seasons in 2013.
The computer-animated children's series centers on the imaginary adventures of five friends — Uniqua, Pablo, Tyrone, Tasha, and Austin — who play pretend together in the backlyard. Each episode sees the group of young friends venturing off on a different adventure, like exploring the outer reaches of space or sailing the high seas looking for buried treasure. Aside from the sheer creativity, the real standout moments are the Broadway-style musical numbers with intricate choreography. 
The show's music is so notable that one number, "Castaways," went viral on TikTok in 2021 after Gen Z rediscovered the song through TikToker Merlysha Pierre (via Buzzfeed). While the series is meant for very young children, it contains a lot of inside jokes and references that parents can enjoy while watching with their kids. Those references are there courtesy of series creator Janice Burgess, who took major inspiration from action films like "Die Hard" and "Star Wars" when helming the show (via Pittsburgh Post-Gazette). If you're looking for a clever and imaginative series to watch with your kids, "The Backyardigans" still holds up great.
Invader Zim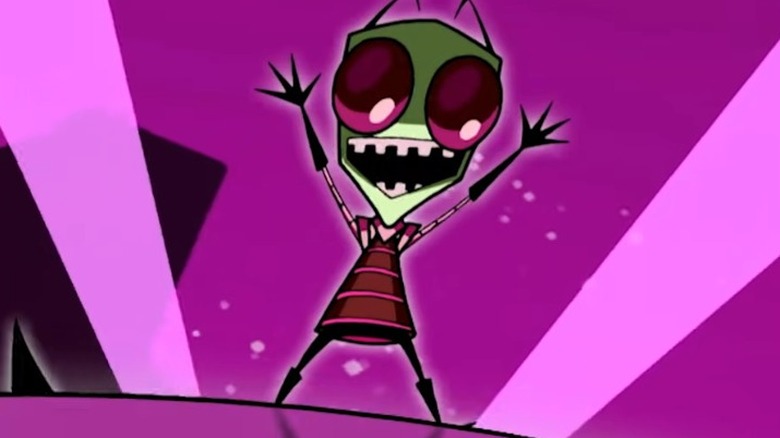 Nickelodeon/YouTube
From 2001 to 2006, "Invader Zim" brought a healthy dose of sci-fi action (and even a little horror) to Nickelodeon. The series quickly developed a cult following and remains a favorite years later.
The animated dark comedy highlights the exploits of alien soldier Zim as he tries to take over planet Earth while living among us humans. He balances his power-hungry invasion plans with staying under the radar, but he constantly has to avoid the watchful eye of neighbor and young paranormal investigator Dibs, who tries to expose Zim's diabolical efforts. The sci-fi series' dark humor and more mature tone set it apart from other Nick shows of the day, but its cheeky sendups of science fiction and other genre tropes are the real highlights, like when the show spoofs "The Terminator" when Zim tries killing Dib. 
While its time on the air was cut short prematurely, fans finally got their wish for a proper conclusion when the Netflix film "Invader Zim: Enter the Florpus" premiered in 2019.
Static Shock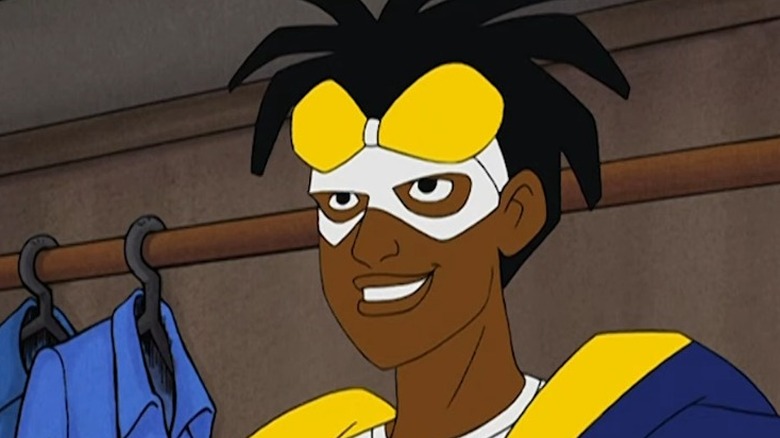 Warner Bros. Television Studios/YouTube
The DC Animated Universe was doing well in the 2000s, with major superhero hits like "Justice League" and "Batman Beyond." The Kids' WB series "Static Shock" helped continue that run of excellence with a four-season run from 2001 to 2004.
The animated superhero series follows the heroic exploits of Dakota City teenager Virgil Hawkins, who develops superhero powers from a chemical explosion during a gang fight. Unfortunately, Hawkins isn't the only recipient of such powers, as other young Dakota City citizens called "Bang Babies" develop abilities from the same incident. The explosion results in Hawkins (under the moniker of Static) facing off against a collection of meta-humans, including the omnipresent Ebon and Virgil's cocky bully Hot-Streak. He balances his superhero duties while maintaining a normal school and home life with his best friend Richie by his side, who becomes a hero himself later on. 
With a teenage audience in mind, the series touches on sociopolitical and adolescent themes with a mix of humor and pop culture references. There are plot lines centered on more series issues like gang violence, as well as plot lines about the challenges of growing up. "Static Shock" also provided one of the first Black superhero leads on television, leaving a legacy that's still felt today (via Orlando Sentinel).
Fillmore!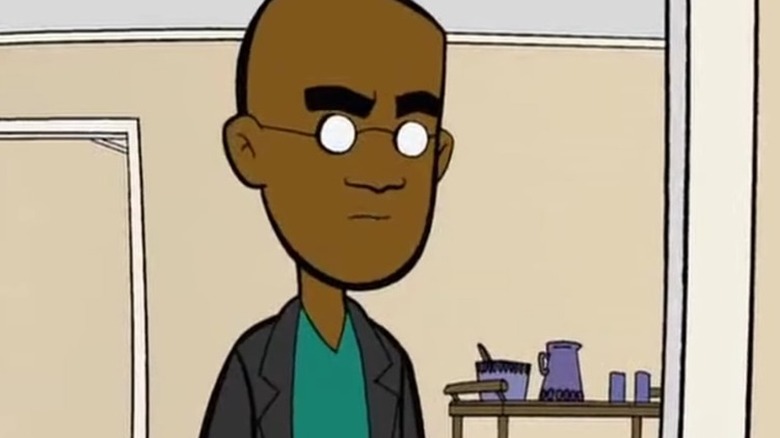 ABC/YouTube
Childish antics and pubescent fun have long been part of the Saturday morning formula, and ABC held true to that trend in the early 2000s. From 2002 to 2004, "Fillmore!" added a unique spin to the usual weekend cartoon fare with a slice of noir.
The One Saturday Morning series is an animated satire of 1970s police procedurals where reformed delinquent Cornelius Fillmore and his partner Ingrid Third patrol the halls of X Middle School, taking down adolescent criminals and solving teen crimes. In the tradition of the genre, the series follows a criminal-of-the-week format, with some offenders having personal ties to Fillmore's troubled past — such as in the Season 1 episode "A Forgotten Yesterday" where he reunites with a former crime partner. As a parody, the series appeals to both young and older audiences with its genre tropes and noir tone. It also brings a modern sensibility to the genre with its sardonic humor and countless cultural references.
Fetch! with Ruff Ruffman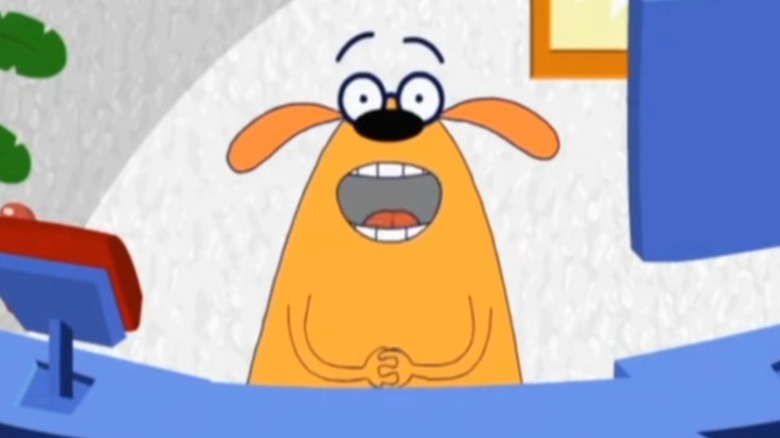 PBS Kids/YouTube
The reality competition boom of the 2000s took over television and even filtered down into children's programming. PBS decided to capitalize on the phenomenon with the competitive children's game show "Fetch! with Ruff Ruffman," which ran from 2006 to 2010.
A hybrid of animation and live-action, the competition series features a group of young contestants competing in a series of challenges set by anthropomorphic dog host Ruff Ruffman. Like its primetime counterparts, the show concludes every season with a huge prize for the winning contestant. And in some cases, past competitors return to the show to get another chance at the prize in later seasons. "Fetch!" parodies hit reality series like "Survivor" and "Big Brother" while still following PBS' educational mission. Through each challenge, the competitors are able to learn about new subjects like physics and carpentry. While the young contestants are great, it's host Ruff Ruffman who steals the show with his witty zingers and love for pop culture. "Fetch!" may feel a bit dated today because of its many real-world elements, but it remains a genius concept that was executed flawlessly on PBS.
6teen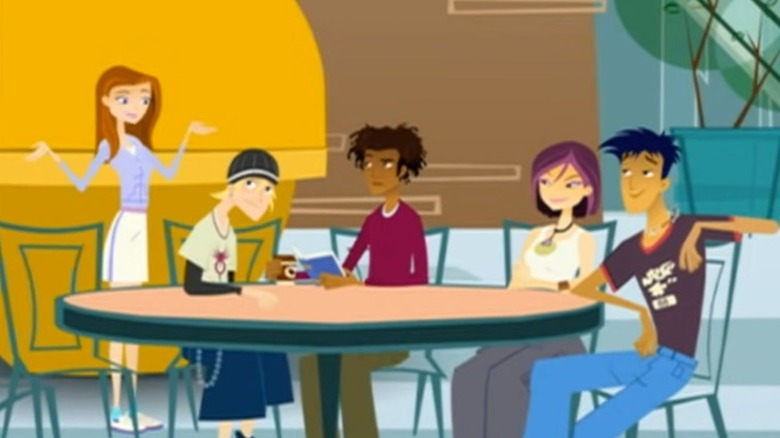 Teletoon/YouTube
Teen drama was all the rage in the 2000s, with shows like "Lizzie Maguire," "That's So Raven," and "Degrassi" dominating the airwaves. From 2004 to 2010, the Canadian Teletoon series "6teen" put an animated spin on the genre, providing plenty of comedic hijinks and high school drama.
The animated sitcom follows a group of teenage friends — Jude, Jen, Nikki, Jonesy, Caitlin, and Wyatt -– who work at the Galleria Mall. Of course, teen antics and adolescent rites of passage abound, providing both comedy and commentary on more mature subjects like sexuality and relationships. The show is clearly meant for an older audience, with a steady supply of pop culture references and some snarky and suggestive humor, especially from Jonesy. Outside of the core six teens, the series takes some interesting turns with side characters like Ron the Rent-a-Cop and Stereo Shack manager Darth Mall, who bring recurring gags and silly moments into the crew's somewhat grounded world.
Courage the Cowardly Dog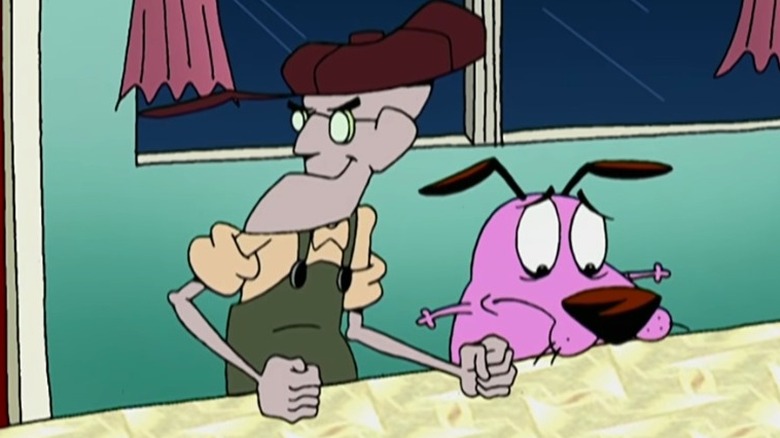 Cartoon Network/YouTube
"Courage the Cowardly Dog" premiered in 1999 on Cartoon Network — a time when the channel played host to a wide range of unique and bizarre characters. The quirky series fit perfectly with the rest of the lineup, delivering yet another dose of surreal animated adventuring.
The black comedy cartoon follows fearful dog Courage as he encounters various supernatural disturbances while living on a farm with his owners Muriel and Eustace Bagge. Leaning into sci-fi, horror, and camp, the show features a dark tone and a lot of surrealist humor, while still having its fair share of silly moments. While Courage's relationship with Eustace can be a bit rocky (often to comedic effect), the unconditional love between the farm dog and Muriel balances things out, as Courage is always prepared to save her from outside forces. The cult classic has remained relevant since its conclusion in 2002, with Courage even crossing over with Scooby-Doo in the 2021 film "Straight Outta Nowhere: Scooby-Doo! Meets Courage the Cowardly Dog."
Foster's Home for Imaginary Friends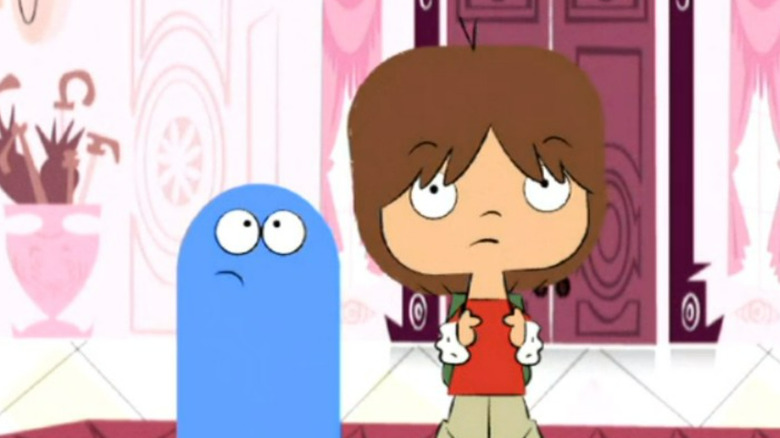 Cartoon Network
Cartoon Network had a lot of great shows in the transitional early 2000s, including quirky experiments like "Chowder" and "The Marvelous Misadventures of Flapjack." "Foster's Home for Imaginary Friends" emerged during the same period and ran for six seasons from 2004 to 2009.
The animated fantasy comedy features a world where humans and imaginary friends coexist. Unfortunately, children must part with their friends at a certain point. That scenario plays out when main protagonist Mac takes his imaginary friend Bloo to the titular orphanage. Fortunately for the best friends, they can keep their friendship as long as Mac visits Bloo every day. But being in an adoptive home filled with imaginary creatures and their human caregivers lends itself to hijinks and clashing personalities, with the irreverent Frankie Foster and docile purple monster Eduardo being standout residents. 
Despite being aimed at a younger audience, the series mixes its light tone with a lot of cultural references, satire, and sarcastic humor in episodes like "Good Wilt Hunting," where resident nice-guy imaginary friend Wilt goes searching for his creator. It's a cute show with a lot of charm and plenty to offer a wide range of viewers.
WordGirl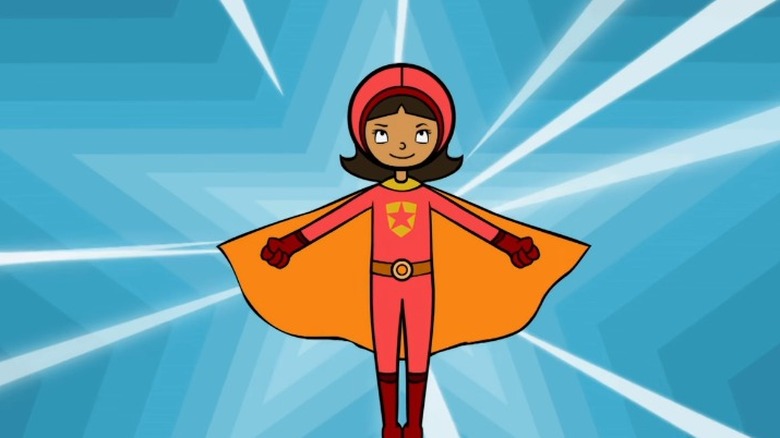 PBS Kids/YouTube
Educational kids shows and PBS have always gone hand in hand, with classics like "Sesame Street" and "Arthur" reaching across multiple generations. But the introduction of "WordGirl" brought the superhero genre to PBS Kids through a series of shorts in 2006, before becoming a proper series that ran from 2007 to 2015.
The educational animated series puts seemingly ordinary elementary school student Becky Botsford, AKA WordGirl in the limelight as she secretly protects Fair City from a myriad of villains. Becky is secretly from the vocabulary-oriented planet Lexicon and has a range of superpowers including flight and super-strength. As the purveyor of expanding one's vocab, WordGirl battles a rogues' gallery of themed villains, including the Butcher (who constantly butchers his grammar), Granny May, and the Whammer. The villains are all standouts in the show, and of course, WordGirl enjoys educating both the audience and the baddies at the same time. 
Becky's everyday life doesn't lack interesting side characters either, with the likes of shy best friend Violet Heaslip and Becky's quirky father Tim adding another layer to the young superheroine's world. While intended for younger children, adults can definitely get in on the fun thanks to a never-ending stream of clever and hilarious writing. The show employs satirical wit and silliness, playing on classics like the 1960s "Batman" series, and it even features major guest stars like Nick Kroll and Jane Lynch, whose run in the four-part episode "The Rise of Miss Power" is a particular highlight.