What Was Really So Special About That Cottageville Shop In American Pickers Season 23, Episode 2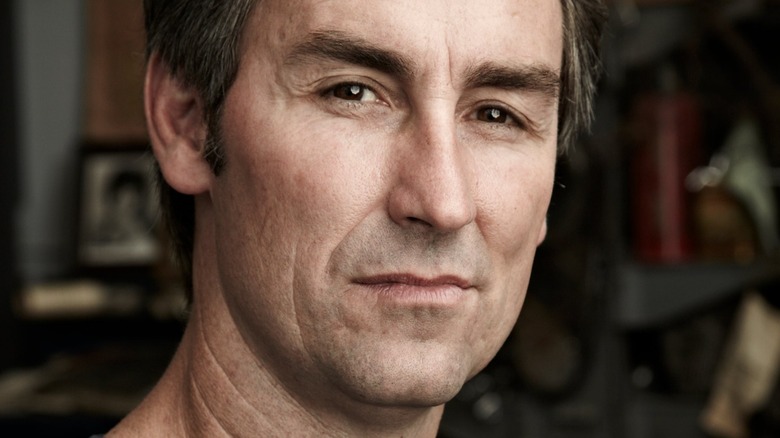 History/ Zachary Maxwell Stertz
Fans of the History Channel's long-running reality TV series, "American Pickers" (now in its 23rd season and just shy of its 350th episode), know that there's more to the show's success than the simple yet compelling thrill of the hunt. At its very best, the series is as much about the history, legacy, and character of a given episode's featured collector as it is about the items they've collected. Long hosted by Antique Archeology owner and TV personality Mike Wolfe and his shop manager and cohort Danielle Colby, (and joined recently by Mike's brother, business owner Robbie Wolfe), "American Pickers" continues to key in on the personal stories that made it so special in the first place, despite a recent drop in ratings (per The Sun).
This is certainly the case in Season 23, Episode 2, titled "Country Road Gold." As the late John Denver-referencing name suggests, the episode sees the Wolfe brothers travel through West Virginia, to meet with two brothers in the process of breathing new life into their family's long-defunct general store. Located in the tiny community of Cottageville in Jackson County, West Virginia, the shop's age, aesthetic, history, and potential future all contribute to its overall value, as does the sentimental story behind why brothers Brad and Bruce Hunt contacted the show in the first place. 
Hunt's General Store has a long history
As of 2022, and for a variety of reasons (including the advent of big box stores, convenience stores, and online ordering), the general store is more novelty than necessity. While numerous lifestyle and travel magazines (e.g. Country Living) offer lists of the most notable remaining general stores still in operation, such features are frequently characterized by words and phrases like "charming" or "travel back in time," and the understanding that what these stores really sell isn't dry goods, but nostalgia. By contrast, in the widely-documented heyday of the general store (that is, the 19th and early 20th centuries), they served not only as one-stop shops for a rural population's most fundamental retail needs but also as both a post office and kind of social center and support system (via Legends of America). In a time before media outlets, social media, and even the now relatively antiquated newspaper existed, these businesses acted as a necessary communications headquarters for the surrounding town. 
Such was the time and place in which one Lawrence Otho Hunt, a World War II Navy veteran and postmaster born in 1907, established Hunt's General Store in Cottageville in the 1930s. In 2009, Hunt's grandchildren, Brad and Bruce, got to work renovating and reconfiguring the store as a woodworking shop (via The Jackson Herald), which they would inherit from their mother Dorothy upon her death in 2021. As their episode of "American Pickers" reveals, Dorothy's hand-written will lightheartedly apologized for leaving the brothers with, in her words, "lots of junk," but the pair saw it as an opportunity. 
Brad and Bruce Hunt are giving a century-old story a new chapter
As Brad Hunt told the Parkersburg News and Sentinel prior to the episode's January 2022 air date, their mother often watched "American Pickers" with them. So, after fully acquiring the business and all its many (many) contents in the wake of her death, Brad felt compelled to give the show a call. As viewers learn in the episode, after the store closed its doors for good in 1989, the Depression Era-born Dorothy began holding on to anything and everything she could find on her various yard sailing adventures. While many an episode of "American Pickers" begins with a child inheriting a parent's vast collection of (you name it), the legacy of Hunt's General Store is of a particular kind of importance. 
As Mike Wolfe puts it in the episode, "sometimes no matter where you live it never feels like home. Imagine if you had the opportunity to go back, to a building, to a farm, to a place that still exists." He also notes that Brad and Bruce Hunt are investing in something that connects them, both as brothers and to their own past. By selling off some of the shop's more valuable antique items, such as its counter, which Mike bought for $600, or two glass display cabinets, for which Robbie paid $500, the Hunt brothers are hoping to finance their building reboot, and give a second (or third) life to a piece of Jackson County history that began nearly a century ago.