Big Bang Theory Fans Have A Spicy Pick For Their Favorite Amy Quote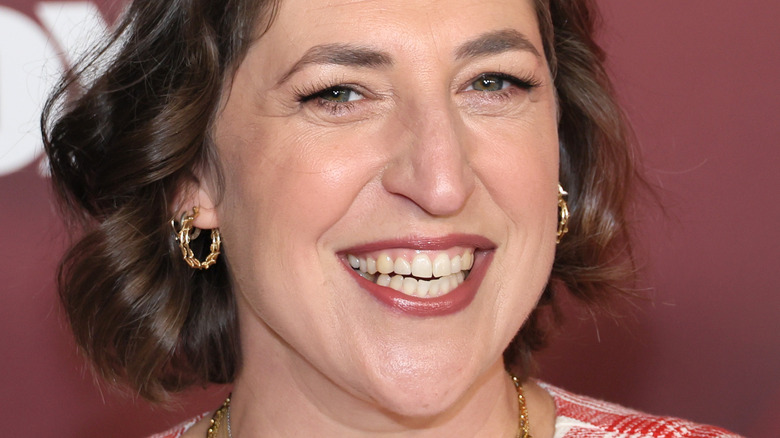 Dia Dipasupil/Getty Images
"The Big Bang Theory" has been over for a few years, leaving fans 12 seasons of laughs to look back on. The main cast of Leonard (Johnny Galecki), Sheldon (Jim Parsons), Penny (Kaley Cuoco), Raj (Kunal Nayyar), Howard (Simon Helberg), Bernadette (Melissa Rauch), and Amy (Mayim Bialik) go through life together while balancing complicated relationships and even more complex science. However, each group member hasn't necessarily been on "The Big Bang Theory" since the beginning.
Fans are introduced to Leonard and Sheldon in the show's first episode as they meet Penny, the girl who moved in across the hall. We quickly meet Howard and Raj soon after, but Bernadette makes her debut in Season 3, Episode 5, and Amy doesn't appear until Season 3, Episode 23. Howard and Bernadette are in a relationship, having two kids by the end of "The Big Bang Theory," and Amy and Sheldon are a perfect match in personality. However, in the past, fans have often been critical of Amy's actions, some even noting that she's "obnoxious" and "whiny" (via Quora).
Either way, each character brings something to the table and provides humor in their own way, including Amy, who manages to have many memorable quotes during "The Big Bang Theory." Here are fans' favorite and spicy picks for their favorite Amy quote.
Amy wanting the butter and telling Penny about her monkeys are fan-favorite quotes
On a Reddit thread, fans of "The Big Bang Theory" have been discussing their favorite Amy moments from the show, with u/bandit0314 initiating the conversation by saying, "I love Amy and her dark comments/humor. What [is] your favorite Amy quote?" They also included a video clip from Season 6, Episode 12, where Amy lets Penny know that in case Sheldon's assistant tries to make a move on Leonard, she has "a lab full of cocaine-addicted monkeys with nothing to lose. One of them could end up in the backseat of her car. Or her shower." This was certainly an abrupt quote from Amy at the time, but fans have since come to expect her quippy one-liners.
Other fans like u/veemar1977 explained, "I love the please pass the butter scene." U/GoZahnGo also said they love Amy in that sequence, especially since she stood up to Sheldon when he was inconsiderate. This particular moment occurs during Season 7, Episode 19 when Sheldon is droning on about differences in gaming systems to Amy while not listening to her.
Both are undoubtedly laugh-worthy, although Mayim Bialik's favorite scenes of Amy are still the more tender moments between Amy and Sheldon (via TBS). On an episode of Mayim Bialik's Breakdown with Kevin Sussman, Bialik explained that her performances came with a lot of anxiety to get the lines right, so she'll be glad to know many fans love her comedic delivery.