The Best Part Of Howard And Bernadette's Relationship On The Big Bang Theory
Centered on a circle of nerds with high IQs and limited social skills attempting to navigate life, love, and best cosplay options for Comic-Con, "The Big Bang Theory" ignited astronomical ratings during its 12-season run on CBS, with its antepenultimate episode even beating out the penultimate installment of megahit "Game of Thrones" (via USA Today). While the series kicked off with four brainiac bachelors spending most of their time together as a close-knit and clearly un-hooked-up band of geek bros, before long, they each fell into relationships of varying degrees of stability and compatibility.
One couple is Howard Wolowitz (Simon Helberg), a talented engineer who mistakenly fancied himself a ladies' man, and hardworking, sometimes clueless but always spunky microbiologist Bernadette Rostenkowski (Melissa Rauch). After an awkward start and a few rocky patches, the unlikely Wolokowski (Rostenwitz? Howadette? Take your pick) developed into one of the longest-lasting, most genuinely endearing, most fan-shipped units on the long-running sitcom. With that in mind, what's the best part of Howard and Bernadette's enduring relationship on "The Big Bang Theory"?
The best part of Wolokowski is the couple's believability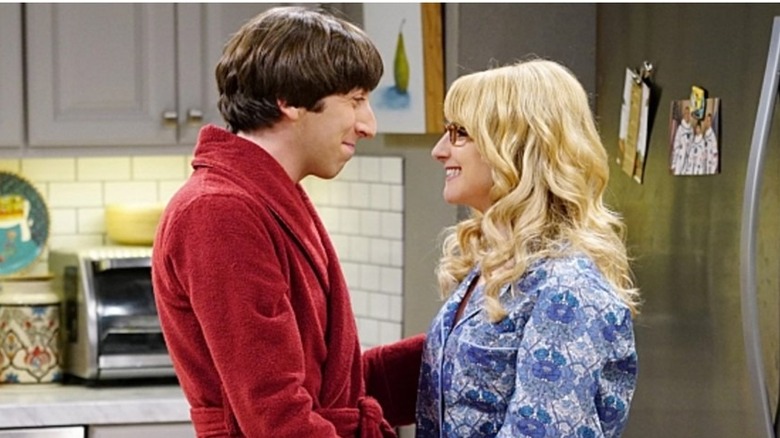 CBS
As it turns out, the romantic calculus behind many of the pairings on "The Big Bang Theory" generally, and wisely, avoid the usual comedy shtick of "opposites attract, isn't that cute and funny?" The glaring exception to that rule is the show's first match: shy but way-smart Leonard Hofstadter (Johnny Galecki) with unschooled but streetwise Penny (Kaley Cuoco). But when it comes to Howard and Bernadette, the series threw two homogeneous personas together and let the comic sparks fly from the similarities.
Howard and Bernadette share a number of core personality traits, including their fascination with and competence in science and their willingness to enjoy — or at least tolerate — each other's other non-science quirks. And it's this convincing sensibility about their bond that fans seem to appreciate. For instance, posting on a Reddit thread about them, u/outrider567 actually expressed feeling that they're the "most realistic couple on the show." Redditor u/lwlcurtis75 also thought the pair displayed credible, real-world aspects to their fondness for each other, saying Bernadette "has a higher degree and gets paid more than he does. He respects her and loves her for that strength. ... They have a good relationship thanks to all the work they put into it." So while all the couples on the show may have their positive aspects, the best part of Howard and Bernadette's relationship on "The Big Bang Theory" is the fact that they seem to be two people sharing a grounded, believable romance.