Why West Side Story's Rachel Zegler Bawled Her Eyes Out On The First Day Of Filming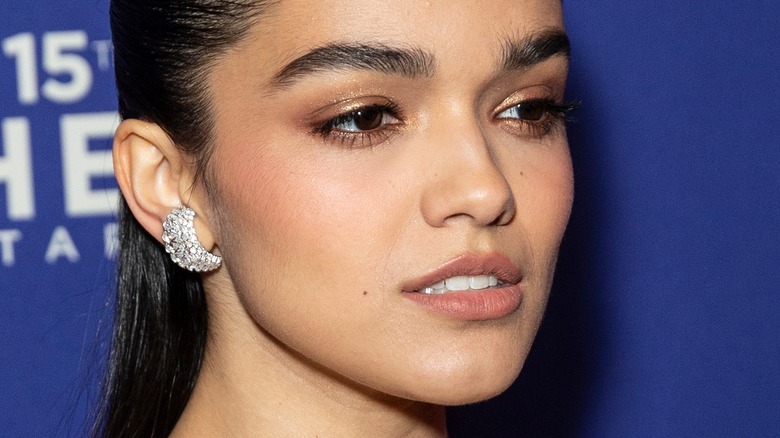 lev radin/Shutterstock
Clinching the sought-after role of María in "West Side Story" would be anxiety-inducing for anyone. At just 17 years old at the time of casting, Rachel Zegler took over the part from the late Natalie Wood, who appeared as the love-struck teenager in the 1961 film. But if you ask Zegler, this isn't a bid to capitalize on the original. Although there is certainly some visual overlap between the two, Zegler maintained that this is a new version when she spoke to Town & Country.
"We're not trying to recreate, frame for frame, the 1961 film. That film exists as this incredible piece of pop culture that everyone has seen and been affected by in some way. I don't think any of us would ever try to recreate that," Zegler assured audiences. "West Side Story" is updated to feature Latinx actors portraying Latinx roles, unlike the previous film, per Time Magazine. Starring in your first film with such a spotlight on it — directed by Steven Spielberg, no less — is definitely cause enough to feel overwhelmed. But what was even more overwhelming for Zegler was having to show up on set on the first day to film an integral scene.
Rachel Zegler's first day saw her filming an iconic scene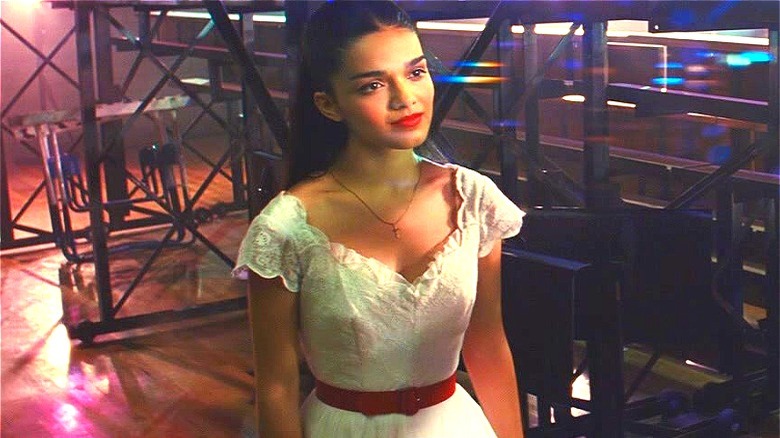 20th Century Studios
As if Rachel Zegler did not already have a lot on her mind, it turned out that her first scene to film would be a big one. Not only was she playing an iconic role, but her first shoot day included the pivotal scene where she and Tony (Ansel Elgort) meet for the first time, so Zegler was feeling the pressure.
"I texted [a friend]: 'I think I'm going to vomit. I'll check back with you later.' I could not sleep, could not anything. I was just...Oh my god, terrified," Zegler recounted to Town & Country. Perhaps the most terrifying moment was having to kiss her onscreen boyfriend for the first time. The experience was so significant that Zegler couldn't help but have an emotional response, especially when Steven Spielberg approached her after just one take. 
"Steven came up to me after my first take and was like, 'Congrats, it's your first take in a motion picture. There's going to be many, many more.' I just bawled my eyes out," Zegler told BuzzFeed in a behind-the-scenes look at the film. It wasn't just the experience of working for one of the most respected directors in Hollywood that got her so worked up. Zegler also couldn't believe how supportive her co-workers were to her. This would be just the beginning of her career, as Spielberg assured her after the take. After "West Side Story" gained critical acclaim, it was clear that Zegler's career was only going up.
Zegler is taking on another well-known character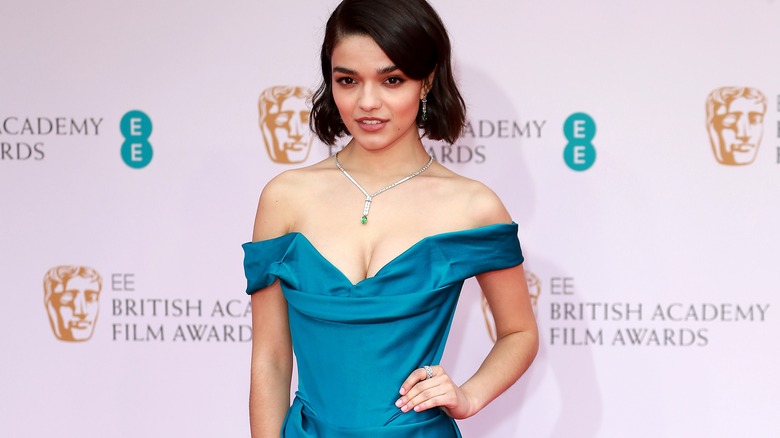 Cubankite/Shutterstock
When it comes to Disney, there seems to be no stone left unturned. There has been a massive push for live-action adaptations, and now Rachel Zegler will be joining one of them. Before "West Side Story" even premiered, Deadline reported that Zegler has been cast as Snow White in an upcoming live-action remake. After demonstrating her vocal talents in the Oscar-nominated "West Side Story," Zegler entering the Disney space shouldn't have come as too much of a surprise. Just as "West Side Story" was updated for a modern audience, the same can be said for the upcoming "Snow White" film.
"Never in a million years did I imagine that this would be a possibility for me. You don't normally see Snow Whites that are of Latin descent," Zegler stated in a conversation with fellow Golden Globe winner Andrew Garfield, per Variety. Even though there was some backlash due to her casting, Zegler didn't let it affect her. She is a powerhouse in the performative arts and there is no doubting her talent. The world is ready for updated stories that appeal to a wider audience, and so is Zegler. "At the end of the day, I have a job to do that I'm really excited to do," Zegler concluded. "I get to be a Latina princess."