Jordan Peele Finally Addresses Get Out 2's Potential Future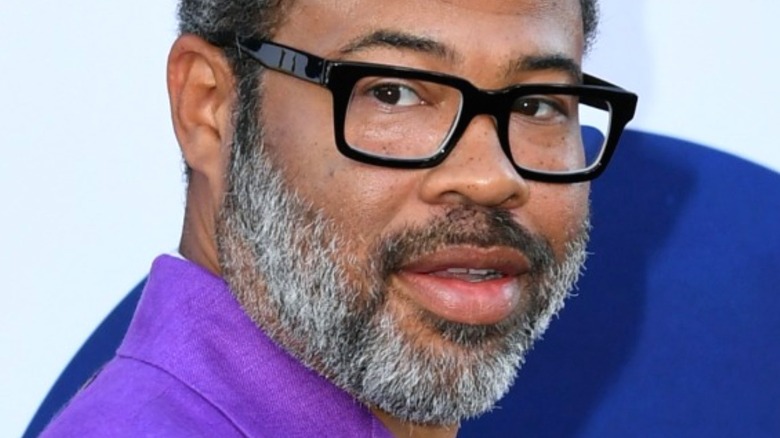 Jc Olivera/Getty
"Get Out" director Jordan Peele's rise to become one of the biggest names in Hollywood has been an impressive journey to watch unfold. The man who started as a comedic actor has quickly proven he is a multi-faceted powerhouse. 
While his efforts on the small screen are not too shabby, it's the big screen where Peele has truly dominated. He produced, directed, and wrote the critically acclaimed film "Us" (via Metacritic) and the buzzworthy motion picture "Nope." But the one film that really launched him into the stratosphere was 2017's "Get Out."
The story takes the premise of the classic Sidney Poitier film "Guess Who's Coming Dinner" and twists the concept into a shocking horror experience. According to an interview with Rotten Tomatoes, Peele was inspired by "The Stepford Wives" when developing his masterpiece about a Black man visiting his white girlfriend's mother and father for the first time. The end result is something most audiences probably weren't expecting, and the chilling narrative cemented Peele as a filmmaker some see fit to compare to the likes of the great Alfred Hitchcock (via IndieWire).
The film was a captivating endeavor, quickly leading many fans to argue for additional cinematic explorations of the unsettling tale. Notably, Peele recently provided an interesting answer to those wondering if we will ever see "Get Out 2."
Jordan Peele isn't afraid of doing a Get Out sequel
When promoting his sci-fi horror motion picture "Nope," Jordan Peele spoke with the Associated Press about people asking him to give "Get Out" the sequel treatment. He responded, "I do get asked that a lot. Never say never. There's certainly a lot to talk about left. We'll see." Of course, there are many directions a potential follow-up to the 2017 hit could go, and there are more than enough reasons for Universal to greenlight a sequel.
On a budget of a mere $4.5 million, the film earned $255 million at the box office (via Box Office Mojo). Alongside its universal acclaim, the film also received many accolades, including four Academy Award nominations, with Peele winning for best original screenplay. According to Deadline, the Writers Guild of America called the award-winning screenplay the greatest script so far produced in the 21st century. Additionally, the American Film Institute named "Get Out" one of the top ten films of the year (via Rotten Tomatoes). 
It's also wise to point out that horror sequels can sometimes perform better than expected, especially if the first title is a big hit with audiences. For example, "A Quiet Place: Part 2" earned $297 million worldwide, and "Halloween Kills" took in $131 million against a $20 million budget (via Box Office Mojo). A sequel to "Get Out" would be something many fans would most assuredly be very excited to experience. The fact that Peele hasn't closed the door on continuing the legacy of his most-notable film bodes well for the chances "Get Out 2" eventually gives viewers a whole new set of nightmares to endure.